Unhealthy eating habits "the new normal", Shape of Victoria survey finds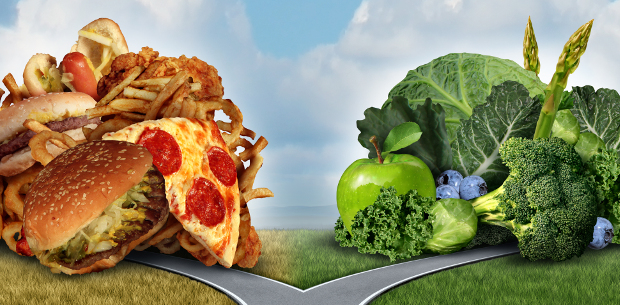 One third of Victorians skip breakfast, 47 per cent regularly snack on chocolate and biscuits, and 80 per cent see overeating as normal. These are the findings from a study into the eating habits of Victorians.
The Shape of Victoria survey further found takeaway and junk food had become every day foods rather than occasional treats for many people.
The study by the Cancer Council and the Heart Foundation, showed that four out of five respondents felt that overeating had become the new normal. 85 per cent admitted occasional treats were had become something they consumed every day.
While half felt that their diet was either healthy or very healthy, only 7 per cent met the requirements for the recommended daily amount of vegetables.
The Cancer Council's Craig Sinclair said unhealthy eating habits were widespread across the state.
"Half of those surveyed actually believed their diet was healthy, but when we drilled down we found that was clearly not the case; one in three Victorians are skipping breakfast and one in four are choosing to eat takeaway on every second day," Mr Sinclair said.
"Many are also choosing to regularly snack on biscuits and chocolate.
"There is clearly a disconnect between what one perceives as a healthy diet and what's actually happening.
"What was typically seen as occasional foods – so that's your chips and chocolates, snacks and muesli bars – are now becoming very much part of the staple, daily, routine diet for Victorians."
This change in attitude towards the way that we eat is a worrying sign, said Mr Sinclair. "This is a particular concern because we know that these types of foods are directly related to weight gain and obesity, so there is a change in Victorians' diet and we're very concerned about that.
"Only 13 per cent of Victorians believed their diet is unhealthy, but what we're finding is the vast majority are choosing to have food in their diet that we would typically regard as being unhealthy."
Over 60 per cent of the more than 1,000 respondents said they were only a little concerned or not at all concerned about their weight. 85 per cent said they were not currently on a diet or weight loss plan.
When it comes to exercise, one third exercised once a week at the most.
Mr Sinclair said there were some positive outcomes from the study too.
"Most people are regularly eating fruit; other popular choices are yoghurt, vegetables and nuts. So there are people who are trying to do the right thing," he said.
"But we still have a long way to go.
"For most people, overeating is causing the weight gain. As we know, there is a correlation between weight gain and obesity, and a range of chronic diseases including type-2 diabetes, cancer and heart disease."
Related links:
Australian homes are getting larger and 7 other surprising insights into the property market
Perspective is everything: whimsical photo series play with size (and your brain)
Join Over60
Join our community of over 400,000-plus members today and get the latest Over60 news, offers and articles.
Get all the latest Over60 news, offers and articles.