Now THAT'S how you deal with an anti-masker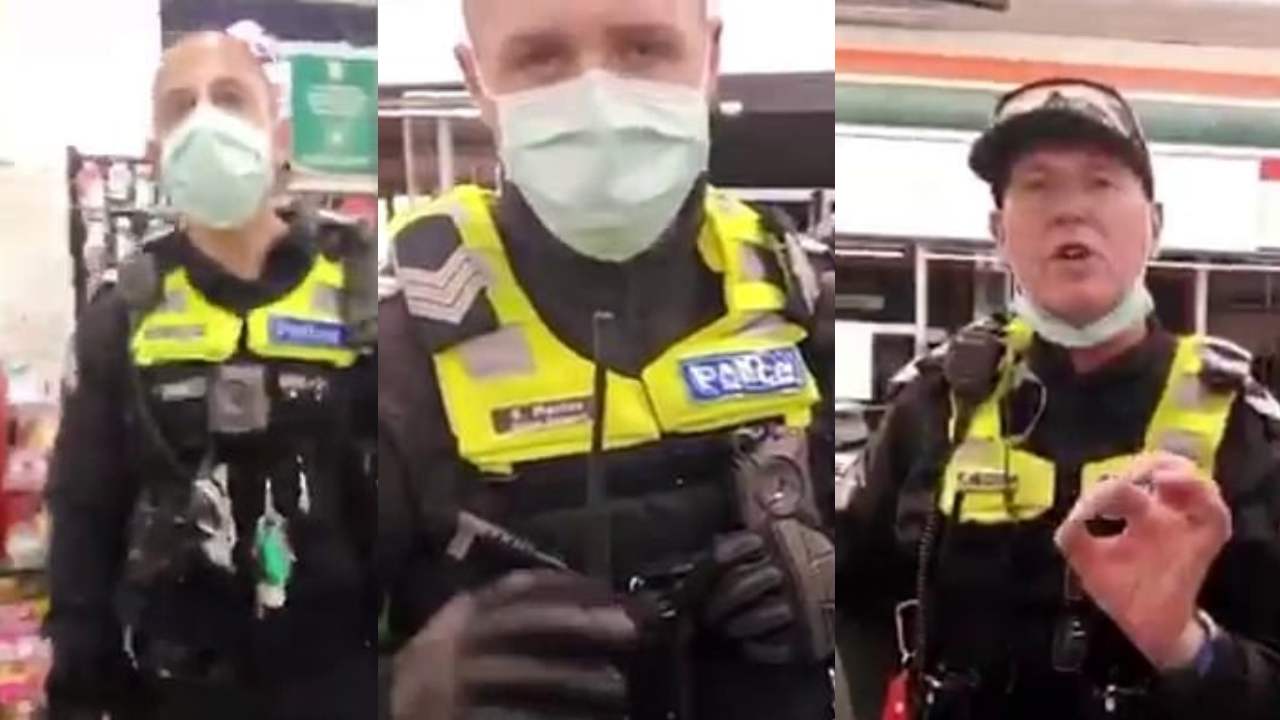 Police officers have refused to listen to a rambling "sovereign citizen" after refusing to wear a face mask or provide his ID.
Rick Mejia, from Melbourne, filmed himself arguing with officers inside a 7-Eleven service station just before the 8 pm curfew came into effect onTuesday night.
After repeatedly ignoring orders and ranting about his rights, the video was abruptly cut short when a policeman grabbed his phone and placed him under arrest.
A policeman had zero patience for the man after he repeatedly ignored instructions and continued ranting about his rights. The clip was cut short after the cop nabbed his phone out of his hand and placed him under arrest.
He has consequently copped a $1,652 fine.
The dramatic footage was released on to social media after coronavirus conspiracy theorist Eve Black was dramatically arrested last Thursday while refusing to give police her details at a checkpoint.
The woman only a week earlier successfully gamed the system.
Mejia has posted bizarre conspiracy theories in the past, including one about 5G "genocide".
Police asked the man why he wasn't wearing a face mask when he walked into the store with his brother, and he told police he had a "medical exemption", but refused to explain further or provide evidence he was exempt.
"I don't need to provide it to you. I don't have to provide any ID either. I haven't committed a crime. I'm free to go," he said.
But the officers stopped him as he tried to walk away, diggin in further to figure out why he was not wearing a mask in public.
"We're asking you what is your medical exemption. You do have to provide that to me," one officer said.
The policeman repeatedly asked him to provide his identification, but the man wouldn't budge.
Mejia went on to demand the officer hand over his orders in writing.
"Show me the law, piece of paperwork that shows exactly what you're trying to state," the man continued.
"I told you I've got a medical exemption. We have both got asthma. We are free to go."
Police then went on to demand him to show evidence he is an asthmatic, but he refuses.
Officers calmly told him refusing to obey their directions is against the law.
"You have committed a crime," the officer said.
"One is you're not showing your identification and the second is you're not wearing a mask."
Mejia continued to ramble about being a "sovereign citizen" but was cut short."
"Stop talking over me. Be quiet. You want to be arrested? Put your phone away, you're under arrest," the officer says as the video cut out.
Footage of the arrest was posted online alongside an image of the $1,652 penalty notice the man received for breaching COVID-19 health orders.