Discover Arnhem Land on an exclusive wilderness adventure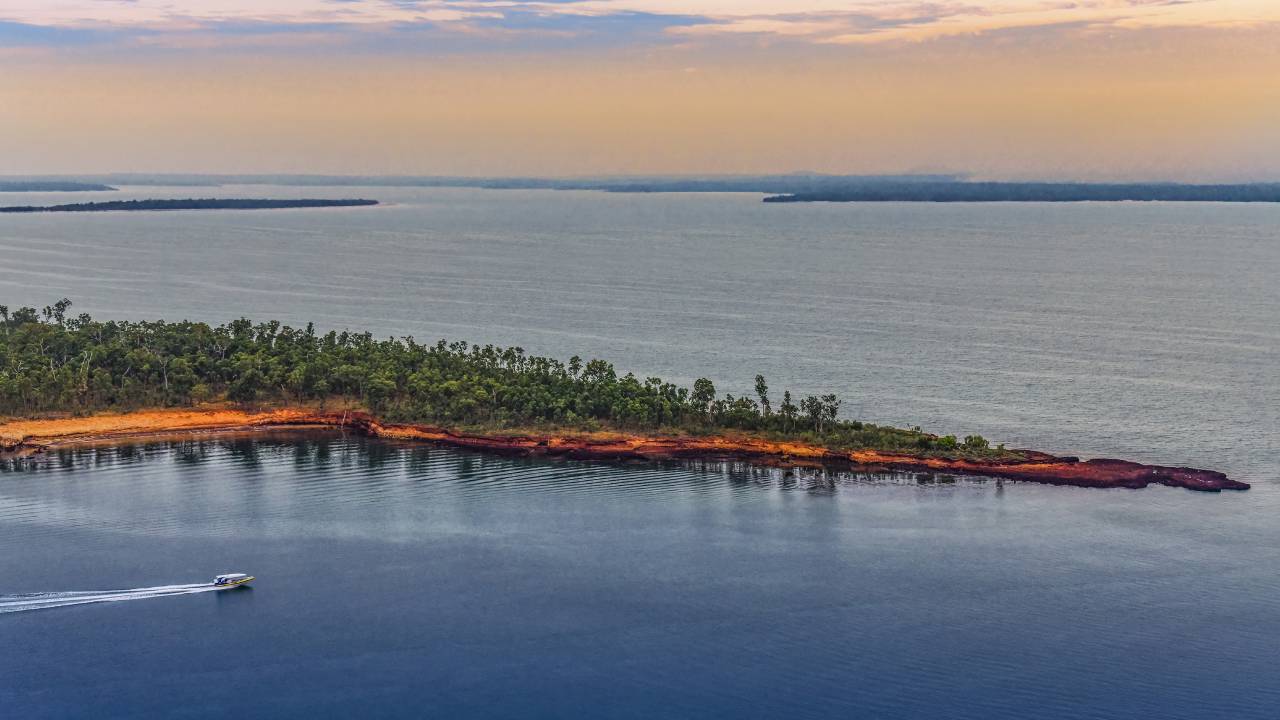 Scroll down to view the gallery below
On an exclusive Outback Spirit adventure to this remote wilderness, you'll be granted access to a part of Australia few people ever get to see: a sacred and mystical land occupied by Aboriginal people for more than 60,000 years. As the only tour company with permission to travel right through the heart of Arnhem Land, Outback Spirit delivers an extraordinary experience that no other tour company can provide.
Beginning in Nhulunbuy in east Arnhem Land, Outback Spirit's 13-day adventure travels west through Ramingining, Maningrida and Gunbalanya before heading north up the Cobourg Peninsula. Along the way, you'll stay in luxury wilderness lodges and safari camps, established in consultation with Traditional Owners and the Northern Land Council. Situated in spectacular locations, these camps and lodges have enabled a journey that will awaken new perspectives and foster a deeper understanding of this pristine, ancient landscape. A landscape in which rugged coastlines, towering escarpments, remote islands, lush rainforests, idyllic billabongs and rivers teeming with fish are only just the beginning.
Scroll through the gallery to see the natural wonders that await you in Arnhem Land.
The oldest surviving culture in the world
Travelling through Arnhem Land is an adventure in culture, and it is the insights from local Aboriginal guides that form one of the biggest highlights of Outback Spirit's adventures. Traditional Owners continue their Indigenous culture and ancient ceremonies to this day, and as a guest with Outback Spirit you're invited to experience this through activities such as a 'Welcome to Country' ceremony on the beach at Cape Wirrwawuy, where you'll be welcomed by the land's original custodians to begin your journey of discovery. Locals share stories of their culture, custom and ancient traditions, including a bush medicine demonstration, all of which serves to help guests understand the deep connection to country held by Indigenous Australians.
Over two memorable days at Davidson's Arnhem Land Safaris, Mount Borradaile you'll be guided by local experts to explore some of the best-preserved rock-art galleries in the world. Artwork dating back over 50,000 years includes a six-metre rainbow serpent snaking across the sandstone roof and vivid yellow and red handprints, portraying the world of its ancient inhabitants and inspiring awe and wonder.
Astonishing natural surrounds
Arnhem Land is abundant in wildlife and offers a wealth of natural riches. Besides the famous saltwater crocs, its coastal regions are important conservation areas for dugongs (often referred to as sea cows and even mermaids), nesting turtles and migratory birds.
On this adventure you'll discover the vast and sacred Arafura Swamp on a wetland cruise and 4WD safari, as Indigenous guides explain why this spectacular area is so significant to them. Covering 1,300 square kilometres, the wetland supports up to 300,000 water birds. Brolgas wade on spindly legs in the shallows and flocks of magpie geese skim across the top of the water. This was the location for the acclaimed film Ten Canoes, and it's every bit as captivating in real life.
Meanwhile, anglers will be privy to the best that Australian fishing has to offer, with the Tomkinson and Liverpool rivers teeming with barramundi, longtail tuna, giant trevally and more. Access to these regions is tightly controlled, but Outback Spirit's special permits and licences at the Arnhem Land Barramundi Lodge once again afford guests a once-in-a-lifetime experience. Here, you'll be accompanied by expert fishing guides as you navigate pristine rivers in state-of-the-art boats.
In one of the least inhabited spots on earth, the Cobourg Peninsula, you'll spend three exclusive nights exploring the treasures of the Garig Gunak Barlu National Park and the Cobourg Marine Park Sanctuary, where dolphins, dugongs and turtles ply the turquoise waters. Barramundi and other tropical species afford an unforgettable angling experience from one of Outback Spirit's fishing boats, while the historic Victoria Settlement at Port Essington, the multi-hued cliffs of Rainbow Beach and the palm-covered bushland surrounding Seven Spirit Bay, all offer transformative experiences that will remain with you forever.
Unique lodgings
A highlight of the tour through Arnhem Land, and exclusive to Outback Spirit passengers, is the stunning accommodations – a network of luxurious, eco-friendly wilderness lodges and safari camps. On the banks of the Arafura Swamp is Outback Spirit's stunning Murwangi safari camp, where your deluxe safari suite offers all the welcome inclusions you could want while barely making a footprint on the pristine surrounds.
At the Arnhem Land Barramundi Lodge near Maningrida, you can have the chef expertly cook up your catch of the day, while on the Cobourg Peninsula you'll enjoy three nights in Outback Spirit's flagship lodge; Seven Spirit Bay. Here, you'll be amazed at the 5-star offering in such a remote location, with accommodation consisting of stunning Habitat Villas overlooking Coral Bay. As each day draws to a close, retreat to the Wawidada Pavilion for breathtaking sunsets, beautiful sea breezes and exceptional cuisine.
Early bird sale on now!
Don't wait! Book a trip to Arnhem Land with Outback Spirit before 31 December 2019 and save up to $1,400 per person twin share.
Outstanding value inclusions
Small Group Size – 22
All meals provided while on tour
Spend 7 nights in Outback Spirit's network of luxurious safari camps and wilderness lodges, including 3 nights at the iconic Seven Spirit Bay.
Spend 2 nights at Davidson's Arnhem Land Safaris, Mount Borradaile
Travel aboard a 5-star 4WD Mercedes Benz Coach
All activity and attraction fees
All permit fees to enter Aboriginal Land
Escorted by expert tour guides
Outback Spirit Explorer Pack featuring handy travel items
About Outback Spirit
Founded in 2000 by brothers Andre and Courtney Ellis, Outback Spirit is a multi-award-winning business and Australia's largest premium small group outback tour operator.
Outback Spirit strives to stay ecologically sustainable and limit its impact on the environment through good practice, innovation, and by providing financial support to the Australian Wildlife Conservatory. It also supports remote Indigenous communities across the Kimberley and Arnhem Land through employment opportunities, community sponsorships and support for Indigenous-owned businesses. Outback Spirit has been acknowledged for consistently delivering professional and authentic adventures to remote destinations of Australia.
Why would you travel through outback Australia with anyone else?
This is a sponsored article produced in partnership with Outback Spirit.