7 things you never knew about M*A*S*H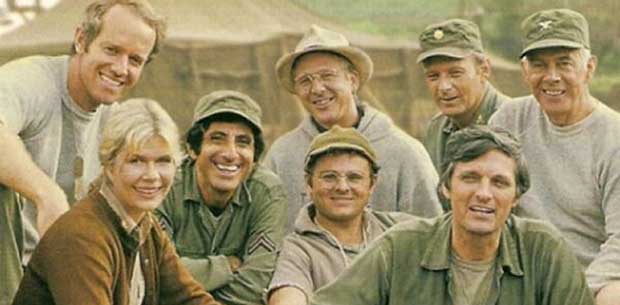 Did you know M*A*S*H ran more than three times longer than the actual Korean War? It may have graced our screens for 11 years, but you might not know all there is to know about the classic TV series, M*A*S*H.
No one wanted a laugh track – Despite pleas from the show's producers, the network (CBS) went ahead and added in canned laughter. You might have noticed the laugh track growing quieter and quieter as the years progressed, and in the UK, the laugh track was removed entirely.
CBS banned an "unpatriotic" episode – An idea for an episode was shot down by the network for being "unpatriotic". It involved soldiers standing outside in the freezing cold to make themselves sick enough to be sent home – a tactic actually used during the war.
The writers got back at complaining cast members – If ever an actor complained about their script (or asked for changes), the writing team would change the script to make it "parka weather", making the cast swelter in jackets through days in excess of 32°C on their Florida film set.
Patients were named after sports teams – After running out of names for patients visiting the hospital, the writers turned to baseball teams. In season six, four Marines are named after California Angels infielders, while in season seven, they named patients after the 1978 Los Angeles Dodgers.
M*A*S*H hosted some big-name stars – Guest appearances on the show include Ron Howard, Leslie Nielsen, Patrick Swayze, Laurence Fishburne and Rita Wilson.
The series finale broke records – The two-and-a-half-hour 1983 series finale, "Goodbye, Farewell and Amen," was watched by a staggering 121.6 million people in the US alone – back then, that was 77 per cent of households with TV sets. It remains the most-watched episode of a TV show in US history.
The time capsule didn't stay buried long – In the series' second-last episode, the M*A*S*H gang bury a time capsule. When the show wrapped up, the land used as the show's set was sold, and a construction worker found the capsule just months later. After getting in contact with Alan Alda to return it, Alda told the worker he could keep it.
Tell us in the comments below, were you a fan of
M*A*S*H
?
External Section Taboola
Join Over60
Join our community of over 400,000-plus members today and get the latest Over60 news, offers and articles.
Get all the latest Over60 news, offers and articles.