How did this Gold Coast grandfather become a drug trafficker?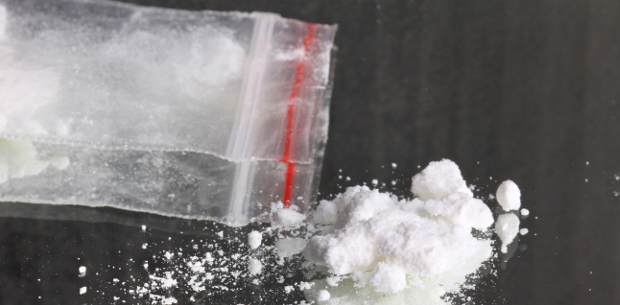 Disability pensioner John Warwick, 64, was arrested at Guangzhou airport in July 2014 after it was discovered that he had almost 1.9 kilograms of the drug methamphetamine (also known as ice) in his luggage.
An investigation into his death two months later at a hospital in a Chinese prison has uncovered an Australian crime syndicate. The group is targeting elderly and vulnerable Australians and duping them into trafficking millions of dollars worth of the drug ice into Australia.
When he was arrested, Mr Warwick's family say they had no idea that he had become involved with trafficking drugs. His daughter Amanda Davis says he was set up through an internet scam and that her father would never knowingly take such a big risk.
"I said, 'No way, not my father. No way would he risk his life only to never see his kids and grandkids again. Not my dad.'
"It's like it was a horror movie that wouldn't stop."
Mr Warwick doesn't fit the description of a typical drug mule. He had difficulty moving around, was going blind in one eye, had heart issues, diabetes and gout.
He was supported by his daughter, and ex-wife Laurel Warwick.
"His leg was going black," she said. "He used a wheely walker and sometimes a wheelchair. He couldn't walk very far without holding on to the wall or items of furniture."
The internet scammers targeted Mr Warwick, who had become addicted to responding to spam emails.
Ms Davis said that the particular scam that saw him arrested was started via email.
"He was told the man he was dealing with was dying of cancer, and that he could have a business setting up importing and exporting. They were also trying to set up an arranged marriage with an African lady called Miss Elizabeth, which we knew nothing about."
"Apparently, if he was to marry her and bring her back to Australia to her boyfriend back in Sydney, he would be paid 10 per cent of her 32 million pounds, so he would be getting around $6 million. You just didn't expect dad to be so gullible but obviously that was the way they lured him in, lured him in for bait."
Mr Warwick was convinced to travel to China where he was given a DVD player and some clothing to bring back with him to Australia. At the time he did check these items for drugs, according to his family. On his second trip to China he was asked to bring home another DVD player. As the DVD player was sealed with plastic, he did not check the contents and simply packed his clothes around it in his luggage.
"I would not have gone to the airport and put my bags through customs if I knew I had drugs in them," said Mr Warwick.
Mr Warwick's health deteriorated and he was moved to a military police hospital in Guangzhou. Australian consular officials visited him twice during this time.
"Dad was in the hospital for two months," said Ms Davis. "He was given iodine, which he is totally allergic to. He went the next six days without eating and that was on the 19th of August. I notified DFAT (Department of Foreign Affairs and Trade) to let them know that he wasn't well. They informed me that they would get someone to go and see him, and I don't know if anyone ever did see him."
Despite raising concerns about his help, it is believed that the Australian consulate did not visit Mr Warwick again. There are limitations on consulate officials in terms of the number of visits allowed to their nationals in custody in China.
A spokesperson from DFAT said, "Consular staff visited him on two occasions. During the last visit he did not raise any particular health issues and he told consular officials he was responding well to treatment."
"The lawyer advised consular officials that the hospital prison had undertaken to supplement his diet given his earlier stated concerns with eating the hospital food.
Unfortunately he passed away in the prison hospital on 2 September 2014."
The Chinese authorities reported that Mr Warwick died of sudden cardiac and respiratory arrest. His family is now demanding answers.
"Why wasn't there somebody there to help him?" Ms Davis said. "Why didn't somebody do something?"
The Australian Federal Police say there are many other people like Mr Warwick who have been targeted by the same syndicate in Sydney, Melbourne and Adelaide.
Mr Warwick's family has given the AFP a folder of information, including phone numbers of contacts in Australia, but they are yet to look into his case.
The family hopes that by speaking out they can encourage more action on the case.
"These people need to be accountable for what they've done," said Ms Davis. "These are lives, these are not numbers. These are fathers, these are brothers, these are uncles. They're grandfathers. They're not just a number... and I might save another number. My dad was not a drug smuggler, he was set up — and someone needs to be accountable for it. There is information there that the AFP as well as Chinese authorities need to be investigating. They've got names, they've got numbers. Find them! Do something with it, don't just sweep it under the rug."
Related links:
Meet Queensland Police's newest canine recruits
Eiffel Tower closed because of pickpockets
How passersby reacted to a pin board of FREE money will shock you
Join Over60
Join our community of over 400,000-plus members today and get the latest Over60 news, offers and articles.
Get all the latest Over60 news, offers and articles.