Insurance scammer gets busted on dash cam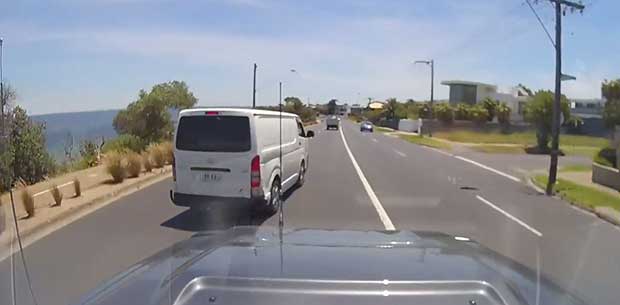 An alleged insurance scammer, who caused a collision after swerving into a lane and braking abruptly, drove off without sharing his details after he realised he was being filmed.
Dash cam footage of the suspicious collision shows the white van driving erratically along a coastal road in Melbourne.
Without warning, the van abruptly stopped and the driver behind was unable to brake in time, rear-ending the already-damaged van.
After the collision, the driver of the van leapt out of his car and started claiming he was not at fault.
The other driver informed him he was being recorded from his dash cam and the van driver immediately drove off.
"When I informed him I had a dash cam he changed his story and claimed he was attempting to avoid a dog (there is no dog)," the man explained online.
"I called the police and he jumped in his van and took off without giving me his details. Please note the pre existing damage to the vehicle."
MREC-TAG-HERE
Online users condemned the van driver, saying the accident was an insurance scam attempt.
"Looks like an insurance scam. Saw (the) driver's bullbar in his rear vision mirror and thought it was pay day. Haha.. it will cost him," said Giulio.
"Change lanes without indicating, stopping in moving traffic and failing to provide details, plus damage, and his insurance will deny any claims."
Another user said, "Looks to me like he has damaged the side of his van previously and was looking for an accident to happen so he could blame them and have his vehicle repaired by some other person's insurance."
External Section Taboola
Join Over60
Join our community of over 400,000-plus members today and get the latest Over60 news, offers and articles.
Get all the latest Over60 news, offers and articles.