Ill-treated pit bull finds new home and new adorable outfits to protect damaged skin
Diamond the pit bull looks fabulous in her stylish outfits but it's not a matter of fashion that her new mother, Melinda McGuire, dresses her up.
The eight year old dog came to Atlanta's Fulton Country Animal Services last summer badly abused. Her skin was permanently wrecked and ears cropped.
"When I saw Diamond, I was immediately brought to tears," says Neely Conway, a volunteer at the shelter. "When I took her outside I couldn't stop crying. This sweet animal had suffered so much, but was approaching dogs and humans with such a loving and gentle demeanour. I knew she needed to be saved."
Conway began reaching out to find prospective foster or adoptive homes but the situation looked dire.
"But we were having trouble," says Conway. "And understandably ... This was an 8-year-old abused pit bull who looked very scary."
But when Conway wrote a blog post on social media site Reddit, thanks to the powers of the internet someone answered her call.
Melinda McGuire was not looking for a dog and like many, had initially been afraid of pit bulls. But that all changed when she met Diamond, the sweetest dog she had ever met. Never having met Melinda before, Diamond just walked over and laid her shoulder on Melinda's shoulder. She finalised the adoption then and there.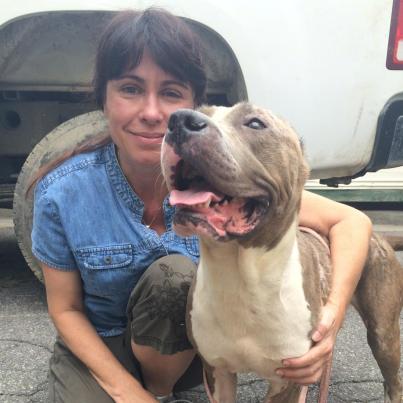 "I guess when I saw the plea for someone to save Diamond's life I just knew that I wanted to help this animal. This was something that fate had in mind for her that I could change." McGuire says. "All I can say was something grabbed my heart when I saw Diamond's picture, and even sitting here now looking over at her I still feel it."
But when Melinda took Diamond home, she knew there was quite a lot of recovery to do. Her ears and lungs were infected and after some time in the yard, her permanently exposed skin would be "beet red and blazing hot." McGuire believes Diamond's fur was ruined by acid but has found a creative solution to cover it up.
"I actually had some fabric that I had planned on making a princess costume with for my grand-baby. It was quite over the top. But I cut out a cape and head scarf, and Diamond the Diva was born," says McGuire. "If she had not enjoyed wearing her outfits so much than I think it may have ended that day. But I threw in a pair of the little kid's sunglasses, and Diamond loved every minute of it."
Nowadays, Diamond has not only gotten healthier but her wardrobe has grown. Given clothes are a necessity to cover up Diamond's patchy fur, Melinda has gone all out to make sure Diamond has plenty of options to choose from. It also has the great effect of changing public perceptions of pit bulls.
"I had been so worried about people's perception of her, and I guess of me as well," says McGuire. "Instead people kept coming up to us to ask if they could pat her, or if their children could."
Image credits: Melinda McGuire and Neely Conway's personal collection
Related links:
Amazing pictures of the moment gorilla feeds her newborn daughter
Dog abandoned at train station finds new home after pet lovers from around the world offered to take him
Join Over60
Join our community of over 400,000-plus members today and get the latest Over60 news, offers and articles.
Get all the latest Over60 news, offers and articles.