How to get more joy from your home in retirement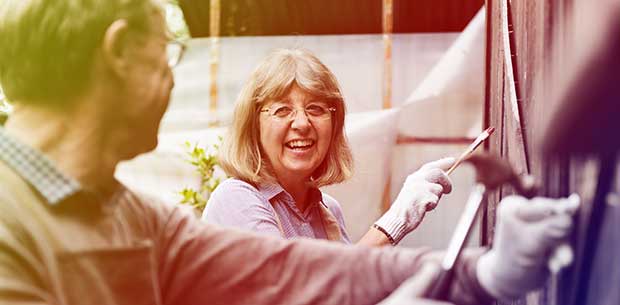 It goes without saying that when we retire, we look forward to spending a little more time at home, so it's only sensible to revaluate how that space should function. While your budget may not allow for a pricey new lounge suite or entertainment system, there are many small and inexpensive changes that you can make to transition "working" spaces into "living" spaces. Over60 spoke to retirement designer for women and qualified psychologist, Megan Giles, about the essential changes you should consider making for a safer, calmer and more enjoyable household to compliment your new lifestyle.
1. Safety and security
The first things to consider when making alterations to your living space are safety and security. Megan explains the effect our surroundings have on our mental state. "They can affect how comfortable and secure you're feeling," she says. "If you have the right security fixtures and things are nice and tidy, you can actually feel more safe and secure in yourself". This means protecting yourself from the risk of falls, the chance of an intrusion and simply making it easier to move around. A few helpful hints include checking the locks on your windows and doors, or perhaps considering an alarm. It's also worthwhile switching your lightbulbs to more energy efficient ones that will last longer, so that you don't have to change them again for some time. Megan also stresses the importance of arranging your cupboards correctly – especially when it comes to heavy appliances. "If you like baking, don't keep your mix master on your top shelf. Put the things you don't use in those higher cupboards – or get rid of them all together," she enthuses.
2. De-cluttering
Even if you feel like your home is neat and orderly, now is a good time to look at the available space with fresh eyes. Megan advises that de-cluttering storage spaces, such as sheds and linen cupboards, can lead to re-discovering old spaces that can be repurposed in new and exciting ways. "Work out what you need to keep, what brings you value and what things bring you joy. Be ruthless. Don't keep a present from a friend you don't see any more just because you feel obliged". This way, a once-cluttered and troublesome cupboard can become a new home for your fabrics and sewing machine. The big-ticket item on the de-cluttering to-do list is a child's old room. And Megan says it doesn't have to be a painful exercise either. "Make a ritualistic thing out of it. Instead of keeping 20 of your child's swimming medals that they don't want, invite them over for a spring clean. Take photographs together of things they no longer want and then get rid of them together. It can be a nice bonding activity".
Don't forget to transition your own belongings as well – focussing on clothing items. "Go through and declutter your wardrobe," Megan stresses. "If you're retired, you probably don't need all those suits or work clothes anymore. Free up your wardrobe and fill it with clothes suited to a leisurely lifestyle".
3. Find new joy in old rooms
Now that your home is feeling a little less overwhelmed with clutter, start thinking about how you want to change it. "How do you want to be spending your time?" Megan asks. "Do you want a nice nook with a comfy armchair where you can read? Do you want to entertain guests?" That home office space may have been useful when you were half running a business out of it, but perhaps now it would be of better use as a reading room, or an art studio. Even if you don't feel the need to change the functionality of your spaces, giving them a facelift can help you mark the exciting transition into retirement. "If you've got the finances, is there an opportunity to update the décor? It doesn't mean you have to buy a new dining set or couch. Maybe just changing the painting on the wall that's been faded for years," Megan enthuses. "Throw rugs, cushions, lamps and other small items can easily freshen the look of the place".
4. Decide on your budget
When it comes to embarking on your home transformation, it helps to have a budget in mind before you start the process. Although soon-to-be retirees will factor in costs such as insurance, healthcare and travel plans, it's easy to forget that upkeeping a happy home has its financial burdens. Before leaving the workforce, think long and hard about what you want your days at home to look like and where you may have to spend money. For example, if you love cooking but haven't updated your pots and pans in years, put this on the list. If you love entertaining but don't own a barbeque, put this at the top of the list. Go through your list and add up your costs to see if your plans are realistic. If you think some changes may be a little out of your economic reach – consider how you might earn additional money. For example, garage sales can be somewhat lucrative, but selling things online could fetch a prettier penny. Do a spring clean and collect all of the items lying around your home that might be worth something. You may be shocked to find out what that old vinyl record is worth.
If you still think you may need to do things on more of a budget, search the internet for inexpensive way to brighten your home. Aside from getting creative with DIY projects, you can find great, cheap furniture on websites like eBay or Gumtree. So, even though that outdoor setting may seem out of your reach now, with a bit of planning, you might just find the perfect fit.
No matter what your plans are for your home once you retire, a little planning now means that whether you want to bring some colour into your home or create a reading nook with a lovely new armchair, you're goals will be manageable. From working out how much money you'll need in retirement to planning a budget for home updates, why not try AustralianSuper's budget calculator to help you get started.
This article has been sponsored by AustralianSuper Pty Ltd ABN 94 006 457 987, AFSL 233788, Trustee of AustralianSuper ABN 65 714 394 898. The views expressed are those of Over60 and not AustralianSuper. For more information about AustralianSuper, please visit australiansuper.com.
Join Over60
Join our community of over 400,000-plus members today and get the latest Over60 news, offers and articles.
Get all the latest Over60 news, offers and articles.