"A warning": Supermarkets could CLOSE in Victoria over weekend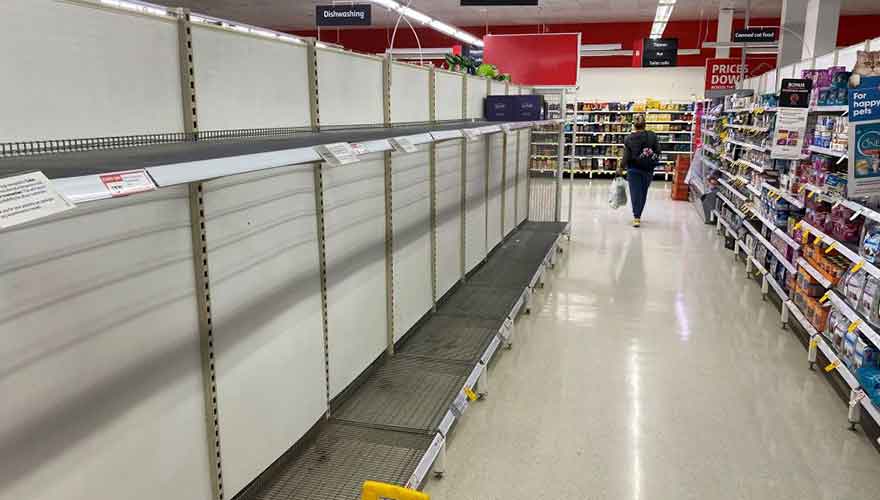 The major supermarket chains have warned that they could be forced to temporarily close some Victorian stores over the weekend due to COVID-related staff shortages.
With dozens of stores currently listed as exposure sites, hundreds of workers at Coles, Woolworths, and Aldi have been forced to enter isolation.
The move by the supermarket giants came as a surprise to Victorian Premier Dan Andrews, who said he was unaware that the chains were considering closures on Thursday.
The decision has sparked renewed fears of panic buying in Melbourne, combined with shortages of other products.
"There have been pockets of shortages," Tanya Barden, from the Australian Food and Grocery Council, told ABC News.
"I know bread was an issue in Melbourne a couple of weeks ago, but this is really a warning to governments that if we don't get the settings right now then over the next few months this could become a problem."
A Coles spokesman told Daily Mail Australia on Thursday that the industry had been hard-hit by the pandemic.
"Coles, together with other supermarket retailers, are engaged with the Victorian government on potential changes to COVID isolation protocols that would help ensure food security for people across the state," he said.
Coles also confirmed that several Victorian supermarkets had already reduced trading hours, while distribution centres had been impacted due to team members entering isolation after being identified as casual contacts.
"Since the COVID Delta wave began, around 300,000 supermarket team members in Victoria and NSW have been required to isolate as a result of exposure to a positive case," the spokesman said.
"Thanks to the enhanced hygiene and safety measures we have in place, not one of these team members has subsequently tested positive for COVID."
Coles and Woolworths are calling on the Victorian government to adjust its isolation protocols to match those in NSW, where fully-vaccinated essential workers are not required to enter isolation as a result of being a casual contact.
"We continue to work hard to maintain food supply and keep stores open, however as case numbers rise this becomes more challenging as more of our team members are required to isolate," the spokesman said.
A Woolworths spokesperson told Daily Mail Australia that the chain could close up to five stores over the weekend, after Woolworths Coburg Station closed on Wednesday due to staff shortages.
"We have more than 1,000 Victorian team members in isolation right now and it's putting a strain on our store operations," she said.
"A small number of stores have been forced to reduce their trading hours and one has temporarily closed.
"Making some sensible, risk-based adjustments to contact tracing would go a long way in helping us maintain essential supply and service to the Victorian community.
"We'll continue to work closely with the Victorian Government on these matters."
Aldi is also seeing disruptions to normal trading as staff members in-store and at distribution centres have also been required to isolate.
"With supermarkets being one of the few places to visit during a lockdown, they are often listed as exposure sites. Thankfully, we have not seen evidence of transmission within supermarkets and they remain a safe place to visit, and for our employees to work," the retailer told Daily Mail Australia.
"However, hundreds of our employees across the Aldi network, both in store and in distribution centres, have been required to self-isolate due to being in close or casual contact to positive COVID-19 cases."
There are additional concerns that stock may be affected by low numbers of truck drivers, as well as industrial action from the Transport Workers' Union.
The decision comes as the state recorded 1,143 cases on Friday morning.
Image: Getty Images