How to apply make-up over wrinkles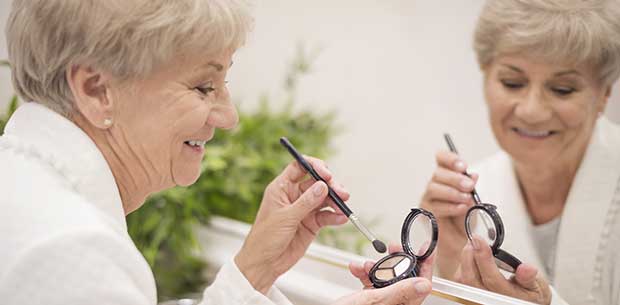 Make-up should always be enjoyable and never about hiding your natural beauty, but enhancing it. Wrinkles are a completely natural part of ageing that you shouldn't feel the need to cover up. Samantha Sargent, natural health and beauty expert and lead distributor of AEOS skincare, explains where they come from (and why they shouldn't bother you).
"Because we smile, frown and laugh, our skin is subjected to thousands of involuntary microcontractions every day, which can lead to the formation of fine lines. These fine lines may become more visible and deepen wrinkles over time. Couple that with the natural decline of certain factors as we age, such as collagen production and CoQ10 to name just a couple."
However, we understand that if you are blessed with plentiful "wisdom lines", it can be difficult to figure out a different approach for applying your make-up.
"The upside, is that wrinkle formation can be delayed with adequate hydration from both the inside and out" Samantha explains. The key to applying make-up over your wrinkles then, is moisturiser! This, combined with a careful, patient application approach, can do wonders for the health and appearance of your skin.
Jamiee-Leigh Curtis – Deluxe LUXit Partner, make-up artist and hairdresser, has extensive experience working with all types of skin, including with mature ladies.
"Mature skin requires a lighter hand and specific products that will assist in minimising the appearance of wrinkles, whilst also accommodating to the naturally more dry/normal skin type"
Here, she outlines exactly how to go about applying your make-up in a way that will enhance your natural beauty, wrinkles included.
Start with a base that will smooth your complexion and gently fill into areas of more obvious texture – a primer with a silicone base is perfect. Look for products with a velvety or hydrating finish and avoid anything too matte – this can accentuate fine lines.
Apply your favourite base make-up (foundation, concealer or tinted moisturizer) working from the centre of the face outwards. Try a cream compact if you prefer full coverage, or a liquid or gel foundation for a more sheer effect, and a damp sponge is the perfect way to press (not drag) the product onto the skin.
If you love a matte finish, dust a translucent powder lightly only over the T-zone area (your nose and forehand), keeping your cheekbones free of product so they can reflect the light more and lift your face.
You can strategically add a subtle highlighter on the high points of your face (under the brows, cheekbones and the bridge of the nose) but avoid anything too shimmery – go for a glow, rather than a glitter.
When it comes to eyes, gently contouring the socket with a neutral warm tone will enhance your natural shape and create definition, and keep it simple with black mascara and curled lashes to open your eyes.
Lips should always be well moisturised, and for a fuller appearance, use a shade similar to your natural lip colour with a cream or gloss finish.
Jamiee-Lee also advises that if you're new to makeup, or just need a re-fresher, it's a good idea to get a professional to show you the ropes and demonstrate exactly how you can get your desired look.
LUXit make-up artists are mobile and you can make an appointment for someone to come to your home, any day of the week.
Do you have any top make-up tips to share with the community? Let us know in the comments below.
Related links:
4 wondrous lesser-known anti-ageing beauty products