Finally able to hear, grandmother of 10 embraces new lease of life

When Lesley Hodgson left her home in the UK more than half a century ago, she unknowingly brought an unwelcome memento of her time working in England's woollen mills with her. The 74-year-old South Australian didn't realise it at the time, but the "constant clattering" of 70-odd woollen mill machines had started the process of hearing loss that would eventually leave her totally deaf.
"I was on piecework, so the harder I worked the more I was paid," she says. "Because of the extreme noise it was difficult to communicate with fellow workers. I was in my first mill for two years, from the age of 15, then my family moved to a nearby town where I worked in another noisy mill until I was 22."
Lesley moved to Australia with her husband Barrie in 1967, where the then mother-of-two started part-time work in a florist shop. "I arranged flowers but was also expected to answer the phone," she says. "As I experienced difficulty picking up what people were saying – not everybody speaks clearly on the phone – and feared writing down the wrong address for a floral delivery, I was excused. I guess this was the start of slight hearing loss but thought nothing of it. I worked in the florist shop for 12 years."
It wasn't until the late 1990s that Lesley, by then a mother-of-three, really took her hearing loss seriously. Due to her progressive sensorineural hearing loss, she had long struggled with everyday communication and sound awareness. "I found it uncomfortable being in a group of people more than four," she says. "At family gatherings, where there was constant chatter, it was almost unbearable. It was also very frustrating not to be able to converse with members of our church in the hall after the service."
In 2002, she underwent a free hearing test and discovered that she had lost the hearing in both ears. Even though she started wearing hearing aids soon after – "they were difficult to wear and helpful for a while" – she persevered with them. "If I haven't put my hearing aids in I would not hear the waterfall at the pond or the birds," she says.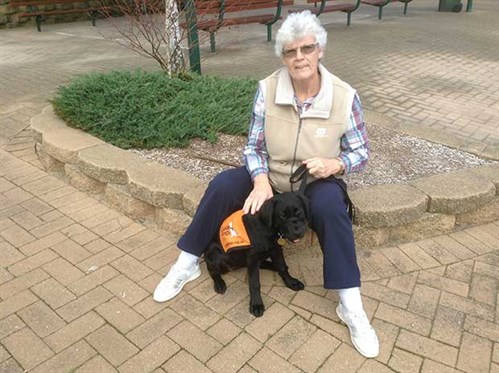 But it was a visit to her Ear Nose and Throat (ENT) specialist that changed Lesley's life dramatically for the better. "After a hearing test, my ENT, Dr Varley thought my hearing aids were not effective enough for me," she recalls. "He recommended I attend the South Australian Cochlear Implant Centre (SACIC) for further tests."
SACIC Clinical Manager Nina Swiderski said when Lesley visited the clinic she could only communicate one-to-one and needed to use visual cues to supplement her limited hearing with lip-reading. "Lesley struggled in small group conversations in the presence of background noise and she suffered from "recruitment*", which caused discomfort to loud sound," Nina explains. (Lesley was even affected by the sound of removing hard plastic wrappers or crumpling butcher's paper.)
"Lesley used assistive devices for the TV and was reluctant to use the telephone," Nina says. "She found it difficult to hear and participate in Bible Study; and could no longer hear the sound of birds singing or the water fountain in her garden."
Nina found Lesley was suitable as a Cochlear Implant recipient, and on August 2 she underwent the surgery that gave her back her hearing. On August 22, 2016 she was "switched on" and headed home looking forward to re-joining the hearing world.
"I enjoy having conversations with family and friends with little distracting background noise," she says. "It might seem odd, but I also enjoy not cringing when opening hard plastic wrappers or screwing up butcher's paper or putting pots and pans away in the drawers!"
Today Lesley, a grandmum of 10, is enjoying her new lease on life.
*Recruitment is the rapid growth of perceived loudness for those sounds located in the pitch region of a hearing loss.
For more information about Cochlear hearing solutions, please visit www.cochlear.com/au and request a free guide or contact our Cochlear Concierge at concierge_ausnz@cochlear.com to get your hearing loss questions answered.
Related links:
Thanks to cochlear implants I can now hear my grandchildren
Highs and lows of looking after my hard-of-hearing mother
I was deaf for most of my life