1-year-old boy's family raising money to help his hearing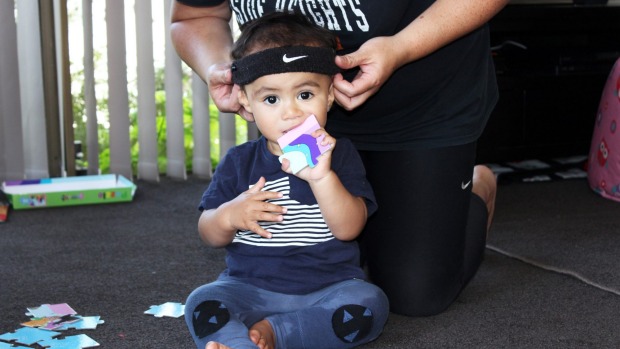 Trying to explain why your little brother only had one "normal" is difficult.
But a Finding Nemo reference to Nemo's smaller lucky fin did the trick, and Felix Taito's lucky ear has stuck with his two older siblings since.
The Sandringham baby was born with a rare hearing condition called microtia atresia​ - a congenital defect which means he has no ear canal on his right side and his external ear did not form properly.
He is now 11 months old but his mum Seleta​ says it was an uncertain time for them as a family as they had no idea he would be born with a smaller ear.
"We had a newborn screening test for his hearing and we didn't know if he could hear on either side, but he can hear completely fine on his left side," she says.
Seleta self-referred Felix to a deaf advisor at the Ministry of Education after finding little support.
"He told us things about background noise, because it's hard to filter that out when you have single-sided hearing and that can affect speech as well," she says.
While he is reaching his developmental goals and making good progress there is uncertainty if he will have speech problems.
When he was six months old, Felix was issued with a hearing aid which he wears on a headband.
"When he's got it on he babbles a lot more and is a lot more talkative, you can see it in his eyes that he's a lot more alert," Seleta says.
Not wanting Felix to be disadvantaged by his condition, the Taito family are pursuing medpor​ surgery in the United States but it comes with a price tag of $120,000.
This option would require Felix to undergo two surgeries, the first to reconstruct his outer ear and the second to reconstruct the ear canal.
There are surgical procedures in New Zealand but he would have to wait until he is at least 10 for a rib graft surgery.
"When he is 3-and-a-half he can get a CT scan and that will tell us whether he can get the ear canal reconstructed too," Seleta says.
The family are fundraising for half the total amount through a Givealittle page.
The Taito family will also be at Pasifika festival on March 12 and 13 selling Samoan food to also fundraise towards Felix's surgery.
Visit this website for more information or to donate.
Written by Catrin Owen. First appeared on Stuff.co.nz.
Join Over60
Join our community of over 400,000-plus members today and get the latest Over60 news, offers and articles.
Get all the latest Over60 news, offers and articles.