Family fights to be with cancer-stricken daughter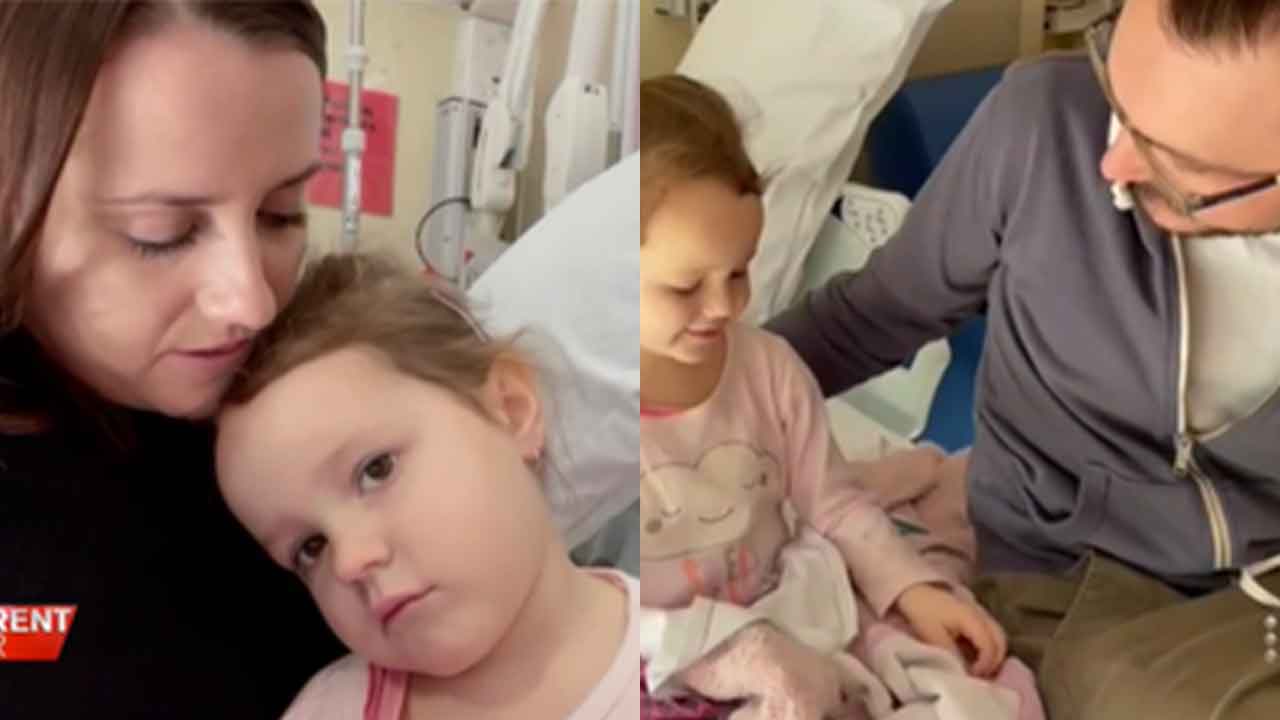 The parents of a critically-ill little girl have been granted an exemption amid tough hospital restrictions to stay by their daughter's bedside.
Four-year-old Lara Yaroslavceff was only recently diagnosed with leukaemia, in a diagnosis that forced her parents Stacey and Matt to uproot their lives in Orange, New South Wales, so she can be treated in Sydney.
"We had to leave our two children, who are three and nine months, in Orange, which is four hours away, indefinitely," Mrs Yaroslavceff said.
"Orange has just gone into lockdown, so we can't go back and see our other children and they can't come here and see us."
Then, the already isolated parents were told they would have to separate from each other and care for their daughter in hospital during rotating 24-hour shifts.
"One parent per day, no swapping, it is just one parent per day, we are allowed a 15-minute changeover to discuss how Lara has gone in the last 24 hours."
In an emotional changeover this morning, Mr Yaroslavceff swapped out with his wife with the knowledge that his young daughter was about to have her first surgery without him there.
"She definitely is struggling not having both of us there," Mr Yaroslavceff said.
"For us especially, just 200 metres away looking out the window, I can see the hospital, we're not going off-site, we're not going into the community, we can't go home because that's three to four hours away so we're literally on-site and swapping, so that doesn't seem to make sense."
The couple are staying at the Ronald McDonald House, which sits on the grounds of Randwick's Children's Hospital.
Despite the strict restrictions being put in place for the safety of sick and vulnerable patients, Health Minister Brad Hazzard agreed to a request from A Current Affair to reconsider Lara's case.
Shortly after, the decision was made that both Mr and Mrs Yaroslavceff would be able to stay at Lara's bedside together.
"An exemption for the Yaroslavceff family was arranged on Wednesday, 21 July," a spokesperson from Sydney Children's Hospitals Network said in a statement.
"Exemptions are always considered and our clinical teams are committed to working with families on a case-by-case basis, according to the patient and family's individual needs, and the safety of other patients, family and staff.
"Families are encouraged to discuss any questions or concerns directly with their child's health care team, so their specific circumstances can be carefully considered."
Image: A Current Affair