Best 6 free health and fitness apps for people over 60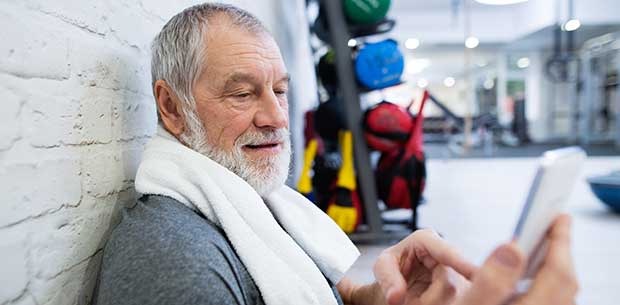 For some of us, being fit and healthy doesn't exactly come easily. But with so much incredible technology out there today, the path to living a cleaner, more active lifestyle is much clearer.
If you're looking to lose a little weight or simply give your health a bit of a boost, we've found six apps to help you do just that. And the best part? They're all free. Time to get moving!
1. MyFitnessPal (available on iOS and Android)
How much do you eat in a day? No, how much do you REALLY eat? Chances are you're grossly underestimating what's going into your body each day, but with MyFitnessPal, you can set yourself a calorie goal and log all your food and drink to ensure you never go overboard again. You can also log your exercise, track your weight loss, keep up with your friends' progress and much more.
2. C25K (available on iOS and Android)
Designed for beginners (but suited to all fitness levels), this app will transform you from an exercise-hating couch potato to a runner capable of finishing a 5km run within just eight weeks. This highly popular program has helped thousands and requires just 30 minutes a day, three days a week to build up your fitness and endurance.
3. Nike+ Training Club (available on iOS and Android)
With over 100 trainer-certified workouts on offer, it's almost hard to believe how feature-packed this app is considering it doesn't cost a cent. You can customise your workout plan depending on what equipment (if any) you have available, your starting fitness level and much more. You can also target specific areas of the body with different strength, endurance and mobility exercises.
4. MapMyWalk (available on iOS and Android)
Sick of your usual walking route, or simply want to extend it? MapMyWalk, made by the same people behind MyFitnessPal, allows you to set goals and track everything about your walk – distance, speed, duration, steps, elevation, you name it. You can also see what routes your friends have mapped and discover new ones in your area.
5. 7 Minute Workout (available on iOS and Android)
You'll never be able to use time as an excuse ever again – if you've got seven minutes to spare, you've got time to work out. This app, which boasts 20 million users, offers fast, effective and equipment-free routines and builds a program for you based on your goal – to get fit, lose weight or get strong. There's also illustrations to ensure you get each exercise right and avoid injury.
6. Daily Yoga (available on iOS and Android)
Not keen on fast-paced workouts or running? This is the app for you. Daily Yoga will help get you into a daily routine of strength- and mobility-building exercises for everyone from beginners to masters. The app also includes Pilates and meditation classes, and if you choose to upgrade, you can also unlock hundreds of new poses and classes.
How do you stay fit and healthy over 60? Share your tips with us in the comments below.