My story of overcoming prostate cancer

Don Morrison, 75, lives in Doncaster, Victoria, with his wife of 49 years, Jill. They have three children and nine grandchildren. Don was diagnosed with prostate cancer in 2007 at the age of 67. Today is the last day of Prostate Cancer Awareness Month, a time to raise awareness and much needed funds to fight against prostate cancer. Prostate cancer is the most common cancer in Australia with 20,000 men diagnosed and close to 3,300 deaths each year. Here, Don shares his experiences of overcoming prostate cancer, and why he thinks men need to start talking about their health.
My brother, who is 15 months older than me, had prostate cancer so I was aware of the cancer and the risk. That was a couple of years before I got it. But when I was diagnosed it was a shock. Just the word cancer does scare you. But having a great daughter in Shan [a pelvic floor physiotherapist] who works with men and incontinence all the time in her business, she was a great help. She said if I had to have cancer then prostate cancer was the one to have because it's not so much life-threatening, compared to other types of cancer.
I had the test and it showed the prostate was enlarged. I had the biopsy and they told me, I had a high Gleason count. That meant that it had to be removed pretty much by the surgeon. There are a few other ways to go about it but this was the quickest way and the doctors thought it was better to have it done straight away.
My wife, Jill, being a physiotherapist is always a great help. I've got a great family around me, three beautiful children and Shan, the eldest has got me doing these exercises with this pelvic floor muscle. It was a great help for later on [after the surgery] because I knew what I had to do. Shan has great physios. It's a very private sort of part of you and they have such good bedside manner, you don't feel embarrassed. It's a great help.
When I retired from my work at the nursery in 2000, I joined a golf club. I played in a competition with veterans. Many of them have also had prostate cancer and had the operation. You'd like to play 18 holes but you know a lot of them with the incontinence business, they could only get through nine holes of golf. I recommended Shan and she'd help improve them to play the 18 holes.
I find people are talking more openly than I imagined about it all. I think it's changing – the public is more aware and men are talking about it more. I think it's true in the past that women would talk about their problems more openly than men, but I think it is changing and that's good. You feel at the golf club when you play at the 18 holes and you chat a bit in between but at the 19 hole, as we call it, we'll have a drink together and it's just amazing the subjects you cover. This is one of them. It's good to feel that way. Once you break the ice you can talk.
I should do more pelvic floor exercise, it's something you can practise any time. One of the Shan's girls told me that when I take the swing at golf, I should tighten my floor muscles. I told her that there was enough to think about with golf without another thing! I wear a pad for golf because you are concentrating on the game. Some days I don't need a pad, but other days are different and you get a bit of leakage. It's just about managing it – it depends where you are, how much you've had to drink and so on. Generally, I'm pretty good.
I've also got Parkinson's, which I was diagnosed with in 2002. That's a progressive thing. I won the golf comp one year and I decided to make a bit of speech about it. I told the club about my Parkinson's and it was just amazing the response I got. I really wanted to tell them what a difference to my life playing golf at this friendly club had made. In fact, my neurologist has said golf is a very good thing in keeping you open and not closing you down like the illness tends to do. I said how much I appreciated playing there and just in general telling them about my situation. Because you have a tremor and some people wonder what it's all about…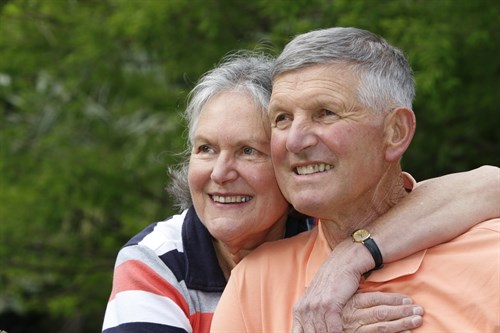 Don Morrison and his wife, Jill.
When I had the surgery for my prostate cancer the surgeon was quite happy he got all the cancer, but mine was such an aggressive one that they apparently didn't quite get it all. Three years later, my PSA (Prostate-specific antigen) count went up again and so they recommended having radiation. That was in 2010. I had many weeks of radiation and that seemed to have kept my PSA count down, touch wood, and all is going well at this stage with the cancer.
I was a bit spoilt that I haven't had any illnesses throughout my working life and once you retired everything sets in around you. It's not until you start to get some of these things that you realise that your health is of number one importance, because without that you can't do all the other things you want to do. When you're given this body you want to look after it as much as you can and not abuse it.
But life is what you make it, and you do get these setbacks but as I said I couldn't have a better family to support me. Life is so short and the years seems to go quicker when you're older. And you want to enjoy life, especially when you are older, so you have to make the most of it. Life has its different stages. We have nine grandchildren and they're beautiful, and we can have them here at the new house, which is right opposite the park. It's good to have the time to spend with grandchildren. When you are raising your own family and busy running a business, you look back and see you didn't have time to do all these things you wanted with them, but now you have the time. You can put up with these setbacks in life because they are so many other things to enjoy.
What I hope for anyone reading this is that it's important that men start talking about these things and share information about their lives. My daughter Shan is just an amazing. When you can talk to your daughter about any subject that you might be affected by, especially private issues, it makes all the difference. It's important to be able to talk openly with your family and friends.
Don's daughter, Shan Morrison, is a one of Australia's leading pelvic floor physiotherapists. Having worked with many men being diagnosed with prostate cancer over the last decade, as well as helping her own father, she shares her tips for dealing with incontinence post-prostate cancer surgery:
Urinary incontinence, or leakage, is to be expected after surgery for prostate cancer surgery. The severity and duration widely vary however for all it has a negative impact on their wellbeing and quality of life. But you do not have to PUT UP WITH IT.
Know that you're not alone and help is available to cure or improve the problem
Find a Continence / pelvic floor Physiotherapist here.
SEEK HELP from their general practitioner
Call the National Continence Helpline – 1800 33 00 66 or visit their website.
Specifically, for men experiencing incontinence following surgery for prostate cancer, there is a resource booklet I wrote on behalf of the APA (Australian Physio Association) regarding Physiotherapy and pelvic floor exercises. The link to access this is here.
My practice website also has numerous incontinence resources for women and men including a fact sheet regarding Physiotherapy and prostate cancer surgery here.
If you have a story to share, please head over to the "Share your story page"
Related links:
7 cancer warning signs to be aware of