Barnaby Joyce admits he is "struggling" to support two families on $211K salary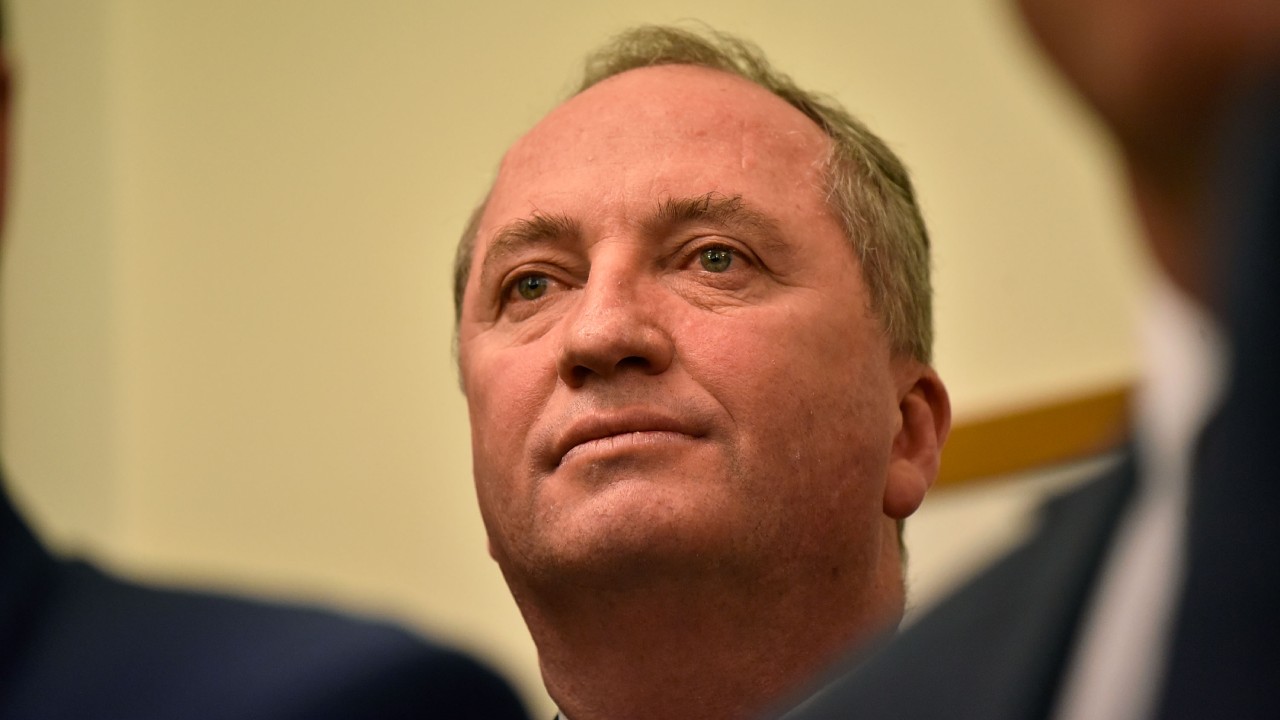 Barnaby Joyce has shared that he is struggling to make ends meet with his six-figure salary, saying he has to turn off his heater at night and avoid going out for dinner to save money.
The former deputy prime minister told The Courier Mail that despite earning $211,000 a year, the money is "spread so thin" from supporting his estranged wife, Natalie Joyce, and their youngest daughter, as well as his current partner Vikki Campion and their two infant sons.
He revealed his financial circumstances to explain why he broke ranks with the Morrison Government by calling for an increase to Newstart.
"I'm not crying in my beer because there are thousands, thousands doing it much tougher than me," said Joyce.
"It's not that I'm not getting money, it's just that it's spread so thin.
"I'm just saying these circumstances have made me more vastly attuned … it's just a great exercise in humility going from Deputy Prime Minister to watching every dollar you get."
Joyce said he and Campion have become "a lot more mindful" about their budgeting.
"We rarely, if ever, go out for dinner," the New England MP said.
"You're very mindful of what's coming up in the next couple of weeks and try to make sure I don't miss any payments.
"There has to [be] some purpose for everything. The purpose of this — I'm a lot more focused [on] people who don't have money."
According to The Guardian, Joyce has made at least $3.5 million as a politician since 2005. The backbencher currently earns $211,000 a year as well as a $277 allowance for every day he is in Canberra.
The former Nationals leader has become the latest politician to call for a $75-a-week increase in the unemployment benefits. Those eligible for the payment without dependent children currently receive $555.70 a fortnight or roughly $40 a day, an amount which has not been increased for 25 years.
One Nation leader Pauline Hanson hit out at Joyce for his comments.
"Sorry, a lot of Australians would say, 'I wish I had $211,000 a year to help me put on the heaters in my house'," Hanson told Today.
"He is saying the Newstart allowance people need an extra hand, which I've been saying for quite some time now.
"But the way he has explained it is not a good look."
Hanson also advocated for an increase to the Newstart allowance, joining the likes of former Prime Minister John Howard, Liberal politicians Dean Smith and Russell Broadbent, Labor MPs Mike Freelander and Nick Champion, the Greens, the Reserve Bank, unions, and business and senior groups in calling for a change.
"They do need an increase in the Newstart allowance," she said.
"It shouldn't be a way of life but people cannot get those jobs, they can't get extra employment that they need."
The Morrison government has continued to resist the growing pressure. Last week, PM Scott Morrison told parliament that "about 99 per cent" of Newstart recipients "are actually on other forms of payments as well".
Join Over60
Join our community of over 400,000-plus members today and get the latest Over60 news, offers and articles.
Get all the latest Over60 news, offers and articles.