CCTV shows Sam Burgess drinking beers before alleged altercation with father-in-law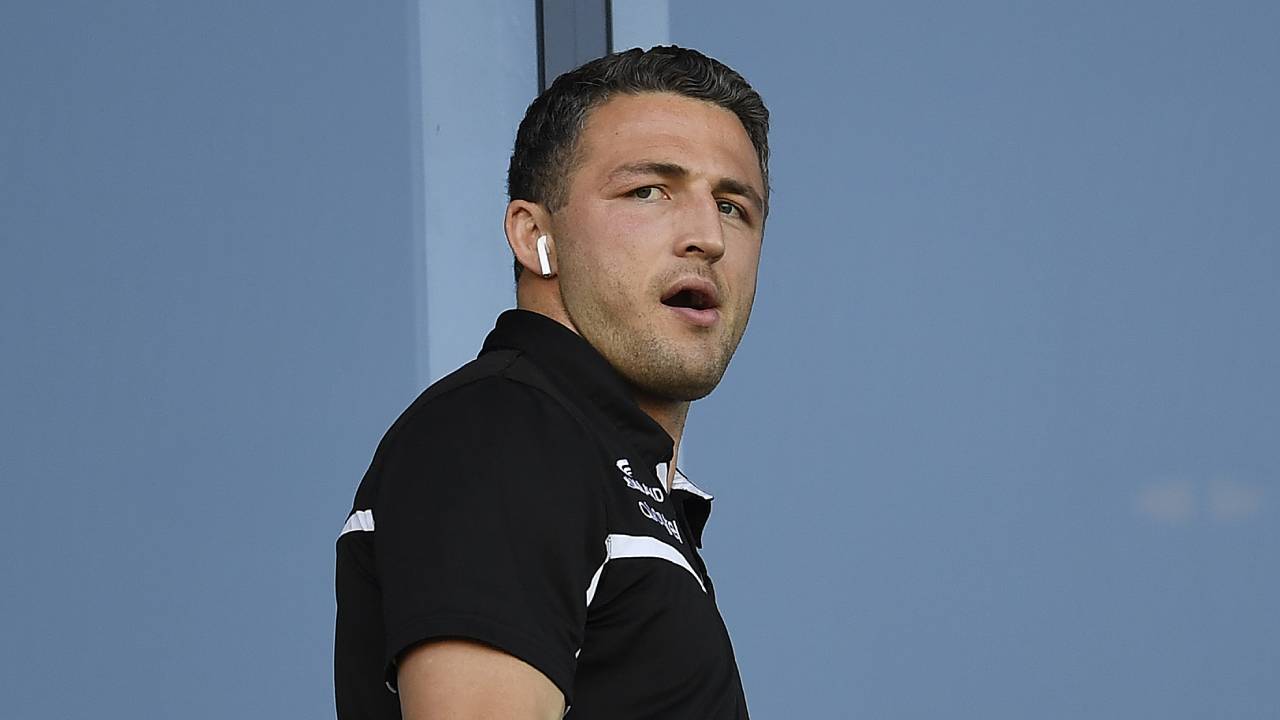 New CCTV footage shows former NRL star Sam Burgess cheerfully posing with fans and knocking back four beers before an alleged highly-charged confrontation with his former father-in-law.
Mitchell Hooke called Burgess "wild" and "crazy" and has accused him of threatening to hit him during a confrontation at his home last year.
Burgess appeared in Moss Vale Local Court having pleaded not guilty to one count of intimidation and another charge of common assault relating to an alleged verbal spat on October 19th, 2019.
Burgess also has an apprehended violence order against him from the family.
He has since denied the allegations and made counter-claims against his former father-in-law with Burgess' lawyers arguing that Hooke had threatened to ruin Burgess' career and reputation.
CCTV played to the court showed Mr Burgess drinking with patrons at the Royal Hotel at Bowral on the afternoon of the alleged incident.
The alleged argument took place when Burgess was meant to have a two-hour visit at the home.
Hooke's daughter Phoebe Burgess, who had recently split from Burgess, said she was not present during his visit and was meant to arrive after he left at 4 pm.
However, a distressing phone call from her father prompted her to return to the property early, where Hooke explained that Burgess had unleashed a tirade of abuse during which he threatened to punch him.
Phoebe then called the Moss Vale Police Station before making a triple-0 call.
"Look I'm just a bit shaken up, I'm just going through, uh, my husband and I are going through a bit of a separation at the moment… He has threatened and abused my father," she was heard saying in the phone call during which she became tearful on several occasions.
She added: "It's Sam Burgess, so it can't be made public but I just need to report it cause he's still in the area and he's really angry."
She told the operator that no one had been harmed, saying: "I promise we're all fine, I just know that, I've got lawyers for that exact reason."
She went on to claim that Mr Burgess had previously abused her in a similar fashion.
"He's done this to me too, he's done this to me," she said.
Phoebe and her father made unrelated domestic violence and drug allegations in statements which were handed to police earlier in the year, which were denied by Burgess himself.
The allegations were published in The Australian last month, and when asked why Phoebe went public, she said she didn't want to be a part of a "cover up'".
"The Australian publication approached me about certain matters, rumours that had been circulating," Ms Burgess told the court.
"Instead of covering up, which is so typical of the system that I was part of, which I believe is toxic in the NRL, I decided to hand over the documents that I had prepared for my lawyers, prepared over time... I gave it to what I felt like was a trustworthy publication and not covering up and contributing to a system that I believe failed myself ... and failed Sam Burgess."
Mr Hooke told the court that Burgess had unleashed a verbal tirade against him, telling him: "F*** you, you're a piece of s***, you're just like your daughter, you're a piece of s***" and "I'm going to hit you."
Mr Hooke said he was "terrified", he "went cold" and never felt so scared in his life as Mr Burgess "towered" over him.
"I was resigned to getting hit, I had absolutely no doubt," Mr Hooke told the court.
"His eyes were wild, they were crazy eyes, his face was red. I have never been threatened like that in my life."
The hearing will conclude in January.
Join Over60
Join our community of over 400,000-plus members today and get the latest Over60 news, offers and articles.
Get all the latest Over60 news, offers and articles.