Nelson Mandela's final photos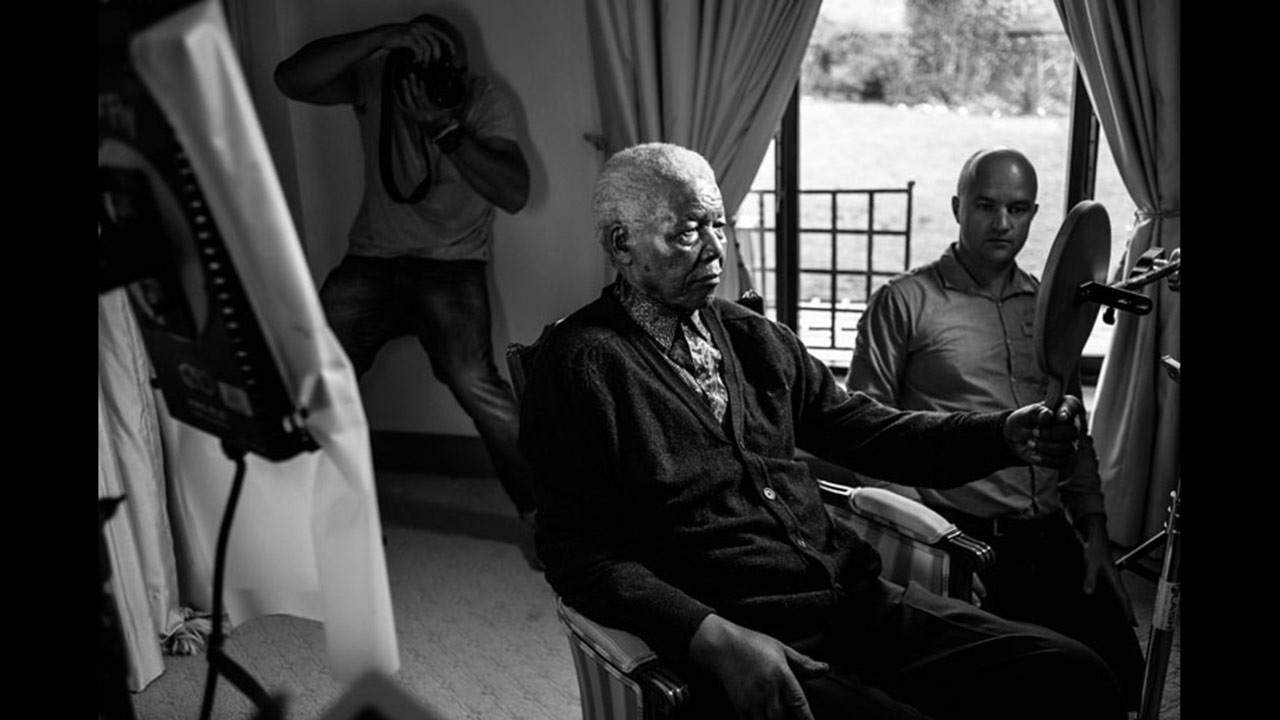 Scroll down to view the gallery below
Nelson Mandela, the legendary leader who helped to end apartheid in South Africa and later became the country's first black president, had largely withdrawn from public life by 2011. But he agreed to one last photoshoot: A portrait-sitting for photographer Adrian Steirn's "21 Icons" project, a multimedia series highlighting those who played a role in shaping modern South Africa.
Steirn, one of South Africa's leading photographers, captured Mandela at his boyhood home in the village of Qunu, located in the nation's Eastern Cape Province. The photoshoot would become one of Mandela's last.
Mandela's portrait in the 21 Icons project took careful consideration. "We had to come up with a concept that was both viable and meaningful," Steirn told Reader's Digest.
The final result was a photograph titled "A Reflection of Dignity," which captured Mandela's "majestic aura and humble spirit simultaneously," HuffPost.com wrote. "The concept of the mirror allowed him to step out of the portrait and 'reflect' on South Africa today and the part he played in that process," according to Steirn.
A South African himself, Steirn says that his deep admiration for Mandela inspired him to create the "21 Icons" project. Shaking the leader's hand for the first time "was amazing," he says.
"You hear so much about this man, living in a country that is based around his narrative." But Mandela – or Madiba, as he was affectionately nicknamed by South Africans – quickly put Steirn and his crew at ease.
"He was the kind of guy that made you feel like the important one. That was his gift," Steirn says.
Mandela and Steirn shared a laugh together during a brief pause in the photoshoot. "At the end of the day, one of the great lessons for me was you can't idolise anyone," Steirn says. "We are all human."
In 2013, Adrian's stunning photo of Mandela with the mirror was purchased by a private art collector for $200,000 – the highest price ever paid for a local portrait. Part of the proceeds were donated to the construction of the Nelson Mandela Children's Hospital in Johannesburg, which opened its doors in 2017.
Damon Hyland, a member of Steirn's crew for the "21 Icons" project, arranged the lighting for the photoshoot. The photos were not enhanced in any way, according to Steirn, allowing the room's natural light to illuminate the shot.
The portrait-sitting was one of the last before Mandela's death, and the power of the moment made the crew emotional at times.
"In those moments, it becomes very clear that no matter what colour we are or what gender we are… it doesn't matter what we achieve in life. We're all mortal," Steirn says.
Steirn, Hyland, and Meme Selaelo Kgagara positioned Mandela's mirror for the shot. Though Steirn and his crew were nervous before the photoshoot, he says that Mandela's good-natured and kind personality soon calmed their jitters. "There was a humbleness around Mandela, there was a humour about Mandela that set him apart," according to Steirn. "He was a very real man."
Steirn photographed Mandela for the last time in 2013 – two days before the leader was admitted to the hospital with a lung infection.
Mandela was watching the National Geographic channel, Steirn recalls. "He gave so much to this country; he represented unity to South Africa. Knowing we would lose him was an impactful, intense moment," Steirn says.
"In my own way, it was goodbye."
A few months later, Mandela passed away in his home.
IMAGES: Courtesy Adrian Steirn
Written by Brooke Nelson. This article first appeared on Reader's Digest. For more of what you love from the world's best-loved magazine, here's our best subscription offer.