Terri Irwin reveals the split-second decision that changed her life forever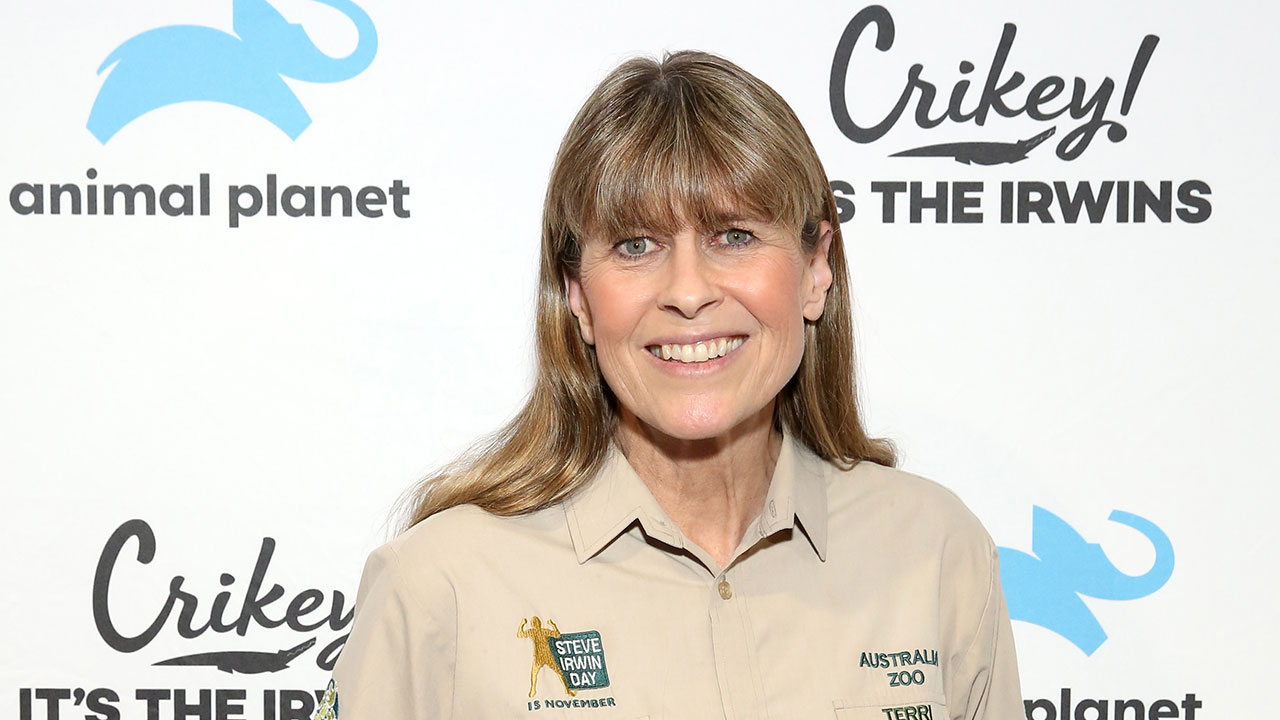 Terri Irwin and Steve Irwin's relationship was something special. The bond the two shared with one another wasn't only visible to those who adored the pair, but also to Terri herself.
Which is why, in the 12 years since Steve's death, she hasn't dated anyone else.
"I think it's wonderful when people who have lost someone find love again, but I'm not personally looking, and I haven't been on a date in 27 years," said the mother-of-two to People magazine.
"In fact, it's been so long, I've had a couple of lovely women ask me out because they figured that's the case. But I'm content. I have two beautiful kids, a really full plate.
"I've already had my happily ever after."
View this post on Instagram
Terri and Steve had a whirlwind romance, with the two meeting by chance in 1991 when she was visiting the Great Barrier Reef from Oregon in the US.
Talking to comedian Anh Do on his show Brush With Fame, Terry recalled the moment her and Steve crossed paths.
27-year-old Terri was passing a "tiny" wildlife park at the time.
"My friend said to me, 'Do you want to go in?'" said the 54-year-old.
Terri, who was working as a veterinarian technician and was helping rehabilitate cougars was going to keep walking, but a voice inside her head changed her mind.
"I said, 'It looks kind of crummy. There'll probably be just a couple of snakes in jars and I'll be depressed.' And then I went, 'No! I'll go in. Let's go in.'"
That was when she laid eyes on a young Aussie man who was presenting a show on crocodiles.
"It was small but everything was immaculately clean. And everything was free-ranging, like the kangaroos are just hopping around and it was beautiful!
"They were doing a crocodile show and this guy was in with these crocodiles and he was talking about them in ways that I never really thought of crocodiles," said Terri.
Today, that small park has grown, and is now famously known as Australia Zoo.
"The fact that he was so humble and loving towards these animals was so attractive to me and he looked like a rock in those shorts, too … so I may have noticed that," she said.
But despite Terri not looking for love, it was a classic case of love finding her because there was an instant connection between the pair.
"All afternoon we just talked! I was trying to figure out how to say, 'Do you have a girlfriend?' and then all of a sudden like he'd read my mind, he said, 'Would you like to meet my girlfriend?'
"I felt myself sinking into the earth and so he called out and he said, 'Hey Sue! Come here!' and here comes this little dog and he goes, 'This is me girlfriend, Suey.'"
"I thought, 'OK! You're perfect!'"
Today would have been our 25th wedding anniversary. I miss you so very much, and I am grateful every day for the time we had together. pic.twitter.com/Ztzoclhvyt

— Terri Irwin (@TerriIrwin) 4 June 2017
Eight months later, they tied the knot, in June 1992.
Then six years later, their first daughter Bindi Irwin was born, followed by Robert Irwin in 2003.
During an emotional moment, Terri said she missed her husband everyday since his passing.
"I always felt with Steve, if I didn't marry Steve, I wouldn't have gotten married. I wasn't dating, I wasn't even looking. I was 27 years old and thought my life would be work. Then I met Steve and fell in love.
"I just feel that we had that soulmate thing.
"In the [12] years since, I haven't dated and thought about it because I'm not afraid to be on my own, it's just really hard not having Steve … I'm lonely for Steve if that makes sense?"
Terri and her children have kept Steve's dream of promoting wildlife conservation at Australia Zoo alive.
Join Over60
Join our community of over 400,000-plus members today and get the latest Over60 news, offers and articles.
Get all the latest Over60 news, offers and articles.