Paws up! Six puppies join the NSW Police Dog Unit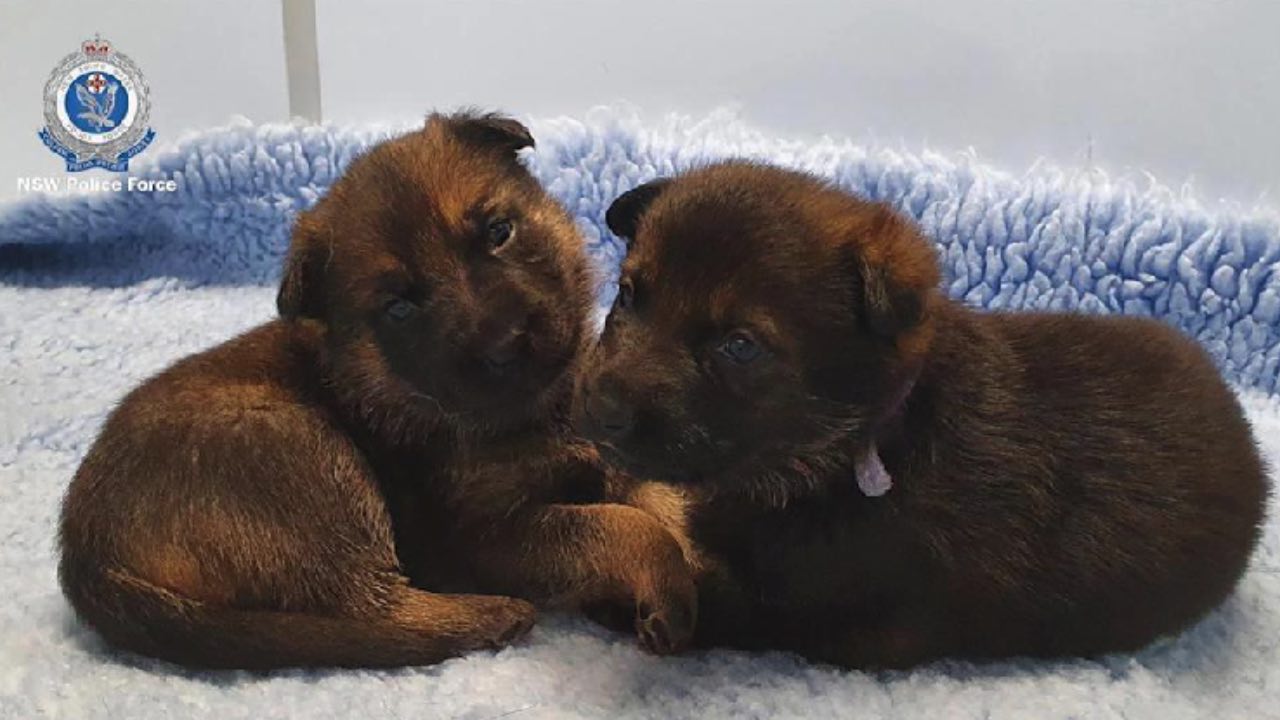 Six German Shepherd puppies have joined the elite, and adorable, NSW Police Dog Force Unit to report for duty.
Four furry females and two males were born in May to mum Bonnie and dad Vegas, and have each been named by the patients at Sydney Children's Hospital in Randwick.
The female pups are Carrie, Cali, Carol and Cody, and their brothers are Coops and Charger.
Superintendent Michael Rochester, Dog and Mounted Commander, said the kids of Sydney Children's Hospital left an important legacy on the Dog Unit by naming their newest recruits.
"Unfortunately, this year the kids weren't able to meet the pups in person because of the pandemic, but we were very glad we could get them involved virtually," Supt Rochester said in a statement.
"If these pups are successful through their training, they'll go on to help the community in many ways."
"Our dogs are used to find missing people, assist in pursuits, detect drugs, explosives and other paraphernalia, and have a variety of other specialist functions which make them an invaluable law enforcement capability."
The adorable puppies have begun their foundational training, as they are being exposed to new a range of new experiences and environments.
The NSW Police force shared the news of the puppies on their Twitter account, along with the backstory to each dog's name.
The NSW Police Force's newest police pups have been named by patients from Sydney Children's Hospital.

"I wanted to name the puppy Cody because my best friend's name is Cody, and dogs are her favourite animal," said eight-year-old Alice.https://t.co/9skvOMkOOj pic.twitter.com/n7SdeQRTsn

— NSW Police Force (@nswpolice) September 28, 2021
They said on
their website
that naming the dogs became a wonderful distraction for the kids, who had to spend time in the hospital for various reasons.
Eight-year-old Alice chose the name Cody after being inspired by this closest to her.
She said, "I wanted to name the puppy Cody because my best friend's name is Cody, and dogs are her favourite animal."
Minister for Police and Emergency Services David Elliott welcomed the new furry recruits, thanking those who named them.
"These pups represent the next generation of the Force's Police Dog team, one of the most highly-trained and respected in the world," Mr Elliott said.
"I join the children, who named the pups, in following the progress of the C-litter; I know they will achieve great things in the future," he said.
Image credit: NSW Police