"Cold and brutal": Karl grills treasurer over scrapping of disaster payments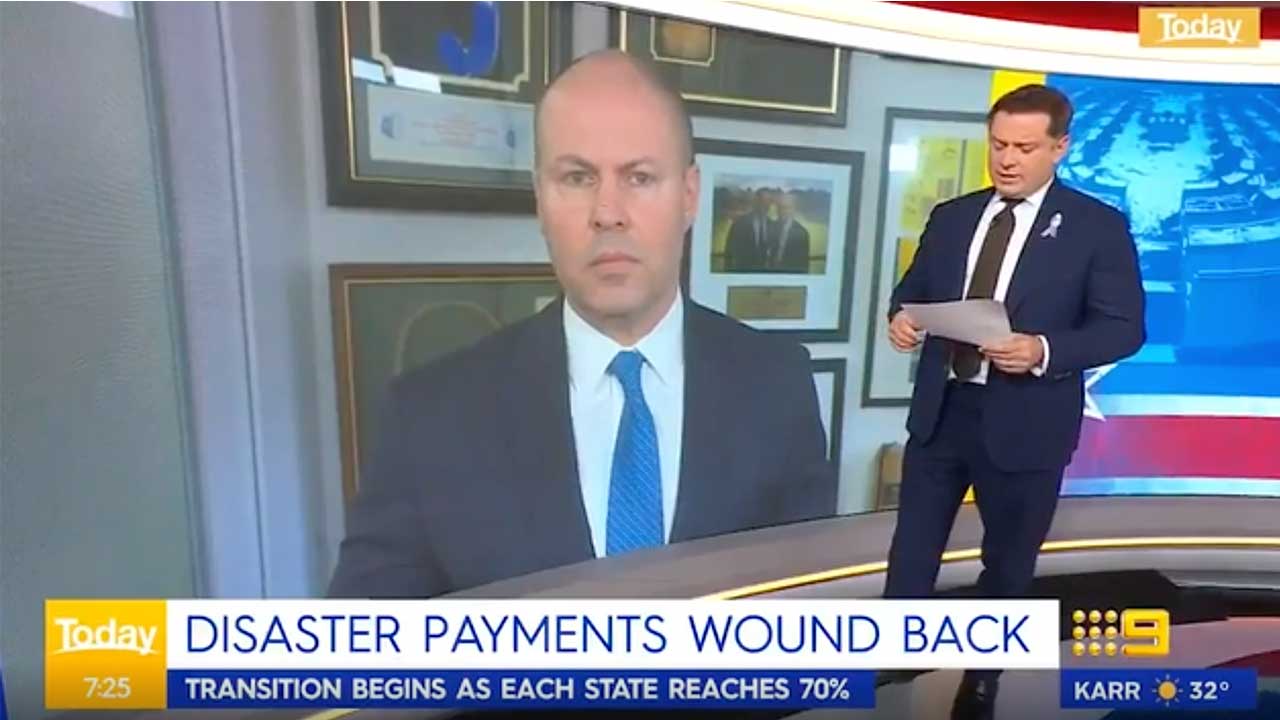 Today Show co-host Karl Stefanovic has criticised the federal government over its plan to scale back, and eventually scrap, COVID-19 disaster payments. It was announced on Tuesday that the government will begin winding down the payments, which give $750 a week to people who have lost at least 20 hours of work, and $450 a week to those who have lost between eight and 20 hours, as each state and territory reaches their 70 and 80 per cent vaccination targets.
Per the changes, once a state or territory reaches 70 per cent fully vaccinated, people will have to reapply each week for the payment, instead of it being automatically renewed. At 80 per cent, the payment will be phased out entirely within two weeks. For states and territories like NSW or the ACT, which are estimated to reach 80% fully vaccinated by October 18th and 21st respectively, this change means the scrapping of the payment is imminent.
Talking to treasurer Josh Frydenberg on the Today Show on Wednesday morning, co-host Karl Stefanovic called the decision "cold and brutal", telling Frydenberg, "I get that you can't keep it going and going but many industries won't be back to normal at 70 or 80 per cent – you have the arts, nightclub, hospitality and tourism, especially in Far North Queensland … to cut them off is kind of cold and brutal, isn't it?"
"We can't continue with these emergency payments indefinitely."

The Federal Government will announce today that COVID disaster payments will be wound back as each state hits the 80 per cent double-dosed vaccination target. #9Today pic.twitter.com/jHMFvZtDSH

— The Today Show (@TheTodayShow) September 28, 2021
In response, Frydenberg outlined the government's partnership with the Queensland Government to support Queensland businesses, concluding that, "It's those sorts of direct economic payments that complement what we've been doing at higher, broader level with the Covid disaster payment and other economic support."
Frydenberg failed to address how the federal government would provide support to those who have lost work as a result of COVID-19 and are not able to find replacement work in between now and the looming deadline. Many anti-poverty advocates and welfare campaigners expressed concern about the phasing out of the payments online, including the Antipoverty Centre, who tweeted, "They're making a huge gamble with our lives, betting that jobs will magically return overnight."
The government has started the poverty clock ticking.

They're making a huge gamble with our lives, betting that jobs will magically return overnight.

All that will come of this is more people in poverty and more lives destroyed. The disaster payment living up to its name. https://t.co/LtwzgMXotU

— The Antipoverty Centre (@antipovertycent) September 28, 2021
Image: TODAY Show/Nine