"Nothing to apologise for": Georgie Gardner hits back over controversial Dr Teo interview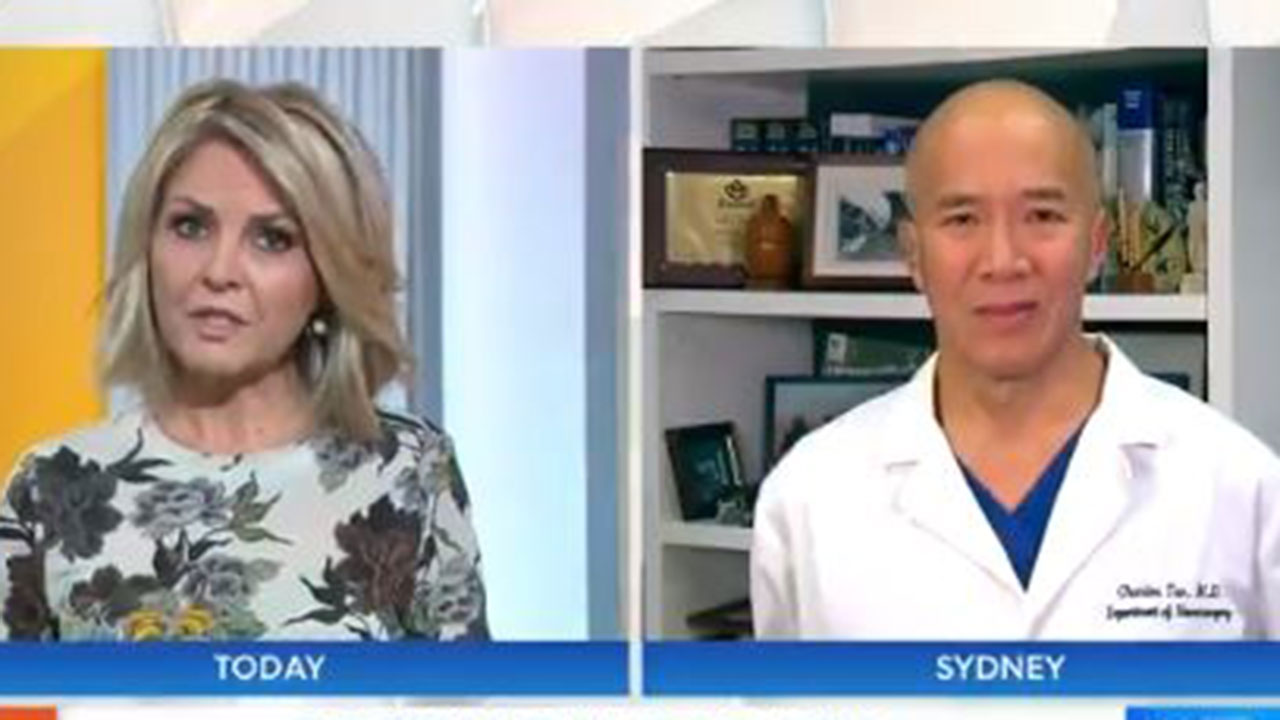 Georgie Gardner has responded to those who criticised her for the treatment she gave brain surgeon Charlie Teo during his appearance on the Today show.
Taking to Twitter, the breakfast show host told naysayers to "go away", saying she had "nothing to apologise for" and that Dr Teo "was happy with the interview".
Since the interview aired last month, Gardner has been heavily criticised over her line of questioning.
Dr Teo is considered a "hero" by many, as he is famous for conducting operations on those who have been told there is nothing that can be done.
But despite his life-changing surgery, fellow surgeons seem to disagree with his price point, with the neurosurgeon saying the medical world is "gunning for him".
Please watch the i'view or go away. I have nothing to apologise for & I repeat Prof Teo was happy with the i'view @TheTodayShow https://t.co/wEnPMWqncS

— Georgie Gardner (@GeorgieG) 10 June 2019
His interview with Gardner in May started a fiery feud on Twitter, as those in the profession slammed the surgeon for accepting six-figure sums, with patients resorting to crowdfunding to help pay for his services.
During his exchange with Gardner, the journalist asked him why the procedure isn't covered by Medicare, which prompted Dr Teo to tell the host to get her "facts straight".
"Let's get our facts straight first," he said. "The fact is, although some patients do have to pay over $100,000, that doesn't all go to the surgeon or even the team.
"It is in a private hospital, which is accounting to their shareholders. They have to make a profit.
"So, for example, that $120,000 bill that Henry Woo is talking about, $80,000 to the private hospital. $40,000 then gets dispersed among not only the surgeon, the assistant, anaesthetist, pathologist, radiologist, radiographer.
"It is not that great an amount to each individual person, when you get your facts straight…"
Gardner then continued to probe into how much Dr Teo personally makes in those circumstances.
"I got $8000," he said. "But it is really not the total amount that each person gets. It is really the fact that people do have to pay for their private healthcare.
"It is a little bit unfair. If I was a child with cancer in a foreign state who wants the very best care, I think you should be able to be done in the public system.
"But unfortunately, if you are done in the public system a few people have swallowed their egos."
Dr Charlie Teo defends the high cost of his procedures, instead putting the onus on other neurosurgeons who won't swallow their egos and says "I would do it free of charge" if Australia's healthcare system covered the costs. #9Today pic.twitter.com/mwjmuMU8Se

— The Today Show (@TheTodayShow) 28 May 2019
Dr Teo made a startling admission to
6PR
host Jane Marwick, saying the medical profession had deeply rooted problems, as he revealed he once abused his power to prevent another surgeon from reaching the top.
"I hate to say it but I'm guilty of it myself," he said.
"I remember when I sat on a credentialing board at one of the hospitals I was at. This guy applied for privileges at this hospital. About three months before he'd written a pretty nasty letter about me, so I didn't like him. So what do I do?
"With the power that I had, I go, 'No, he can't have privileges at this hospital.' And, for no other reason than because I didn't like the guy. He was probably a good surgeon. He'd paid up all his dues. But I didn't like him, so I didn't give him privileges."
Dr Teo said he did it "because I could".
"I was totally unaccountable. Nobody came down on me and said, 'Give me the reasons why' or 'You can't do that just because he's not a nice person'."
Join Over60
Join our community of over 400,000-plus members today and get the latest Over60 news, offers and articles.
Get all the latest Over60 news, offers and articles.