Kylie Gillies snuck onto The Chase set to surprise Larry Emdur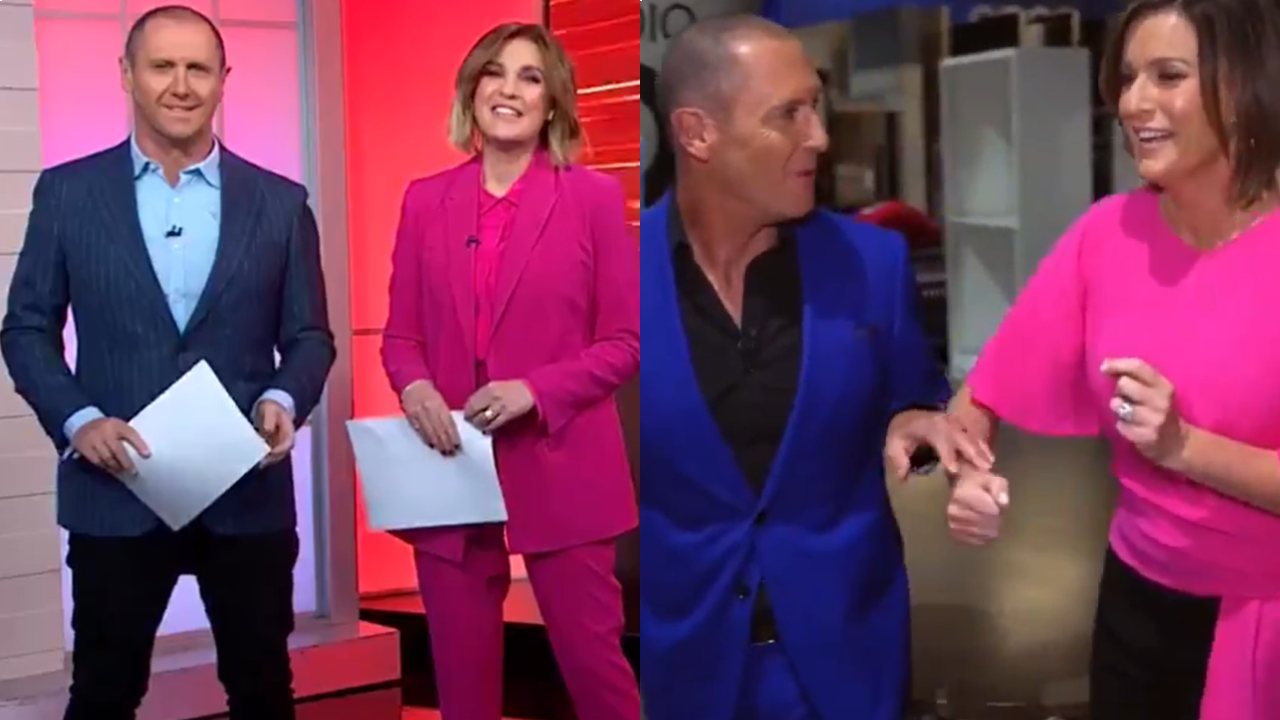 As
The Chase
prepares to welcome new host Larry Emdur next week, Emdur's
The Morning Show
co-host Kylie Gillies decided to sneak in and surprise him on set.
Unfortunately, Emdur busted Gillies trying to "break in".
"No, no! Your face is up at the security desk, you're not allowed in here," Emdur joked.
He then filled Gillies in on the excitement of working The Morning Show and coming to The Chase to work with his "nighttime friends".
@kyliegillies wanted to see what her Morning Show co-host @larryemdur is up to on the set of #thechaseaustralia so she did some snooping around! pic.twitter.com/2zDTSlqpFb

— The Morning Show (@morningshowon7) July 21, 2021
"Look, it's such an exciting and big show, the contestants are great and The Chasers are unbelievable," he said excitedly.
The Chasers are known as The Supernerd, Goliath, The Shark and The Governess.
The Governess is the most feared and successful Chaser, as she has an 80 per cent win rate against the contestants and has only lost 48 shows out of 219.
The segment rolls on, introducing The Chasers and goes onto feature Emdur putting Gillies' knowledge to the test with a "The Chase" style of questioning.
The Chase or charades?!?

See how @kyliegillies fared when she faced some tough questions from @larryemdur on the set of #thechaseaustralia 🏃 pic.twitter.com/0RSjZGdWV1

— The Morning Show (@morningshowon7) July 21, 2021
The pair joked amongst each other as they pretended Gillies was a new contestant on the show.
"Now, Kylie, do you get to see the show much at all?" Emdur asked.
"Uh, yes, yes I do, actually. I watch every night as I'm preparing a very nutritious meal for my family, Gillies joked.
"How do you go when you watch it at home?" Emdur asked again.
"I usually answer... probably about... I don't want to exaggerate, but probably 94 to 97 per cent of the questions correctly," Gillies confidently answered.
"Did you know that 87 per cent of the people that come on the show say "I don't want to exaggerate" just before they exaggerate?" Emdur joked.
The pair continued on talking when Emdur finally asked if Gillies worked in television.
"Now, you said you worked in television, is that right?" Emdur asked.
"Yes I do, it's called the Morning Show," Gillies joked.
"Oh right, so you do that on your own?" Emdur joked back.
"Um, no, you used to work on it," Gillies laughed.