The mountain no one can climb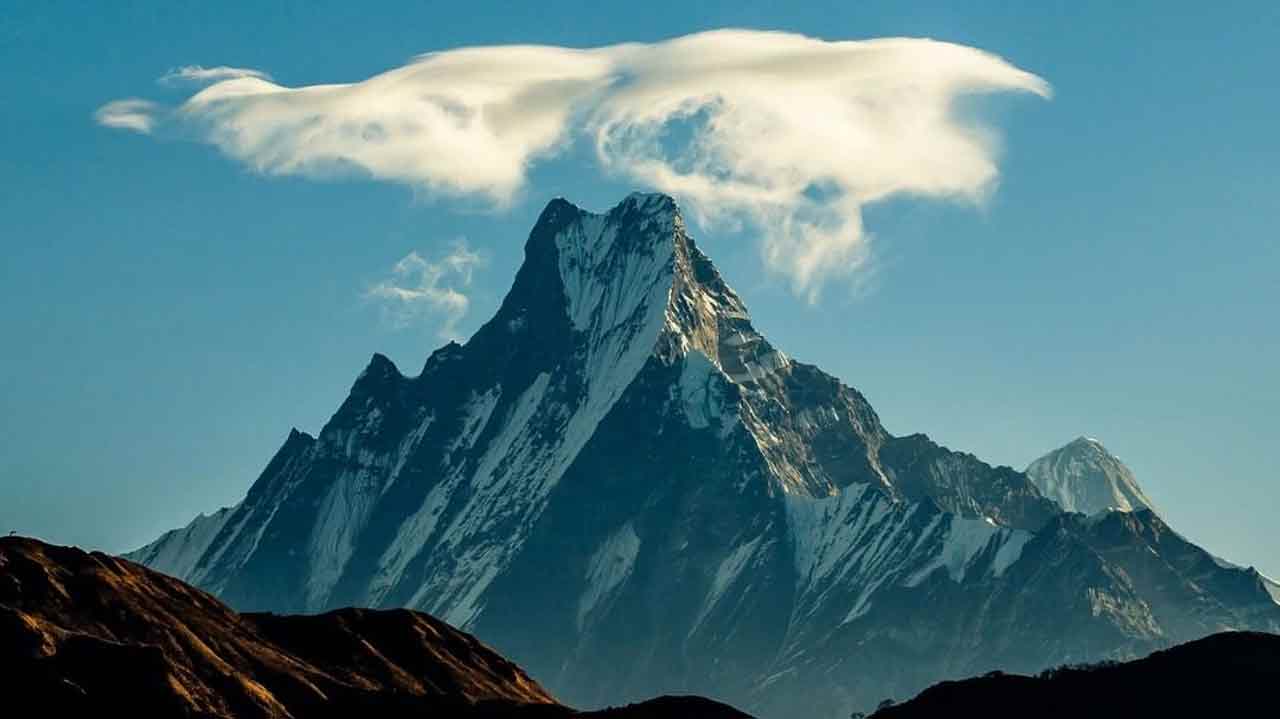 For a country where mountain tourism has thrived, there is one mountain in Nepal where climbing is forbidden.
Machhapuchhre - meaning "fishtail" - stands at 6,993m in the Annapurna range in central Nepal that is home to three of the world's 10 highest mountains.
Though it doesn't stand as tall as other mountains, it stands out as a lone peak and appears much taller than it actually is.
Machhapuchhare also has a double summit, which is joined by a sharp ridge, and towers over the Phewa Lake.
The closest curious tourists can get to the peak is the summit of Mardi Himal, a smaller mountain beneath Machhapuchhare.
The reason behind it's prohibited climbing status: Lieutenant Colonel James Owen Merion Roberts.
Jimmy Roberts, as he was popularly known, was a British Army officer and the first military attaché to Nepal. He made significant contributions to Nepal's economy and local livelihoods after helping open up the country's remote mountains for commercial mountaineering and trekking.
Roberts has since been remembered as the "father of trekking" in Nepal.
His fascination with Machhapuchhare began after he read a dispatch from another army officer, and he would eventually become the first and only person to attempt to reach the summit.
But, his expedition party, reduced to just two people by the end, abandoned the ascent just 45m below the summit due to bad weather.
Following the failed climb, Roberts requested the Nepal government restrict the peak and ensure Machhapuchhare would never be climbed.
They obliged.
Roberts' fascination with the mountain and his kinship with Gurungs, who hold Machhapuchhare sacred, and with the people of Chomrong, the last Gurung village before the mountain, may have been the motivation behind his odd request.
Though the reason remains a mystery and Roberts' association with the peak's prohibited status has been largely forgotten, the prevailing view now is that the mountain is sacred and therefore forbidden to climb.
"Machhapuchhare's summit is not meant to be stepped upon; it is only to be adored by the eyes," said Tirtha Shrestha, a poet and long-time resident of nearby Pokhara.
"Any discourse, not just on Pokhara, but about the beauty of the entire Himalayas, would be incomplete without mentioning Machhapuchhare. Its beauty has greatly moved poets, authors and artists. In many folk songs, the mountain has been showered with praises. Machhapuchhare, for us, is the epitome of beauty," he said.
Image: MountainKick / Instagram