Exploring our own backyard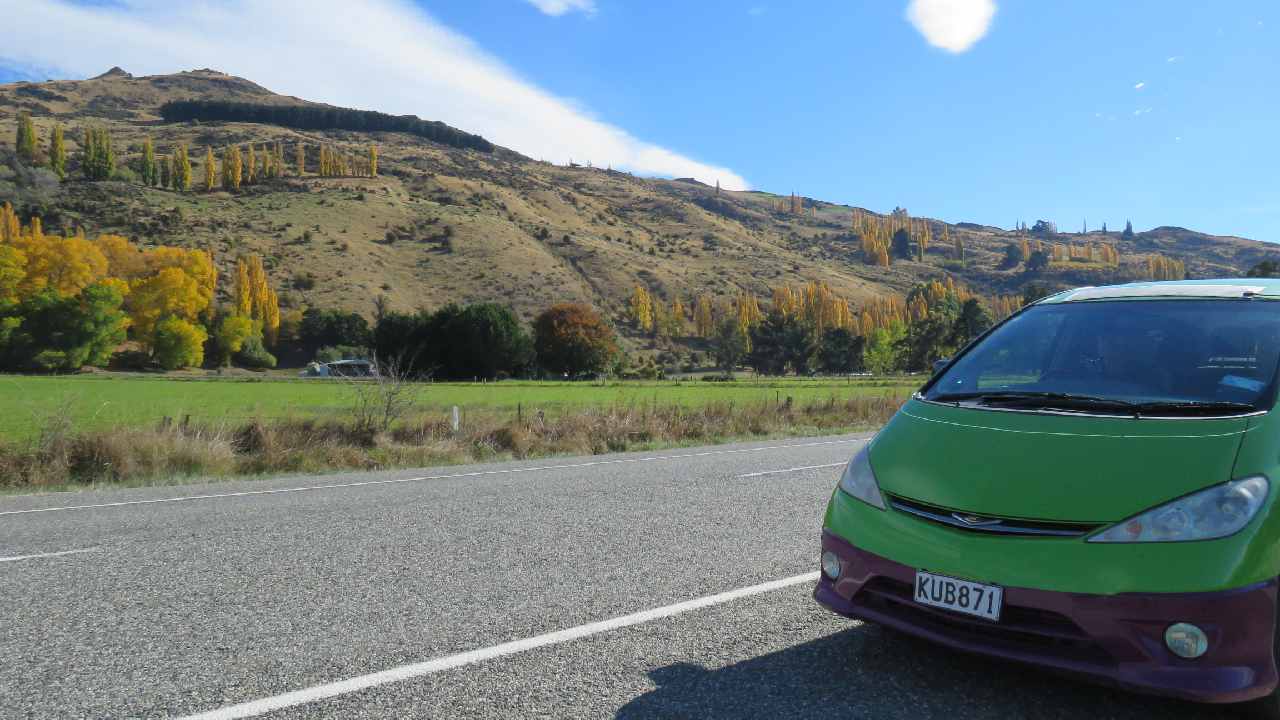 Scroll down to view the gallery below
Justine Tyerman defies 'age-ism' and 'sensible-ism' on an autumn road trip a year ago revisiting places in Central Otago last travelled as a child, exploring new territory in the Catlins... and sleeping in the back of a station wagon.
Eyebrows were raised to the ex-hairline and there was much tut-tutting among our friends as they inspected the double bed neatly made up in the back of the JUCY Cabana station wagon and the little kitchen tucked into the rear of the vehicle.
"You're a bit old for this sort of thing," they guffawed, shaking their heads in disbelief.And besides, it's far too late in the season to be camping. You'll freeze to death. Stay on here with us — play golf, go fishing and e-biking... sensible, age-appropriate activities. Or at least check in to a hotel along the way," they said.
That's all it took to galvinise the stubborn in me and harden my resolve to defy "age-ism" and "sensible-ism", throw caution to the non-existent wind and be daring.
After all, we were only heading for a brief sortie through Central Otago to the Catlins, not a month overland in Outer Mongolia, so there was always the option of a hotel or motel if the weather really misbehaved.
"Late-life crisis," I heard them mutter as Chris and I piled our far-too-large-suitcases into the wagon and prepared to depart. The cases hadn't looked so bulky in the palatial guest wing of our friends' Wanaka home but we were now wondering what the heck we'd do with them at night time.
"Note to self: if you want to relive your youth, get a rucksack and travel lightly."
We waved goodbye to our friends and drove off into the delicious unknown with an old-school paper map on my knee... and a new-age Roadtrippers App on my phone.
They were off to golf and lunch at a winery. We were heading in the general direction of Kaka Point at the north-eastern boundary of the Catlins, revisiting places along the way I'd last travelled through as a child.
In our mid-60s, we had lately developed nomadic tendencies. The idea of not being tied to an itinerary or booking accommodation ahead appealed to us. It gave us a giddy sense of freedom and brought back distant and fond memories of youthful road trips.
I felt so privileged to be able to enjoy the simple, unsophisticated pleasures of cooking outside in the fresh air, sleeping in the back of a station wagon and hiking in bright sunshine under clear skies amid the beauty of Aotearoa in her autumn regalia.
We'd left the decision to do the trip so late that the Cabana was the only vehicle JUCY had left. Their entire fleet was out on the road, a fact which was evident by the numbers of cars and campers with distinctive green and purple plumage. We've travelled in them all including the super-luxury 6-berth motorhome, classic 4-berth campervan, a people mover for a family wedding, a 4WD for skiing, a compact hatch for the two of us and now a Cabana 2-berth mini-camper. I was tingling with excitement and up for the challenge.
The weather certainly wasn't promising as we drove out of Wanaka under a slate grey sky. The mist was tucked into the folds of the mountains like a fluffy duvet. It looked ominously like the linger-all-day inversion layer common in these parts in May and June, but by the time we reached Lake Dunstan, glimpses of blue peeked through holes in the clouds and soon after the sky cleared to a dazzling autumn day.
The man-made lake looks much more natural and at ease in its environment than when the Clyde Dam power station was completed in 1993 and the vast 26 sq km hydro storage reservoir was formed from the waters of the mighty Clutha River/Mata-Au. It took 18 months to fill reaching its full height in September 1993, but for many years it looked out of place and temporary.
There are smart new settlements on the shores of Lake Dunstan like pretty Pisa Moorings 10km north of the township of Cromwell at the foot of the Pisa Range.
Where farmland, tussock and stone and pipfruit trees once held dominion, vineyards now cover hillsides facing the sun and huge cherry orchards under nets have sprouted up on the flat lands.
Cromwell was relocated to higher ground in the 1980s before the lake swallowed up its original location at the picturesque junction of the Clutha and Kawarau rivers, along with 2300 hectares of productive land.
A resilient town which has survived many a boom-and-bust since its birth in the 1860s gold rush, Cromwell exudes a new sense of confidence. Long in the shadow of self-important neighbours, Queenstown and Wanaka, Cromwell has emerged as a thriving hub with a well-preserved historic old town, a colourful gold-mining history, a beautiful lake for fishing and aquatic activities, award-winning wineries, excellent cycle and hiking trails... and affordable real estate, something its celebrity neighbours do not have.
I vividly recall Cromwell of yesteryear, the mingling of the turquoise Clutha and the blue or sometimes muddy Kawarau at their confluence, the graceful old Cromwell suspension bridge with its cables and red brick spiers and the huts of the Chinese gold miners, now nine or 10 metres beneath the water.
— To be continued
Factbox:
Pick up a

JUCY

campervan, 4WD, people-mover or car at Queenstown Airport. We've tried them all but this time we had a two-berth Cabana mini campervan with a double bed and a little kitchen which gave us the freedom to camp out whenever we felt like it. The Cabana is not self-contained so we stayed at camping grounds and met some awesome people along the way. We liked the ease and manoeuvrability of the basic little campervan and the freedom of not being tied to an itinerary or pre-booked accommodation.