Farmers fear mice plague could explode again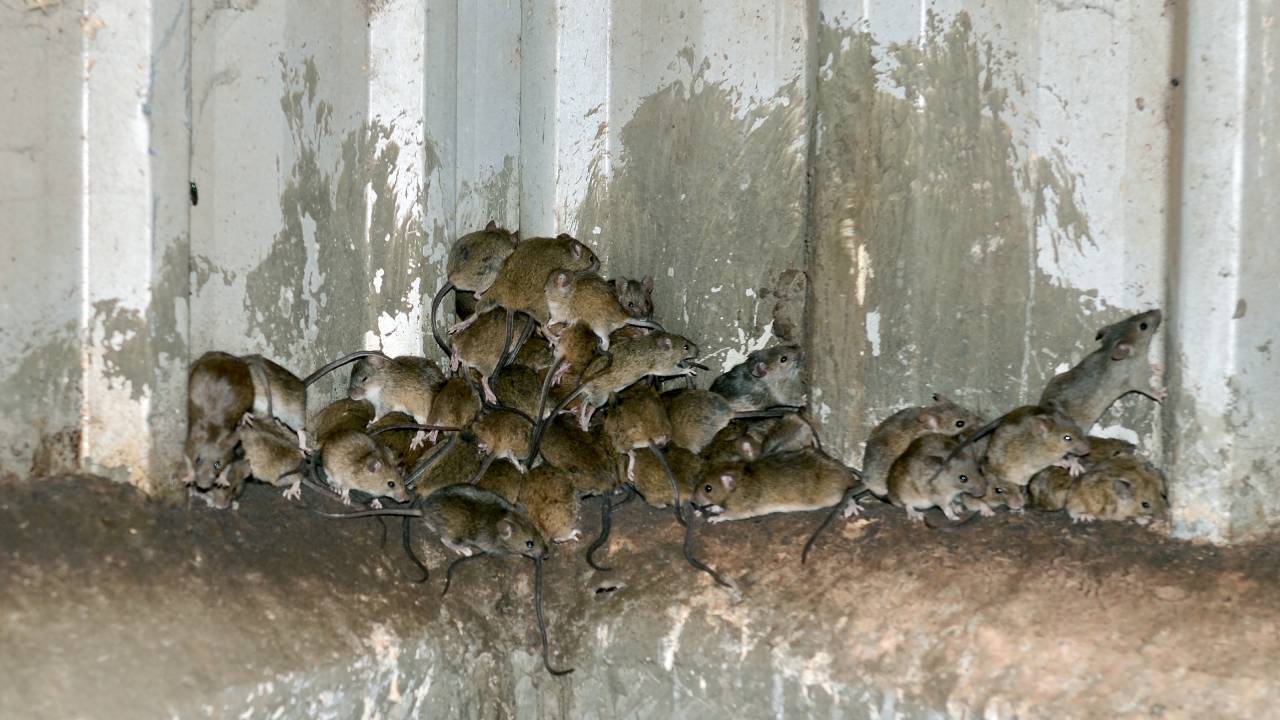 Farmers are terrified that the horrifying mice plague could occur across parts of NSW and Queensland this spring.
NSW Farmers Vice President Zavier Martin has warned that despite the mice plague not hitting capital cities in Australia, it's still a massive problem for farmers.
"If they explode like some are saying they will now, holy moly it's going to be on for young and old and we'll be talking some pretty serious numbers," Mr Martin said.
"They're still all here and if they... start having 10 pups every 20 days, they'll just wipe out crops come spring-time if we're not prepared."
While the cold weather and baiting has given some farmers respite, Martin said that many mice have likely "dug deeper underground" to stay warm.
Agriculture Minister Adam Marshall has warned that there could be a surge in mouse numbers and farmers will need the tools to combat them, which includes rebates of up to $10,000.
He's also advocated for the use of bromadiolone in paddocks, despite environmental concerns it could lead to secondary poisoning of predatory birds, like owls, hawks and eagles that eat mice.
"I won't shy away from advocating for farmers to have all the tools they need and ask for to manage this mice plague, including the use of bromadiolone," he told Yahoo News Australia in a statement.
"There is no single solution which is why the NSW Government has provided primary producers with a multi-pronged approach to knockdown numbers."
The federal agricultural poisons regulator, the APVMA, rejected the emergency exemption of spraying paddocks with bromadiolone.
Animal Control Technologies Australia (ACTA) has housed significant stores of bromadiolone, where the government sourced 2,000 litres from ACTA.
ACTA owner Linton Staples said that he believes the government "went wrong" when they decided to advocate for broad-acre as it's "potentially environmentally dangerous".
"Had they gone ahead on a massive scale with thousands of litres of chemical, then that amount of bait would have probably caused environmental problems to my judgement, if it hadn't been controlled wisely," Mr Staples told Yahoo News Australia.
"But I know the people who are involved at the government level, and they're pretty solid citizens, and they were going to be very cognisant of those risks and how we were going to monitor for them."
"You can always pull back if things start to go wrong, and you start to seeing birds dying or other animals being affected."
While he believes controlled use in paddocks could have worked, words like "napalming" were "inappropriate" when discussing how to use the poison scientifically.
"It caused the welfare people to start to become involved in things and in some ways rightly so," he said.
"It was just a poorly chosen description of a chemical control method unfortunately."