Discover what life is like underground in White Cliffs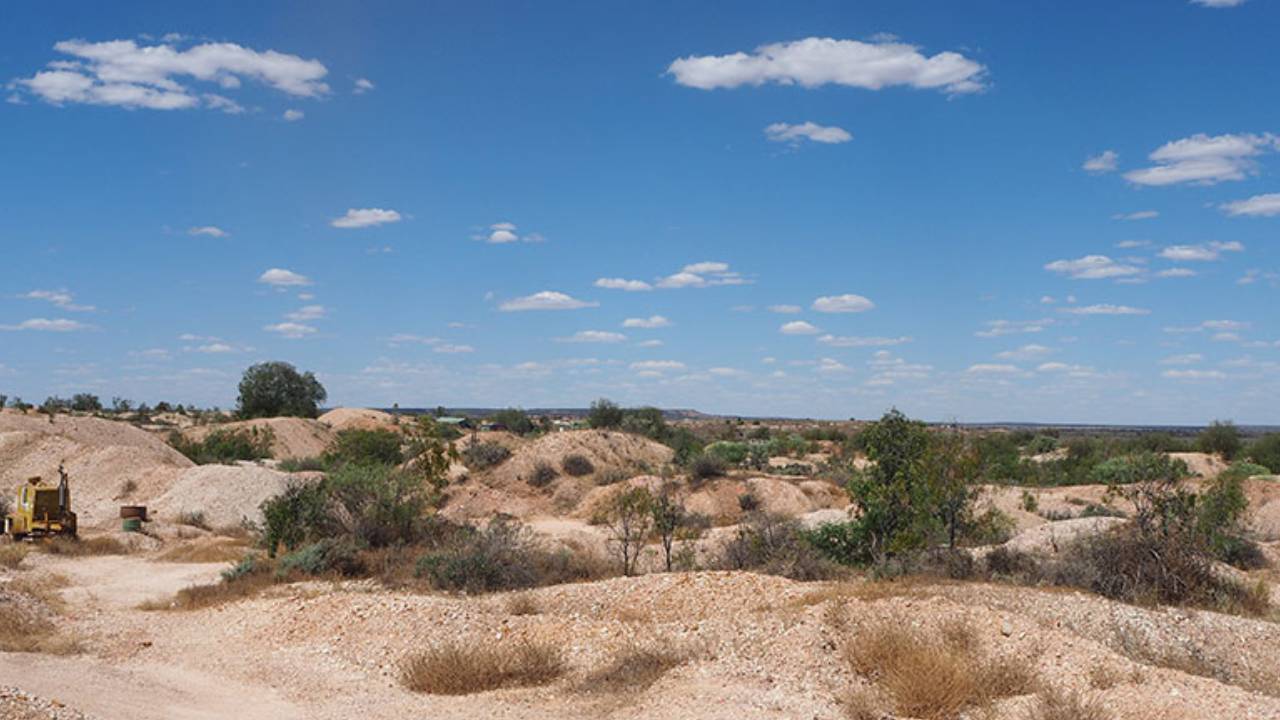 The local landscape of White Cliffs can border on the surreal. Like any small town, White Cliffs has the obligatory pub and a general store, but on our visit they appeared to be closed for the day. The petrol station looked deserted and the local restaurant claiming to have the best casseroles in town was empty.
Apart from The Stubbie House — a home built out of 54,000 bottles — and the abandoned Solar Power Station there wasn't much else to see. It may seem like a ghost town, but the truth is a little stranger – it's because the majority of the White Cliffs community live in holes under the ground.
Located in outback New South Wales, 255km northeast of Broken Hill, White Cliffs' residents started living in dugouts in the early 1890s. Miners built extensive underground homes in the hillside to avoid the intense heat — with summer temperatures that consistently reach over 40°C.
Today, it mixes tourism with opal mining, offering visitors a unique perspective to outback living. There are around 100 dugout homes still in use in White Cliffs, making them fascinating to visit.
A great example of one of the homes is the beautifully carved residence of Cree Marshall and Lindsay White. As you enter their abode, there is something at every corner that will catch your eye — the ornamental wooden harp, the towering tree stump standing at the centre of the kitchen, even the recycled geometric floor tiles.
Cree and Lindsay's stunning 'White House'
The pair have been progressively renovating their home into a remarkable subterranean dwelling and offer tours at $10 per person between 11am and 2pm. Well worth the price, the home is located beside the Red Earth Opal Cafe.
But it's not just about underground living. Off the Barrier Highway at Wilcannia, midway between Broken Hill and Cobar, head northbound to White Cliffs' Opal Fields where you'll be transported to a moonscape terrain of around 50,000 diggings.
While the mining boom has diminished, opal is still being found at White Cliffs and what better way to get an insight into the historic diggings of the 1890s than by visiting an underground working opal mine.
You can also book an opal mine tour at the local Red Earth Opal Cafe
Walk down into the shaft and discover the gritty reality of mining. You know you've struck it big when you've unearthed the brilliant gem 'pineapples', but these are very rare, so rare in fact, that they have only ever been found in White Cliffs.
While fossicking for the elusive opal may not go as planned, you can always head by the local opal store and pick up one of the precious stones, which can often be cheaper than the ones in major retail outlets.
White Cliffs' Underground Motel is a great place to escape the heat
Looking for a special place to stay overnight? Immerse yourself in the local experience with a stay at the famous White Cliffs Underground Motel.
Located on a mesa locally known as 'Poor Man's Hill' (due to its lack of opal), this man-made underground lodge welcomes travellers with a unique experience. Switch off from the world above and see first-hand what it is like living in a dugout.
The maze of passageways lead you to a stairwell that take you up to the star gazing room where you can see the brilliant night sky and can enjoy the vast sunsets and sunrises.
There's also a small on-site History and Cultural Centre for those interested to learn more about the community.
Insulated from the harsh outback heat, the indoors remain at a cool and comfortable 22 degrees all year round.
White Cliffs is a comfortable two-day tour from Broken Hill, allowing you to experience a true outback experience, underground.
Have you ever been to outback NSW? Where's your favourite road trip?
Written by Maria Angela Parajo. Republished with permission of Wyza.com.au.
Join Over60
Join our community of over 400,000-plus members today and get the latest Over60 news, offers and articles.
Get all the latest Over60 news, offers and articles.