REVIEW: Zushi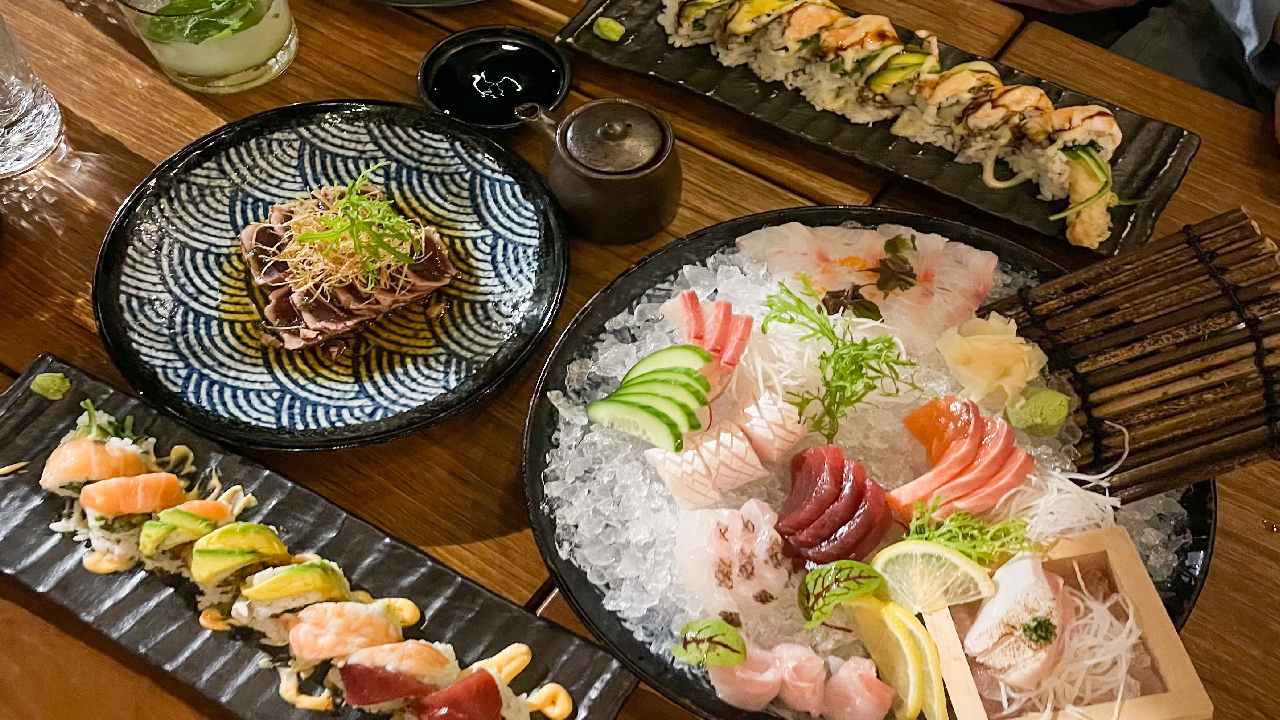 Scroll down to view the gallery below
If you're a little sushi obsessed but your local Sushi train isn't cutting it anymore – Zushi is the destination for you. Buzzing on social media with photos of fresh sashimi and their famous decadent signature rolls, Zushi has been on my radar for a while, so I'll admit the anticipation was high.
Located in the heart of Surry Hills, I set out with the OverSixty team on a Wednesday night for a few drinks and dinner. Marketed as a modern Japanese restaurant with fresh produce, the eatery delivered on its promise with an affordable menu that perfected the balance between innovation and authenticity.
Once seated (a booking is necessary), we were promptly given menus and the service was delightful. The waitresses were efficient, polite and brought out our starters and cocktails within a very short wait time. Now I'm sure wait time differs but if you can, I recommend going mid-week if you're after a quiet evening type of vibe.
The menu had a mix of sushi staples, favourites and delicious cocktails unique to the restaurant. Starting off strong with the Sashimi platter – this was definitely my favourite dish. This sashimi didn't have the fishy taste you'd come to expect from a dish that is quite literally raw fish. It was light, subtle and refreshing, paired with some lemon and soy sauce to enhance the flavour. It was sliced to perfection and served on a bed of ice, which was a nice touch. The deluxe size (coming out at $55) was an ideal portion shared between four adults.
Next up were the classic Japanese restaurant staples: Karaage chicken, pork gyoza, fresh edamame beans and prawn tempura. These classic dishes all stood out with their attention to detail and ultra-crispy finishes.
The stand-out dish of the evening was the teriyaki duck – cooked to perfection and with a melt-in-your mouth type of texture to it. I'd say it was the most impressive in terms of flavour and an individual dish that was quite unique to the Zushi experience.
Of course we had to order their signature sushi rolls too - the tiger roll and the rainbow roll. You can choose between white or brown rice (at no extra charge) and the rolls come out topped with fresh tuna, prawn, salmon and avocado. This was nothing like the Sushi Hub at my local Westfield and I was blown away by the quality and presentation of the rolls; the rice itself was fluffy and still a little warm.
Overall, Zushi had a great atmosphere, friendly service and really presented itself as an extravagant yet affordable dining experience. This is something I'd recommend every sushi fanatic to try at least once.
The cocktail menu is equally as impressive and will have you sipping on a pastel pink elderflower and strawberry caprioska (complete with fresh fruit in your drink) after a crazy day at work and, yes, everything looked as good as it tasted. You can also find Zushi in the Barangaroo precinct if you're after those stunning harbour views.
Images: sourced