"This is why we do what we do": Paralympian responds to fan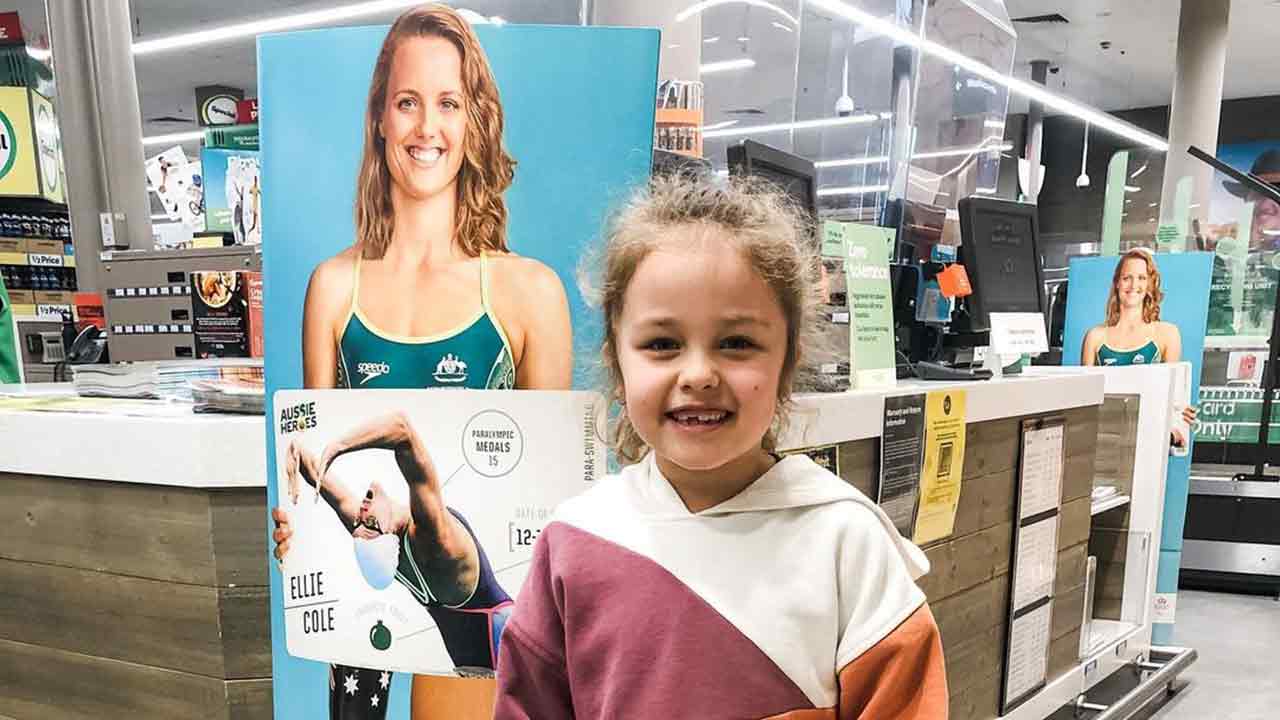 The announcement of Woolworth's newest collectible promotion has resulted in a heartwarming moment for one little girl.
Her mother took to Instagram to share her daughter's "thrilled" reaction to the new Aussie Heroes collectables launched by the retailer last week.
Sharing a photo of the seven-year-old girl, Mia Stewart, wearing a prosthetic leg brace and smiling in front of a banner featuring a photograph of Paralympic swimmer Ellie Cole, Mia's mother wrote: "Representation matters!"
View this post on Instagram
"You have no idea how excited Mia was when she saw Ellie Cole at Woolworths today! She was beyond thrilled!" she continued.
"MUMMMM she has a leg like me!"
Mia's Instagram biography states that the little girl suffers from Proximal Femoral Focal Deficiency (PFFD) and has had rotationplasty surgery.
The newest range of collectable items celebrates Australian Olympic and Paralympic athletes in the form of collectable stickers that customers can earn with select purchases.
A Woolworths spokesperson has said they are "moved" by Mia's story.
"Our goal with this collectable is to celebrate some of Australia's greatest athletes and future champions, as well as inspire younger generations to live active and healthy lifestyles," the spokesperson told Yahoo News Australia.
"We were moved by Mia's story and her excitement to see Ellie in the collection.
"Ellie exemplifies what the Aussie Heroes collection is all about and we'll be cheering her on as she competes in the Tokyo Paralympics!"
Ellie has also shared Mia's story on her own Instagram page, attracting supportive comments from dozens of athletes.
Sharing the same photo of Mia, Ellie wrote: "This is why we do what we do. My heart."
View this post on Instagram
Mia's mother responded to the post, saying that Mia has been avidly collecting the stickers in the hopes of getting one of her favourite Paralympian.
"I'm not allowed to shop anywhere else until she gets an Ellie," her mother wrote.
Ellie told News.com.au that Mia's photo "really hit in the heart strings".
"When I was her age, I didn't have any Paralympic role models, I didn't even know that people with disabilities could play sport," she said.
Mia has also been given the chance to meet her idol on the Today Show.
Appearing on the breakfast show, Ellie spoke to Mia about the post and gave her some advice for the future.
"Understand that you are unstoppable and just go for anything you want to," she told Mia.
When asked by host Richard Wilkins whether she'd like to be an Olympic swimmer like Ellie, Mia enthusiastically replied "yes".