Katherine Kelly Lang reveals her ageless beauty secrets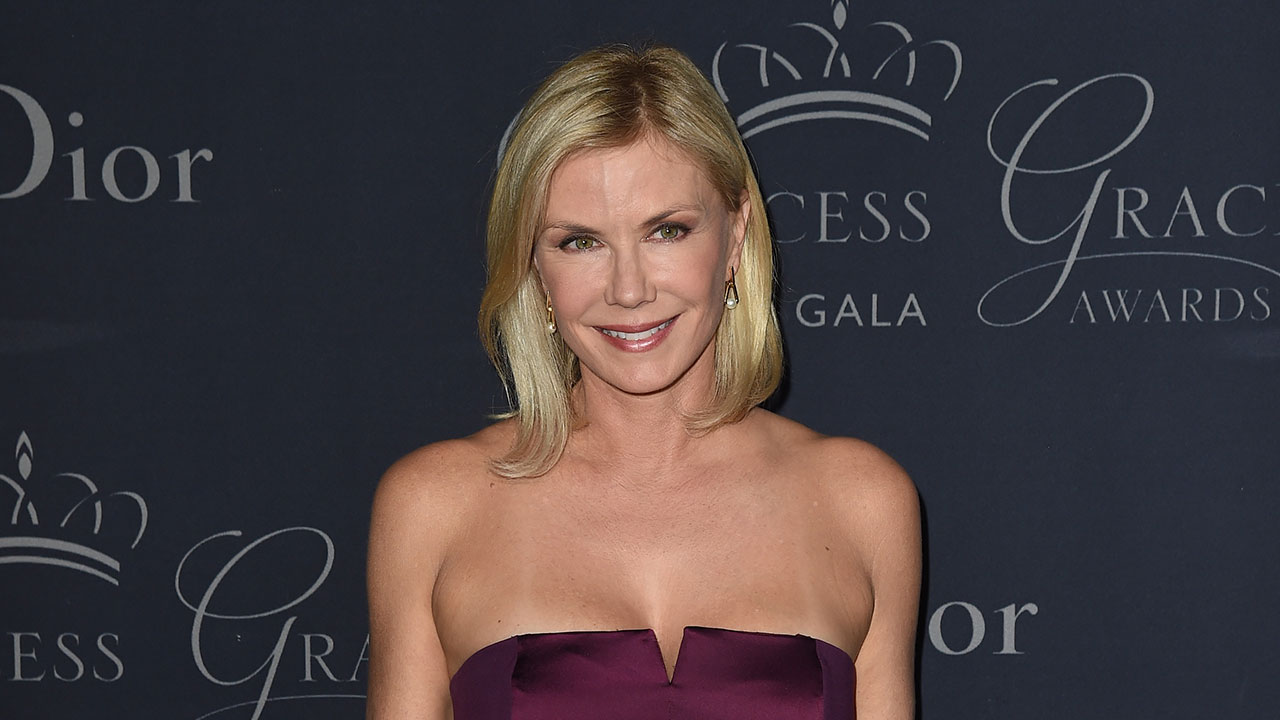 Ageing is something we all go through. It's the body's natural process, reminding us how long we have roamed the earth.
Unless you're Katherine Kelly Lang, who despite gracing our television screens for over 30 years, hasn't aged a day.
The Bold and The Beautiful star is rarely seen with a hair out of place, but only a short while ago, the 57-year-old was forced to appear makeup-free on Australia's I'm A Celebrity… Get Me Out Of Here!
But even then, with the show's less than ideal living arrangements, the actress managed to look picture perfect.
Speaking to Now To Love, Lang has shared her beauty secrets for infinite youth.
1. Cosmetic surgery
Remaining as honest as ever, Lang credited a little nip and tuck to her everlasting beauty.
"Sometimes I do a little filler, sometimes I do a little Botox. I do all those things, but I try really to stay natural and not do it all the time," she admitted to Now To Love.
Over the years, the star has learnt that less is more when it comes to her face.
"Sometimes the doctor does go overboard and I'm like, 'Well I never want to do that again!'" Lang revealed.
"At some point you have to age gracefully, and you have to accept that. You can't get rid of every line and wrinkle."
2. A good skincare routine
When entering the jungle on I'm A Celebrity… Get Me Out Of Here! one of the toughest challenges Lang was faced with was not having access to her favourite skincare products.
The TV soap actress said the week she appeared on the reality show took a major hit on her skin, saying it affected her "horribly".
"I kept asking them, 'Can I have my creams!?' Where's my creams!? One of these mornings you've got to give me my creams!" she explained.
And clearly her disciplined routine is working for her.
"I'm so picky about what I put on my face – I need my night serums, I need my under eye cream, I need my heavy duty moisturising night cream. Then when I wake up, I put them on all over again in the morning!
"Then I have my daytime creams, I have my lunch creams. Then I have my special shampoo … you know – you get it!"
3. Nourish your body inside and out
Lang is a strong believer in one thing: Keep everything natural, healthy and organic.
"What you eat really plays a big part of [your health], and how much sleep you get," she said.
"I also try to drink lots of water, it helps to keep your skin moist, plumped and nourished."
4. Staying active
You don't need to look far to figure out that Lang is keen on working out, with one look at her Instagram page telling you everything you need to know.
View this post on Instagram
The actress is a regular when it comes to competing in triathlons and it's helped her remain active and healthy over the years.
Speaking to TV Soap, Lang said: "I did endurance racing on my horses for 20-plus years … and I loved that and that's similar to the long-distance triathlons, the Half Ironman or Full Ironman.
"I have a trainer … even when you don't feel like it you really have to push yourself, get out there and follow the schedule. Get the workouts in and get them done."
5. Using a variety of masks
Lang is a strong believer in LED masks, which help reverse the signs of ageing with red-light technology.
According to the actress, the mask "reduces fine lines and improves skin texture".
Taking to Instagram, the star shared a few photos of herself using the strange contraption, writing: "This is a Deesse Pro LED mask that increases the production of collagen, reduces fine lines, improves skin texture, and so much more! 20 minutes a day."
View this post on Instagram
Clearly, it's working.
Scroll through the gallery above to see Katherine Kelly Lang's transformation over the years.
Will you be implementing any of The Bold and The Beautiful star's beauty and health routine into your own? Let us know in the comments below.
Join Over60
Join our community of over 400,000-plus members today and get the latest Over60 news, offers and articles.
Get all the latest Over60 news, offers and articles.