Named and shamed: Full list of Sydney protestors charged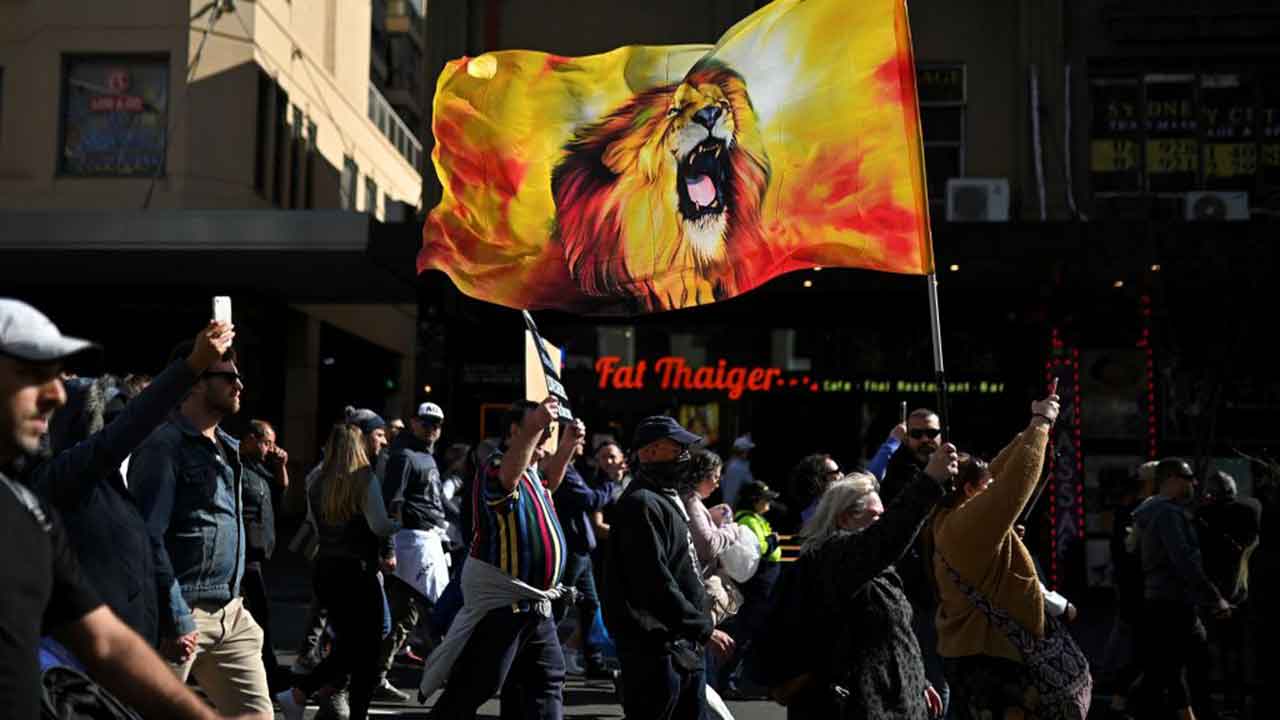 After thousands of unmasked protestors travelled to the Sydney CBD to protest the city's lockdown measures, detectives have fined and charged over a dozen people who attended.
The individuals were identified through social media posts, CCTV footage, and thousands of reports submitted by members of the public.
An estimated 3500 people attended the "freedom" rally on Saturday, July 24, gathering at Victoria Park, opposite Broadway Shopping Centre, before marching into the CBD and back.
Since the controversial event, over 6000 reports have been made to NSW Police, equating to nearly two reports per person who attended.
The full list of offenders who were charged or fined, as reported by The Daily Telegraph, include:
Kristian Pulkownik - the man who allegedly struck a police horse, who has appeared in short hearing and charged with animal cruelty, unlawful assembly, and breaching health orders.

Remon Korkise - a second man charged with animal cruelty for allegedly striking a police horse, who was also charged with assaulting an officer and breaching health orders.

Joseph Mekhael - a known Covid denier, charged with participating in the rally and breaching bail. He was granted strict bail that allows him to leave his home for court or medical appointments.

Nikola Dedovic - a protestor who travelled from Wollongong to attend, where he allegedly pushed a police constable on a pushbike before running into the crowd.

Jon-Bernard Kairouz - a Tiktok star who recently went viral for 'predicting' NSW's daily Covid case numbers, and has been ordered to appear in court for breaching public health restrictions.

Anthony Mundine - a Covid denier and former boxer, Mundine was among the several people issued with court attendance notices for breaching public health rules.

Allan Omer - a 52-year-old who attended the rally and pleaded guilty to charges of resisting an officer, failing to comply with police directions, and defying COVID-19 public health orders.

Guerino Scevola - a man who allegedly assaulted

7 News

reporter Robert Ovadia during the rally and was refused bail at Newtown Local Court.

Thomislav Mijic - police allege he assaulted an officer during the protest, and he was denied bail when he appeared before a magistrate at Liverpool Local Court.

John Ruddick - a Liberal Democratic candidate for the seat of Warringah, Rudick received a $1000 fine for breaching Covid restrictions. He also said the rally would be an "experiment" to see whether "corpses would pile up" after the mostly maskless protestors marched.

Ali Bazzi - the alleged senior member of the Comanchero bikie gang received a $1000 fine for attending the rally, where he took a selfie with former NRL player Taylor Winterstein.

Frank Winterstein and Taylor Winterstein - International rugby league player Frank Winterstein and his wife Taylor - both anti-vax campaigners - were both issued with $1000 fines for attending the rally, and shared videos and photos of themselves not wearing masks at the event.
High-profile individuals, business owners, and a NSW Ambulance paramedic were among those who attended the rally but have not had any action taken against them.
According to the Daily Telegraph, these people included:
Nellie Tilley - a socialite and high-profile interior designer, who claimed she was not an "anti-vaxxer" or against wearing masks but attended because she wants to visit her sick father in hospital.

Sally-Ann John - a NSW Ambulance paramedic who live streamed the protest on social media. Her employer has referred her to police for investigations.

Kiran and Kirt Mallie - Central Coast cafe and yoga studio owners who shared footage from the rally on social media.

Rhyss Keane - a gym owner who has previously been fined for keeping his business open during lockdown.
NSW Police Commissioner Mick Fuller made his position clear on any further attempts to defy lockdown orders and march this coming weekend.
"Can I just put this warning out now to everyone: We will be heavily policing that event," he said.
"We will take the ground very early.
"You will be arrested.
"The community has spoken about that behaviour ... and it won't be tolerated."