"How ridiculous": Pauline Hanson and Today show panned over "shameful" Uluru debate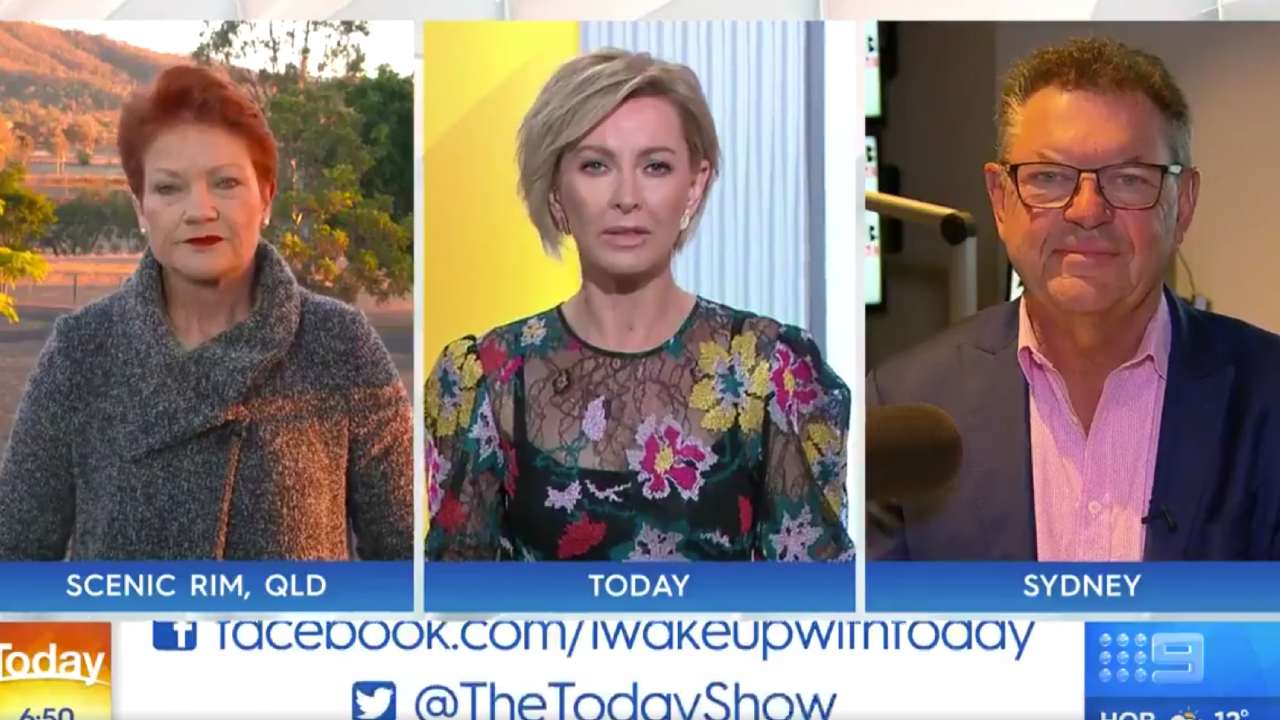 In three months, the hour-long hike up Uluru will be closed, but the decision has stirred up debate around the nation as the closure of the hike draws closer.
One Nation's Pauline Hanson and 2GB radio DJ and regular The Project panellist Steve Price appeared on Today this morning to discuss why the rock should stay open to climbers.
Despite traditional owners of the land being horrified as tourists flock to Uluru to climb it before the closure, Price and Hanson shared their thoughts during the all-white panel debate.
"The Australian taxpayers put in millions, hundreds of millions of dollars into it and they're wanting another $27.5 million to upgrade the airport there for the resort," Hanson said.
"Now the resort has only returned $19 million to the taxpayers only just recently. It employs over 400 people there, 38 per cent are Aboriginal and Torres Strait Islanders.
"The fact is, it's money-making. It's giving jobs to indigenous communities, and you've got thousands of tourists who go there every year and want to climb the rock," Hanson finished.
Price agreed.
"What we should be doing is assisting the local indigenous population to make this a growing tourism concern. We've seen, apparently, a huge spike in people that want to climb it since the announcement it's going to close in October. So that shows there's a hunger for tourists to do it," he said.
"If it's well managed Deb [Knight], I don't have an issue with it. We need to sit down with them and explain this could be a positive for them."
However, disgruntled fans were quick to criticise the segment on social media, pointing out that Price and Hanson, both Caucasian Australians, were debating the sensitivge topic with Today's Knight, who is also a Caucasian Australian.
.@StevePriceMedia weighs in on the "silent scandal" affecting 1 in 3 elderly Australians. #9Today pic.twitter.com/H40Uuy2o3v

— The Today Show (@TheTodayShow) July 14, 2019
"I can only conclude that the reason the Today Show continues to provide Pauline Hanson with a platform is because they endorse her putrid, racist bile and want to ensure it gets wide coverage," one user wrote.
"Let's talk Uluru climbing with… Pauline Hanson and Steve Price. Couldn't they find anyone whiter?," another comment read.
The decision to have three white Australians discussing the issue without seeking the opinions of members of the Indigenous community was deemed insensitive.
"Omitting that factual dimension of the story is not reporting, its participation in a pantomime," one person wrote.
More than five hours after the initial debate, Today included a second segment where Indigenous entertainment reporter Brooke Boney weighed in on the discussion.
"This is about indigenous people having some sort of say over what happens on their land and their sacred sites," she said.
"The thing about the rock is that it is so sacred to them that every time someone gets injured, hurt or has to be airlifted out it hurts them, and they say their ancestors mourn the loss of those people," Boney commented.
"They're not doing it to be nasty or protective, they're doing it to protect others because it is really dangerous."
Yawuru woman Shannan Dodson, who works as an Indigenous Affairs Adviser for Media Diversity Australia, told news.com.au that Uluru should have the same significance as any other of the world's sacred sites.
"The issue around climbing Uluru is that it is a sacred place and at the end of the day, when you see how much the world rallied around the destruction of Notre Dame and how significant that is, people understand there are sacred places based around culture and religion," she said.
"The fact you can't then translate that to Uluru having the same significance is undermining.
"For me, it feels like Western cultures and values are always elevated above other cultures and values. It's saying Aboriginal cultures and values are less important. It's just a thinking that we're less than them and that our culture and values don't matter."
Join Over60
Join our community of over 400,000-plus members today and get the latest Over60 news, offers and articles.
Get all the latest Over60 news, offers and articles.