Vanuatu: What the tourism sites don't tell you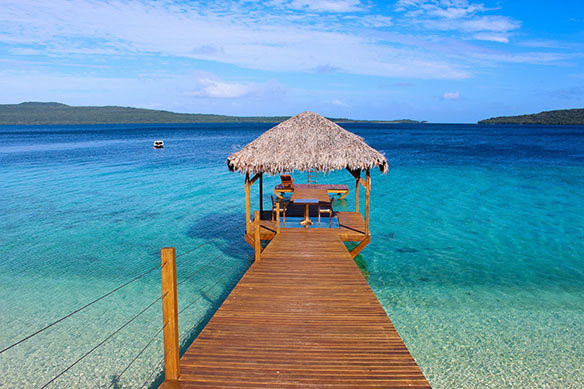 After first falling in love with the country through the stories his father would tell him and then seeing it for himself on two different trips, Over60 community member, Bill Howard, 61, here shares his comprehensive travel knowledge on Vanuatu.
"We've been to Vanuatu twice, the first time for a month to see whether [my wife] Teresa would like to live there, and the second time for a fortnight to check out real estate. During those times, we made a few friends, both expat and Ni-Van, and Teresa eventually decided she would like to live there. Her biggest concern was the grandkids but daughter Meaghan said 'Mum, you may not see them as often but you'll see more of them.' Teresa said 'How do you work that out?' and Meaghan said 'How much does it cost to fly a child to Vanuatu?' Teresa said '$250.' Meaghan then asked 'How much does it cost for day care for a child during school holidays?' Decision made! Of course, we're under orders... the house must have at least three bedrooms: One for us, one for the kids and one for the grandkids."
Efate, Vanuatu – mainly by Bill howard
Vanuatu is a country comprising about 80 islands with Efate, Espiritu Santo and Tanna being the most populated and the most visited. The capital (and only) city is Port Vila on Efate.
If you are looking for somewhere with the entertainment and services you'll find in countries like Australia, you may be disappointed. If your idea of a holiday is "organised fun" I suggest you should perhaps stay at a resort hosting those activities or go elsewhere. Vanuatu is a third-world country and cannot afford the infrastructure and many of the facilities expected in the western world. In other words, you generally have to make your own fun.
Cruise ships stay for a day, generally dock in Port Vila at about 0730 and passengers are required back on board by 1630. Most passengers regard Port Vila as the best place they visit on the cruise. There used to be a traffic jam at the wharf with bus and taxi drivers wanting to get fares but this was eased with the presence of the Vanuatu Self Defence Force to direct traffic. Expats usually stay out of town on turisbot days.
If you want to stay longer – up to a month without requiring a visa – several airlines fly into Bauerfield International Airport, which is on par with that of a large country town airport in Australia. Most resorts have vehicles to take passengers to their establishments. If not, a bus or taxi is (usually) inexpensive.
Walking around town, particularly along the waterfront when a cruise ship is there, you'll often be asked if you need a bus or a taxi and be told about short trips and other offers to help you part with your money. If you are a cruise ship passenger, I would recommend booking an activity or tour before you arrive, preferably via the online. Tours booked on the ship may have a booking fee included which can be quite high.
Having walked along the waterfront and seen the markets, cruise passengers often go to a pub, a resort or back to the ship.
A brief history
The local population, known as Ni-Van, have been on the islands for over 1,000 years. Their most famous chief was Roy Mata, who, in the 13th century, managed to unite all the tribes but was later poisoned by his brother.
The Spaniards, Portuguese, French and English visited from the mid 1600s but it was Captain James Cook who named the islands the New Hebrides in 1774. The first missionaries were killed and eaten – although the Ni-Van apologised some time later.
After further contact with "white fellas", Ni-Van were "encouraged" to work overseas (called "blackbirding") which at one stage saw over half the adult male population working overseas.
The French had interests in the islands, as well as New Caledonia. They and the English declared the country neutral territory and agreed to rule jointly – known as a condominium.
During WWII, Vanuatu was "invaded" by US servicemen, who did a lot of good work in support of the war effort. The airport is named after Marine LT COL Harold "Joe" Bauer, a fighter pilot who was instrumental in getting the airfield built, but shot down during the battle of Guadalcanal. The story goes that he was seen in a life jacket but rescue aircraft could not find him later.
It was the presence of US servicemen with their "more relaxed" view of life that helped initiate early calls for independence amongst the Ni-Van.
The French and Brits gave comparatively little assistance and finally the Brits wanted to decolonise the country. The French opposed abandoning the condominium, thinking that the call for independence may spread to neighbouring New Caledonia – which had significant French interests. The Ni-Van decided to go it alone. They thought they may as well be broke as an independent nation rather than being broke as part of the Anglo-French condominium.
The Republic of Vanuatu declared independence from Britain and France and hoisted their own flag on July 30, 1980. This was during some civil disruption, mainly on Santo and Tanna, known as "the coconut wars".
The country is still broke. According to the Vanuatu Daily Post (Feb 2014), about 52 per cent of the country's income comes from tourism, most of the rest from a 12.5 per cent Value Added Tax (GST) and import duties. They are the only taxes. There is some income from fishing and other primary products.
The country is so broke they can't afford many of the services westerners take for granted. For example, the budget does not adequately cover fuel for police, fire and government vehicles. At a fire a couple of years ago, firemen complained that the ground heat was melting their thongs; and a statement was made last year that if you have a fire away from Vila and suburbs, don't expect the fire brigade to attend. Similarly, don't expect the police to answer every complaint.
Schooling is not free. Many students are mature age people who have had jobs to save money for their education. Don't be surprised if you drive past a school with "older" people in school uniform.
The frequency of cruise ships has increased over the last few years from less than 100 to more than 140 per annum. While it assists the economy, many believe an overnight stop would generate more income… then again, it could also cause alcohol fuelled problems.
Currency and costs
The monetary unit is the Vatu (Vt). There is no higher denomination. 100 Vt is about $AU1.14. If you have Australian dollars, change them at Goodies in the main street (Kumul Highway). Their exchange rate is better than the banks.
Markets
Prices for clothing and souvenirs in the markets go up on cruise days. If you want to buy lots of T-shirts, caps, sarongs, souvenirs etc, go to the airport. There are a couple of shops there that sell clothing and souvenirs at about half the price of the markets – and the prices don't vary.
Activities
Nearly everything you will do costs money. It may be as little as 200 Vt for a swim in the blue lagoon or 2500 Vt to visit the Cascades.
Medical
There are a couple of fully equipped ambulances on the island and one of the staff I had a beer with was a surgical paramedic, originally from Melbourne. The hospital has recently (July 2014) had some upgrades, courtesy of Australian Aid, and has improved surgical capability. I would advise having adequate travel insurance and also take great care not to have an accident. Although phone coverage is good, it takes time to get an emergency vehicle to your location.
Weather
It rarely gets above 31C or below 18C on Efate. It can get uncomfortable (for some) during the "wet" season, November to April. February 2014 was excellent. Humidity was low and temperatures were perfect. During "winter" it has been known to drop as low as 12C overnight but that is very rare. Most residents start to feel cold when it gets down to 20C. Cyclone season is generally December to March and most buildings are "cyclone resistant."
Transport
Getting around is usually done by "bus". A bus is any people mover with the first letter on the numberplate being a "B". It usually costs 150 Vt per person for a trip in the Port Vila area. A taxi is generally more expensive but doesn't stop to pick up other passengers. Taxis have a "T" on the numberplate, hire cars have H and public transport (usually light trucks) have PT. Don't be surprised to see people sitting or standing in the back of trucks, twin cabs or utilities. Twin cabs can legally carry 15 – five in the cab and 10 in the back. Note well that a few of the taxis, buses and private vehicles would be considered unroadworthy in most countries. A hint: Try and ensure you have the correct fare. If you give a bus driver 1000 Vt for a 300 Vt fare, he may say that he has no change, hoping you'll say keep the change.
Driving
Major hire car companies are present in Port Vila along with local enterprises. Hire costs are generally on par with Australia but the cost of fuel is high at 180 Vt per litre.
Driving in Vanuatu is not a race as it is in many other countries. Courtesy and politeness abound. Don't be surprised if a bus pulls up in the middle of the street to pick up passengers – it's an accepted practice and nobody gets upset. Seat belts are optional, you can talk on your mobile phone and have a beer while driving.
If you go out of town, remember that anything growing "wild", like bananas, paw paws and coconuts, belongs to somebody. They are generally harvested and sold in a market or on roadside stalls.
Unlike the roads in and around Vila, the Ring Road is very good. It's "about" 150 km around the island and there's very little traffic. If you intend to go off the ring road, hire a vehicle with big wheels, good ground clearance and serviceable suspension.
Even though there are speed limits, they are not well policed. The speed limit on the ring road is 80km, Vila and suburbs is 50km and going through some of the villages is lower – and beware of speed bumps, they can be savage. There are no speed cameras or radars and the police generally don't have enough fuel for their vehicles for a chase (remember, the country is broke) but they do have phones.
If you do want to drive, ensure you have enough fuel. Although a "lap" is about 150 km, if you get off the ring road, speeds will drop dramatically and fuel usage goes up. If you stop at a village to refuel, it's about 220 Vt per litre for petrol or diesel.
Doing a Lap (anti-clockwise)
The last major suburb (and service station) is Tassiriki, at the northern end of No 1 (Erakor) Lagoon. You'll then drive past No 2 (Emten) Lagoon on your right.
If you don't want to feed the turtles, stay on the bitumen but if you do, about 4km past No 2 Lagoon take the turnoff after the Teouma River towards Ripples Restaurant (it's signposted). Don't take the second turnoff to Ripples – just keep going straight ahead. It's a very bumpy, coral gravel road and you'll eventually come to the location. It has salmon coloured buildings. There's another place a bit further around but it's described as "not as good". Continue on in the same direction and you'll rejoin the ring road – perhaps minus a few fillings in your teeth.
Just north of Eton (pronounced etton) the Blue Lagoon is worth a visit. Keep a lookout for the sign! The water is as clear as (blue) crystal – but if you want to take photos of the still water, get there before the tourists from the cruise ships. You may also want to visit La Mer bar and grill.
There is a museum on the north of the island. The big sign on the side of the road ensures you won't miss it. It features a submerged "intacked" (that's how it's spelt on the sign) WWII Corsair that you can snorkel down to. The museum shack itself is mainly full of old guns, ammunition, newspaper clippings and photographs. There's lots of US Marine "junk" lying around but most is now covered with undergrowth. I haven't been to the other museum in Vila.
Emua Wharf is the departure point for Pele, Emao and Nguna islands. There are usually a few "banana boats" tied up there.
Stop off at Havannah Resort for a look. It's classed as an "adult" resort, i.e. no kids. A bit further around is the Wahoo Bar and Grill. More good views over Havannah Harbour and their seafood chowder is very good.
There's a lookout at Klems Hill with views over Mele Bay. It's private property and they ask for a 200 Vt donation, which is used to keep the place nice and tidy.
Cascades is a little further along and is excellent, although the entry cost has gone up from 1000 Vt two years ago to 2500 Vt now. You can walk up the well-maintained track and eventually see the waterfall at the top of the hill. They also serve good food and drink but be aware if you ask for roast beef, you may just get a steak.
A few hundred metres further along is the turnoff to Hideaway Island and the Beach Bar. A ferry goes to Hideaway "on demand" but don't forget your reef shoes. Unless you are staying at Hideaway, there's a "fee" of 1000 Vt to use the ferry and facilities. If you don't want to go over there, the Beach Bar is next to the ferry and features fire dancing and outdoor movies on selected nights.
Apart from a couple of minor "resorts", The Summit Restaurant and Tanna Coffee Company, there's not too much to see down Devils Point Road. It was is very bumpy.
Heading back towards Vila, you'll pass the golf course where, if you are so inclined, you can spoil a good walk. Of course, if you like golf you may think differently.
Not much else to see until you're back in town apart from glimpses of Vila Bay, but at the time of writing (Mar 2014), Leader Price were building a shopping centre around the Tebakor area… a real shopping centre like Woollies or Coles! It was supposed to be finished before Christmas (2013).
Resorts We've usually stayed in apartments or with friends and the only resort we've stayed at is the excellent Aquina Lodge at Eratap. I can't comment on other resort accommodation but I've visited a few. The snorkelling at Hideaway is very good. They have several dives for scuba enthusiasts and it also has the world's only underwater post office. The Holiday Inn has fire dancing on selected nights while the Melanesian has Ni-Van dancers. Next to the Grand Hotel Casino is the water taxi to Iririki Island resort. It costs 1500 Vt for a return trip but you get a voucher for 1500 Vt worth of food or drink at the resort. Check out Snorkelers Cove on your walk around the island. There's also an impressive resort at Paradise Cove, south of Vila, which is very quiet, has great snorkelling and an excellent nakamal (meeting place).
You can go for a swim at any of the resorts or the Casino. It's expected you buy a drink or something to eat.
Other Stuff to Do
South Sea Vagabond is a catamaran that sails on day trips from Havannah Harbour. A good day on the water includes lunch and snorkelling off Lelepa Island. Don't know the cost as we got on for mates rates.
Coongoola Cruises also operate out of Havannah but they don't usually sail (engine driven) and it's a twin masted, single hull vessel.
Meridian Charters have a sunset cruise, leaving the dock at the Waterfront Bar and Grill. at about 1645 hours daily.
A bit southeast of No 2 Lagoon is a motocross track. There are no organised races as such but "enthusiasts" gather on Saturday afternoons and may participate enthusiastically in disorganised races.
Adventure riding (you can't call it touring on such a small island) is also becoming very popular. Come to think of it, riding along the dirt roads is an adventure in itself.
There's a new owner of Vanuatu Helicopters. I didn't meet him but a flight around the Vila area is about 8700 Vt (each).
Guided Buggy Tours are fairly popular. Wear old clothes – or ones you don't mind getting muddy.
There are two horse riding venues: Club Hippique at No 2 Lagoon and L'Hippocampus, which is close to the La Mer Bar and Grill, north of Eton. I haven't ridden at either so can't comment.
Food
There are two main supermarkets, Au Bon Marche and Leader Price, both at Nambatu. Au Bon Marche is predominantly English while Leader Price is French. It's worth a visit to Leader Price just to check out the French food and wine. Au Bon Marche also sells clothing, toys and some hardware items – a mixture of Big W and Woolworths but much smaller. Prices for imported food are high. Both supermarkets sell alcohol except between midday Saturday and Monday morning. Au Bon Marche also has smaller outlets in and around Vila.
The main markets are on the waterfront and at Tebakor. The local fruit and vegetables are outstanding. The paw paws do not smell like unwashed feet and taste great. You can also get sweet pineapples, custard apples, peanuts, yams, lemons, limes, mangos, avocados, a local potato that puts ours to shame, truckloads of bananas and coconuts. Several of the main market stalls sell live coconut crab but it is expensive. They also sell meals at very cheap prices. I'd suggest the chicken as the fish is bony.
Vanuatu beef is excellent. It's organic and high quality. The fish is also good but be aware of reef fish due to the possibility of ciguatera poisoning. Steak (at time of writing) was about 800 Vt per kilo and it is recommended it be purchased from Leader Price or Tesoro's butchers (Teoma Road). Rumour has it that some of the meat at Au Bon Marche is imported and can be tough.
Local bread is about 200 Vt per loaf and it's best to eat it within a couple of days. No preservatives so it goes off fairly quickly. Au Bon Marche has daily specials on bread, mainly baguettes.
Join Over60
Join our community of over 400,000-plus members today and get the latest Over60 news, offers and articles.
Get all the latest Over60 news, offers and articles.