Why you haven't really seen Australia until you've visited Arnhem Land
We all know that Australia is vast, but what we don't realise is how much there is to discover in this beautiful country of ours. One of those places is Arnhem Land. Home to culture rich in history that dates back thousands of years, Arnhem Land is spiritual and diverse, and the only way to experience the beauty of the rugged coastlines and savanna woodlands is to see it for yourself.
Having occupied the region for over 60,000 years, Arnhem Land belongs to the Yolngu people and is the birth place of the famous Aboriginal instrument – the didgeridoo. But despite the small population, the isolated reserve is now home to safari tours, fishing lodges and so much more.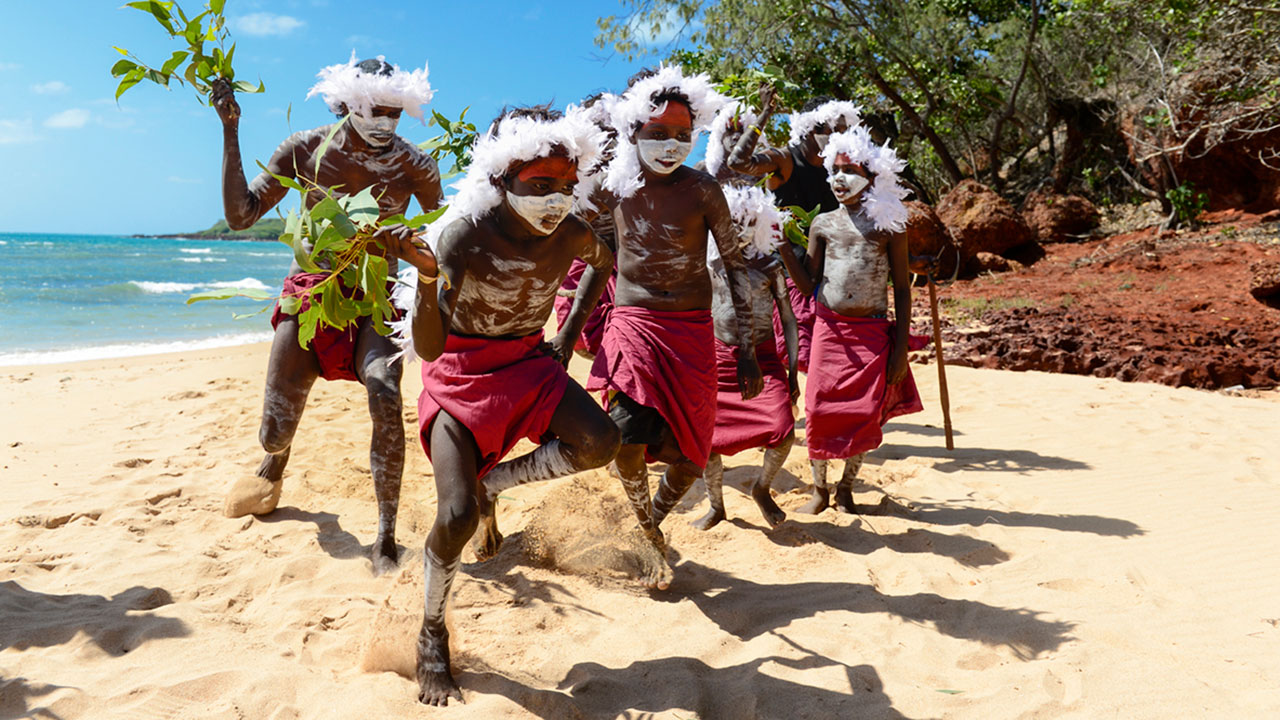 The Indigenous region is one of Australia's last true wilderness areas and covers 97,000 square kilometres of the Northern Territory. The magic of Arnhem Land is felt as soon as you arrive, where a 'Welcome to Country' ceremony is a moving introduction to the Gove Peninsula. This powerful exhibit of Aboriginal tradition is steeped in cultural heritage and reflects the deep connection that Indigenous people have to the land.
Arnhem Land was declared an Aboriginal Reserve in 1931 and is so remote that most maps don't show directions on how to get there. Which is why it's important to travel with an experienced and knowledgeable tour operator, as the only way to uncover Arnhem Land is to journey through its heart. Outback Spirit is Australia's leading small group tour company and the only operator that has been granted permission from Traditional Owners to conduct tours through the region.
Here are four unique and culturally enriching Arnhem Land experiences you need to add to your bucket list:
1. Arafura Swamp (Gurruwiling)
Nestled in north-central Arnhem Land, the Arafura Swamp, also known as Gurruwiling by Indigenous Land Owners, is a tropical wetland of flourishing habitats, prolific birdlife and great spiritual significance. An untamed wilderness, it is classified as a Key Biodiversity Area that supports many water bird species, turtles and crocodiles.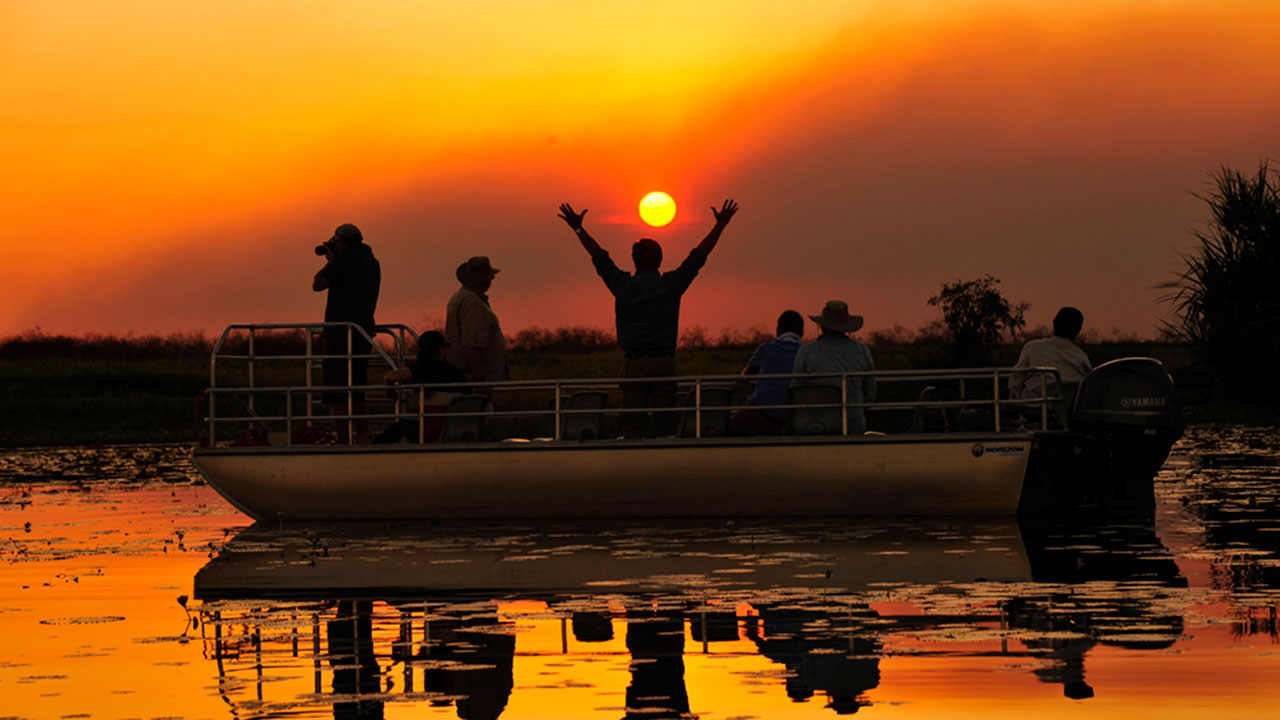 Covering 700 square kilometres in the dry season and up to 1300 in the wet, it is the largest wooded swamp in Australia, and the location where the award-winning film Ten Canoes was set. The Yolngu people have a deep connection with Gurruwiling, its wildlife and habitat. Whilst exploring the area with Indigenous guides, you'll stay in Outback Spirit's exclusive safari camp at Murwangi, perfectly positioned overlooking the stunning Arafura Swamp wetlands.
2. Seven Spirit Bay
Located in one of the most beautiful marine parks in the world, Seven Spirit Bay in West Arnhem is a wilderness lodge that sits on the pristine shores of Coral Bay on the Cobourg Peninsula. Visiting Seven Spirit Bay is a must when exploring the breathtaking world of Arnhem Land, as the luxury lodge is home to amenities one can only dream of, when taking a trip to the outback.
Whether you're after a bar, palm-fringed swimming pool or comfortable lounge to relax in while taking in views of stunning Coral Bay, Seven Spirit Bay has it all. The lodge is the perfect place to unwind after a day of marine adventures or a 4WD wildlife safari. Whatever activity you choose to partake in, knowing your luxury villa is waiting at the end of the day is a feeling of paradise.
3. Mount Borradaile
It's true that every inch of Arnhem Land is covered in rich history and culture, but a location that will truly take you back to the past is Davidson's Arnhemland Safaris at Mount Borradaile. A registered Aboriginal sacred site, Mount Borradaile's natural beauty has been preserved for thousands of years. Whether you choose to spend time amongst the wildlife, or discover the serene lagoons, the Indigenous site is for those who are looking for an authentic outback experience.
But perhaps the most famous sites to behold at Mount Borradaile are the caves and ancient rock art galleries which date back to over 50,000 years ago. The spiritual place awakens your senses as every corner tells a story of the past, such as an intricate rock painting of the Rainbow Serpent that is considered to be the largest artwork to be discovered in Northern Australia. The only way to believe the beauty of Mount Borradaile is to experience it for yourself.
4. Port Essington
Another historical location that sits in the west of Arnhem Land, Port Essington tells the dark tale of Victoria Settlement, which was established in 1838 and disbanded in 1849. The British government had a plan in place, which was to set up a military settlement and build a trade partnership with Asia. But due to poor living conditions and the rapid spread of disease, the British reign in the region did not last long.
Victoria Settlement is now home to old buildings and ruins, and when you tour with Outback Spirit, you are able to walk through the eerie isolated gravestones that sit in the forest. But you won't only be sightseeing, you will be learning about forgotten history from informative guides and find yourself truly immersed in the challenges and tragedies of these early settlers.
These are just four of the many things to see and do in Arnhem Land, which is a spiritual oasis that very few people have had the opportunity of visiting. Which is why you must grab your bucket list and make this largely untouched, sacred Aboriginal land your number one spot to see – and there's no better way to discover its culture and beauty than with Outback Spirit.
Offering an exclusive 13-day wilderness adventure, Outback Spirit will take you to all of the above locations and more, while staying in their network of safari camps and lodges that offer a level of luxury seldom found in such remote areas.
For more information regarding Arnhem Land, request a brochure here.
This is sponsored content brought to you in conjunction with Outback Spirit.
Join Over60
Join our community of over 400,000-plus members today and get the latest Over60 news, offers and articles.
Get all the latest Over60 news, offers and articles.