Inside Grant Denyer's sprawling 27-acre country estate

He might be one of the busiest men in showbiz but Grant Denyer has found his own sanctuary in the regional NSW town of Bathurst.
"It's a good town," Denyer said. "I restore and replenish out there and that sort of gives me the energy to do all the other stuff I do.
"I am a reasonably private person when I am not on television so it has worked well for us," he said. "Bathurst is really great, everyone there has been really welcoming and lovely, it's a place I truly enjoy."
While he can blend in with the other netball dads when at home in country NSW, professionally, Denyer is set to appear as a guest presenter on The Living Room on Network Ten on top of his regular role on Family Feud and new breakfast radio gig on Sydney's 2Day FM.
To say the 40-year-old is a frequent traveller is an understatement.
"When I get home I make the transition into full dad mode which is good, that's how I want it to be," he said.
Wife Cheryl "Chezzi" Denyer is an accomplished television producer (who worked on the road with Denyer for Sunrise during his stint as weather presenter) and now runs her own series on YouTube called Mummy Time TV and its associated website.
"It's going exceptionally well, it's been really well received," Denyer said. "She's putting together stuff that's really funny but also very real and relatable."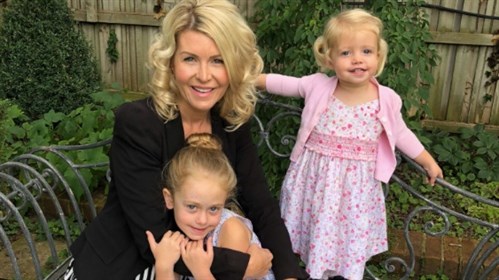 The pair have two young daughters, Sailor and Scout. Denyer will show off parts of the family property during his appearance on Network Ten's The Living Room on Friday. Host Amanda Keller joins Denyer for the country sojourn (dressed up in her tongue-in-cheek neck kerchief).
"It's a little hobby farm, if you like, we've got about 27 acres," Denyer said. "We've just got a lot of space around us, it's a nice little view".
He said the house itself "is not a big home by any stretch".
"But it's just a beautiful little country, homely, warm, loving little environment. We're really proud of our little home," Denyer said.
"We're thinking about whether we expand the house and build a giant games room, you know cathedral ceiling/master lounge room if you like … that's something that takes advantage of our sweeping views," Denyer said. "We're playing with that idea."
Denyer might have mastered the art of the "tree change" but his zany side has also emerged on his farm: he has a beloved herd of Scottish highland cattle (or "hairy coos", as they're affectionately known), sheep, chickens and a pet dog called 'Princess Popping Popcorn'.
"The girls named her, it's not an easy one to yell out," said Denyer.
It is not just Cheryl Denyer's strong family links to Bathurst which brought them back to the regional city. Mount Panorama is also hallowed ground to Grant Denyer because of his passion for motor racing.
As any high-profile television presenter would attest, it is hard to find an "off" switch with the viewing public but Denyer said he had found a good balance in the regional city, which has a population of about 42,000 people.
"You like your downtime to be 'off' and removed from the television world, because it's not normal or natural, so yeah, you do cherish that downtime and that's why Bathurst has been the perfect place for me over the last couple of years," Denyer said.
"It never really worries me if someone wants to come up for a chat, it's no big deal," Denyer said. "But Bathurst is really good, you can go shopping in the supermarket and people will say hi but they will also leave you be, so it feels lovely, it feels normal, it feels like home".
Scroll through the gallery above to get a sneak peek into Grant Denyer's sprawling country property.
Grant Denyer appears on The Living Room, Friday at 7.30 pm on Network Ten.
Written by Christine Sams. Republished with permission of Domain.com.au. Image credit: Network Ten.