Senior Nomads share Airbnb travel tips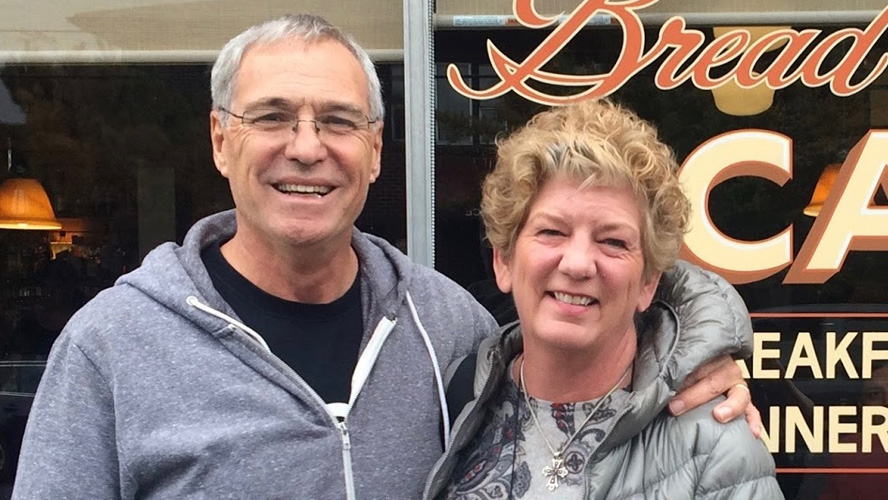 We've already introduced you to Michael and Debbie Campbell, now-intrepid travellers and authors of the highly-popular Senior Nomads travel blog.
Michael and Debbie Campbell are currently in the midst of their once-in-a-lifetime trip around the world, which they have managed to extend indefinitely by cleverly managing their accommodation expenses with Airbnb.
We had a chat with Debbie to see just how the Senior Nomads do it.
While this sort of around the world adventure may seem like a pipe dream to many of us, Michael and Debbie are proof that with a bit of planning anything is possible.
What prompted you to start your adventure around the world?
We have been very fortunate in our careers and are in good health. As we approached the question of what retirement might look like, we realized we had one more adventure in us, and maybe full-time travel could be a possibility. Especially after Mary, our youngest daughter who lives in Paris with her French husband and our three youngest grandchildren suggested we might like to spend more time in Europe - with an emphasis on spending time in France, of course. She got us thinking. We'd always travelled, and maybe we could turn that into a lifestyle - if we could afford it. Since then we have been to 47 countries outside of America, 136 cities, and stayed in 95 different Airbnbs.
What has it been like staying in Airbnb accommodation? Would you recommend it?
The other question Mary posed was "had we heard of Airbnb?". That was in December of 2013, and at that time, we had not. But after some initial research, we realized traveling the world staying in Airbnb homes in just about any city, in any country could be a way of "retiring" as we might have in our own city of Seattle.
We would be living in other people's homes instead of our own in cities around the world. So we downsized. We sold most of our worldly goods, including our 41' Beneteau sailboat (that was hard). We rented our home for the first two years of our travels (and recently sold it - so now we are true Nomads). And now we rely on whatever we find behind our next front door to match our vision of "home". So far, as we close in on our 95th Airbnb, we have had success, although bringing our pillows from home goes a long way in that regard.
Especially since you can choose your price point and the type of accommodation. We usually rent an entire home with a kitchen so we can cook most of our own meals. That is one way we can afford this lifestyle. We also search for wifi, and scrutinize the pictures to see just what the house or flat might be like to live in for several days to two weeks. Does it have a big table where we can work? Does the kitchen look adequate? Are there reading lights on both sides of the bed? Can we walk to the city centre and are there stores nearby? Once you have been doing this for a while you get to know what you need. The great thing about Airbnb is you can use the filters to find just the right place at the right price that works for you. We also take the time to communicate with our hosts before we arrive so we have a relationship with someone who cares about you before you arrive, and almost always becomes a friend you can count on in an unfamiliar city.
What has been the most memorable experiences up until this point (for good or bad reasons)?
We have so many memories good and bad at this point it is hard to choose "the most" of either! The day we left for the first time with everything we'd be travelling with stuffed into two suitcases, two small daypacks, and an over-sized purse was certainly memorable! Locking Michael in our Airbnb in Athens without a way for me to get in, or him to get out was memorable. That took some serious scrambling to find our host and a second set of keys. Having an hour long parade pass literally two feet from our front door in San Miguel de Allende in Mexico was interesting. Having the ruins in Ephesus, Turkey almost to ourselves in the off-season was amazing. And visiting our three young grandchildren in Paris creates wonderful memories every time we visit.
Is there a particular destination that stands out as a favourite?
Any time we come home to Seattle! And of course when we can see our daughter and her husband and our three grandchildren in Paris.
What advice would you give to travellers looking to undertake a similar journey?
Be flexible. Be curious. Be patient. Arrive early. Enjoy the day - you don't have to do everything. That's the beauty of this lifestyle. You live in your home for the moment just like you would wherever you travelled from. You can read the paper, make a pot of soup, go for a long walk and visit the Eiffel tower tomorrow.
On a more practical note - resist over packing or you'll miss the chance to enhance your wardrobe or collect small souvenirs. We are constantly fighting weight (our own and our baggage limits). We don't buy anything we can't eat, drink, or buy tickets to attend or ride in.
Take the latest (and smallest) devices and know how to use them so you can stay in touch with friends and family, log your adventures and share photos.
Our current plan is to continue to do this as long as we are still in love, learning every day, close to budget and have our health!
Whether you want to make money by renting your place or to find affordable accommodation options and stretch your travel budget further, head over to Airbnb now and have a look around.
Related links:
When I retired I drove a motorhome around the world
How I walked the 1,200km Heysen Trail
Join Over60
Join our community of over 400,000-plus members today and get the latest Over60 news, offers and articles.
Get all the latest Over60 news, offers and articles.