"WTF Woolies": Supermarket drops meat supplier amid Covid controversy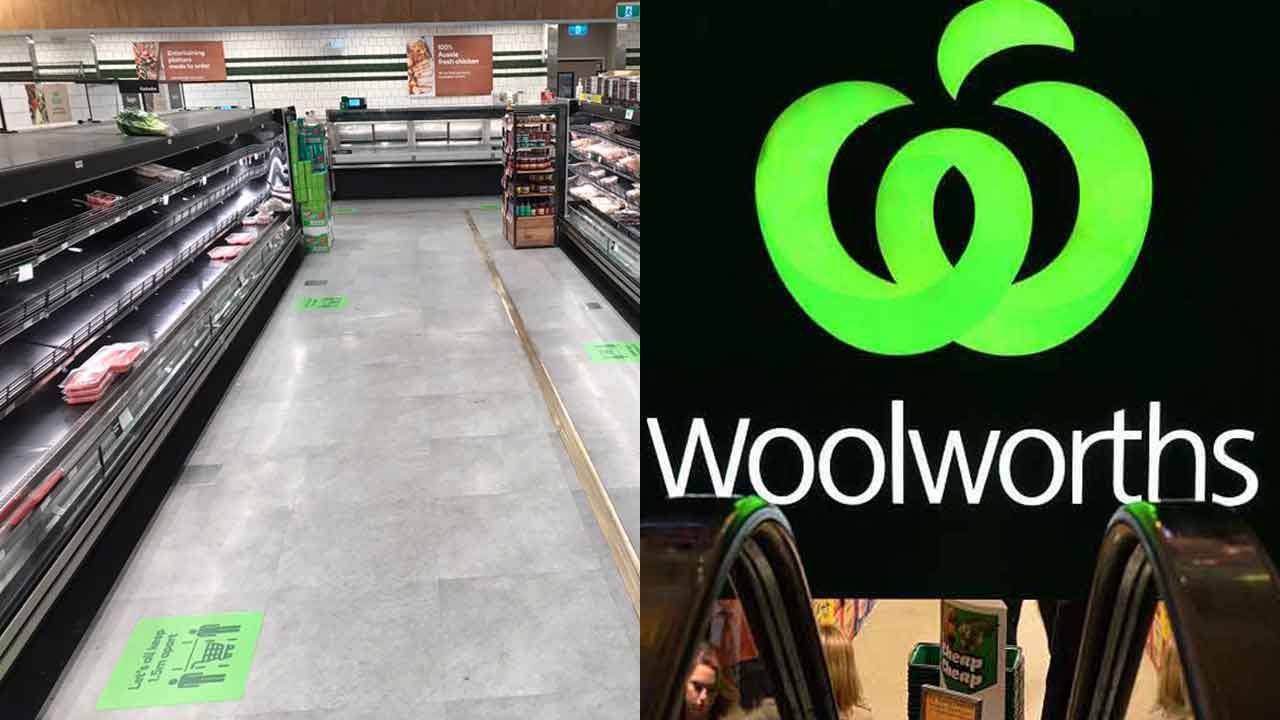 Woolworths will no longer receive their meat from a South Australian supplier which allowed employees to continue working while Covid-positive last week, following outcry online.
A Teys Australia abattoir in Naracoorte, in the state's southeast - which has been the site of a major outbreak of the virus - allowed a number of asymptomatic employees to return to work between Monday and Thursday last week.
It was understood that the plan was introduced temporarily, as the meat industry continues to struggle to supply supermarkets and fast food chains due to coronavirus.
Brunswick Woolworths 7:05am in Scott Morrison's Australia#ScottytheFailure #auspol pic.twitter.com/y8WbHudDxC

— Dr Hunter (psychologist) (@realhuntermmm) January 12, 2022
SA Health was aware of the plan and allowed "a small group of critical staff who have tested positive" to continue working in an area isolated from other employees.
In a letter sent out to employees over the weekend, Sage Murray, the general manager of operations at the facility, said the company thanked employees for their "understanding and patience during this time".
"As per our call to you today - and as confirmed by SA Health - you are required to present for work tomorrow [Monday] as normal unless you are feeling unwell," Mr Murray wrote.
"This applies even if you have tested positive to COVID-19 either by a PCR or rapid test [RAT], and also if you are currently isolating because you are a close contact.
"If you have not completed a recent PCR or RAT test, you will be required to complete a RAT test before commencing work tomorrow.
"SA Health will also conduct a further PCR test … during your shift."
Teys Australia has provided a statement regarding its COVID-19 response https://t.co/Eps26DsIoG pic.twitter.com/37qkktkDoK

— Teys Australia (@TeysAustralia) January 15, 2022
However, Woolworths has since decided to suspend supply from Teys Australia's Naracoorte facility.
"We have suspended all supply through Tey's South Australian facility while we work with Teys, SA Health and Safework SA to understand the protocols currently in place for their team and operations," a Woolworths spokesperson said.
"We were not involved in the decision approved by SA Health to introduce exceptional temporary Covid measures at the site last week.
"We expect all of our suppliers to adhere to Covid safety protocols set by their relevant state authorities."
Would @ScottMorrisonMP be comfortable working in an office where Covid positive staff are wearing yellow hairnets to show their infectious status?

If not, why does he think that's fine for meat workers at @woolworths supplier @TeysAustralia?

— Australian Unions (@unionsaustralia) January 12, 2022
The supermarket giant previously said Teys Australia said that no Covid-positive workers would be working on Monday.
Speaking to Yahoo News Australia, Teys Australia confirmed Woolworths' statement, adding that no one who had tested positive within the past seven days would be at the plant.
The meat supplier said approved workers with Covid who worked last week had to be separated from their coworkers for ten days after their diagnosis.
All employees were also required to be fully vaccinated, wearing personal protective equipment (PPE) and practising social distancing.
Workers were reportedly told to wear different coloured hair nets while at work to distinguish between Covid-positive and negative employees.
Michele O'Neil, the president of the Australian Council of Trade Unions, described it as "outrageous behaviour".
"Workers are being forced to wear coloured hair nets to say they are infected. This is outrageous behaviour," she said.
Others have also shown their anger over the treatment of abattoir staff, taking to social media to call for a boycott of the supermarket and prompting the hashtag "WTFwoolies" to begin trending.
When you're sick, you shouldn't be at work. Period. When you're in a pandemic, experiencing a huge wave of a highly transmissible virus, you should not be forced to work. This is outrageous #WTFwoolies #COVID19au https://t.co/9Al9yCwfFP

— Jessica Munday (@MundayJessica) January 15, 2022
"This endangers all of us. Companies treating people like this will not be forgotten," one woman tweeted.
"Dear @woolworths .. I don't mind you sending me weird items in my groceries delivery, but I DO mind you treating workers in your supply chain like they don't matter. Get it together!" another user wrote.
UPDATE:
A statement from the supermarket has clarified that Woolworths is continuing to work with Teys Australia, and has only suspended supply from the Naracoorte abattoir.
"We continue to work with a number of other sites and partners across the country to supply Australian meat to our customers, moving as much stock through the supply chain as possible during the current disruptions," a spokesperson for Woolworths said.
It is understood that meat supplies will no longer come from the SA facility "until Woolworths is satisfied by the measures in place under the guidelines of health authorities".
"Woolworths continues to process meat through Teys facilities in other states."
UPDATE:
On Tuesday, January 18, the supermarket announced it would resume using the Naracoorte abattoir from Friday.
"After consultation with Teys, SA Health and Safework SA, we are satisfied that the COVID management protocols in place at the Naracoorte site meet the relevant health requirements," a Woolworths spokesperson said.
"We continue to work with all our meat supply partners to prioritise COVID safety and provide quality Australian meat to our customers.
"Together, we are working to move as much stock through the supply chain as possible to meet our customers' needs during this challenging time."
Teys Australia wrote on its website that it welcomed the announcement.
"The health and safety of our people is our first priority. At all times, our Naracoorte facility has operated to the highest standards and in line with the requirements of SA Health and Worksafe SA."
The meat supplier has also said no employees who have tested positive to COVID-19 in the past seven days will work at the site, which is in line with SA Health rules.
Under SA Health guidelines, any employees who do test positive must also isolate for seven days, feel well and be asymptomatic before they are eligible to return to work.
Teys Australia has said that any employees returning under these requirements will work and take breaks separately from other workers. They will also be required to return home immediately after finishing their shift.
Image: @realhuntermmm (Twitter) / Getty Images