Woman teaches her deaf cat sign language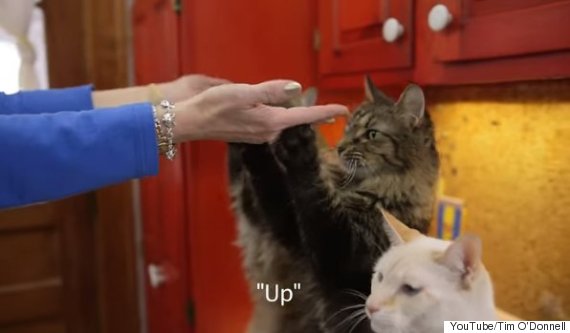 When Kim Silvia retired from teaching at the American School for the Deaf, she decided not to waste her skills and began teaching sign language to her cats.
"Guess I missed the kiddies so I began teaching the kitties!" Silva says, adding, "Since my daughters learned signs from infancy, I had ideas how to introduce sign."
Silvia and her husband John – who are both deaf – wanted to add another feline to their brood. However, Bambi, the cat they fell for at the shelter, is deaf so Silvia devised a plan. She would try to teach all her cats sign language so Bambi could live a fuller life.
"Bobcat immediately understood. Bobcat was a sponge for sign language! He showed off. He was fabulous," she says. "My other cat, Bear, was very old and was not interested."
Bambi picked up the signs easily since she had "peer reinforcement and copied Bobcat," says Silvia.
Thomasina, who joined the family in 2013, after Bear died, learned even faster.
The cats have an expansive vocabulary knowing the signs for come, more, sit, stay, shake, high five, sleep, circle, shrimp, play, canned food, finish and dance (although sometimes the cats don't feel like dancing).
While the talented cats respond to Silvia's signs, they don't actually sign themselves but Silvia remains hopeful that one day they will.
"Bambi likes attention and likes to play ball. She stretches up to tap my hands signing 'play' for me to get her ball," says Silva.
Image credit: Tim O'Donnell YouTube
Related links:
Stray dogs turn up at the funeral of woman who fed them
More than 60 elephants stop at hotel pool for a drink