Woman fakes injury to rescue this starving dog

A couple in the US state of Washington has taken time and shown incredible patience to rescue a starving dog that had been roaming around an off-roading vehicle park. After learning of the dog through Facebook, Amanda Guarascio and her girlfriend, Dylan Parkinson drove to where the dog had last been seen, determined to help.
On their first attempt, the women tried to coax the dog towards them with food, but had no success. They went to buy hot dogs and returned with this bounty of treats for the hungry animal. They were there until 3am that night, but had to leave empty handed.
The next day, the two set out, "pockets stuffed with Bologna", desperate to get this dog to safety. The two women sat in their truck for a few hours, throwing the dog food and talking loudly to get him used to their presence.
Later, Amanda got out of the truck and lay down on the ground in the foetal position right next to the dog. After an unsuccessful first attempt, Amanda began to crawl backwards towards the dog, inch-by-inch. For the next hour, Dylan was across the road warning cars that Amanda and the dog were lying on the ground.
By this stage it was snowing, but Amanda stayed with the dog. She eventually got right next to the dog, whom they have decided to call Baby Bear, and he started growling. Amanda started whimpering and yawning, pretending to be hurt in an effort to calm Baby Bear. The two began to cuddle (he even attempted to find shelter for them at one stage), and Amanda was eventually able to get a slip lead on Bear.
The lead was all the hungry dog needed to become a lapdog. Amanda carried him on their way to the vet, and the dog cuddled up to her the whole time. Now the search is on for Baby Bear's original family, or a new forever home.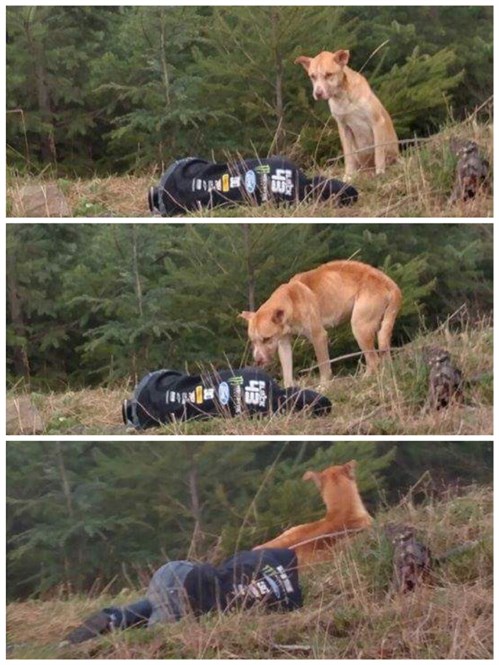 Image credit: Amanda Guarascio and Dylan Parkison
Related links:
This little boy was afraid his scars made him ugly, what his dad did will make you smile
Meet the 103-year-old woman who fulfilled her lifelong wish to graduate high school
This great-grandmother is officially the coolest person on Instagram