Surprise birth of twin red pandas at Adelaide Zoo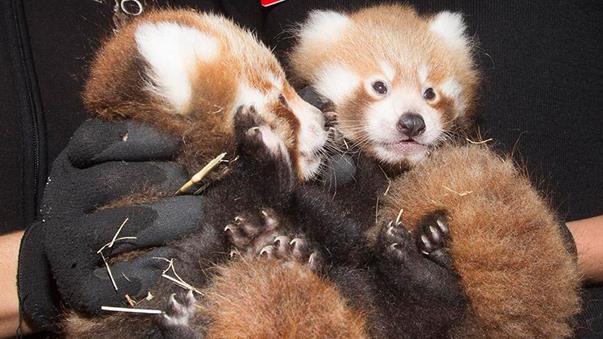 Twin red panda cubs, whose birth took everyone by surprise, have been given the all clear by an Adelaide Zoo vet.
Keepers only discovered the tiny cubs during a routine clean up at the red panda night quarters.
Eight-year-old mother, Imandari, had shown no signs of pregnancy and the yearly birthing season had passed without event.
"You can imagine our surprise when we noticed some extra bedding in the nesting box, and upon discovery, uncovered two very tiny, very cute red fluff-balls," panda keeper Constance Girardi said on Wednesday.
The cubs have completed their first general health check and the vet confirmed the two twins are males.
"Red pandas are known for their slow rates of reproduction and high infant mortality rates, so to have two litters of cubs born within 13 months is a fantastic result and a testament to Imandari's stellar mothering skills," Ms Girardi said.
Red pandas are classified as vulnerable and it is estimated there are fewer than 10,000 in the wild.
Image credits: AAP
Related links:
Stray dogs turn up at the funeral of woman who fed them
More than 60 elephants stop at hotel pool for a drink