"It was a sting": Deb Knight stunned over shock Pauline Hanson admission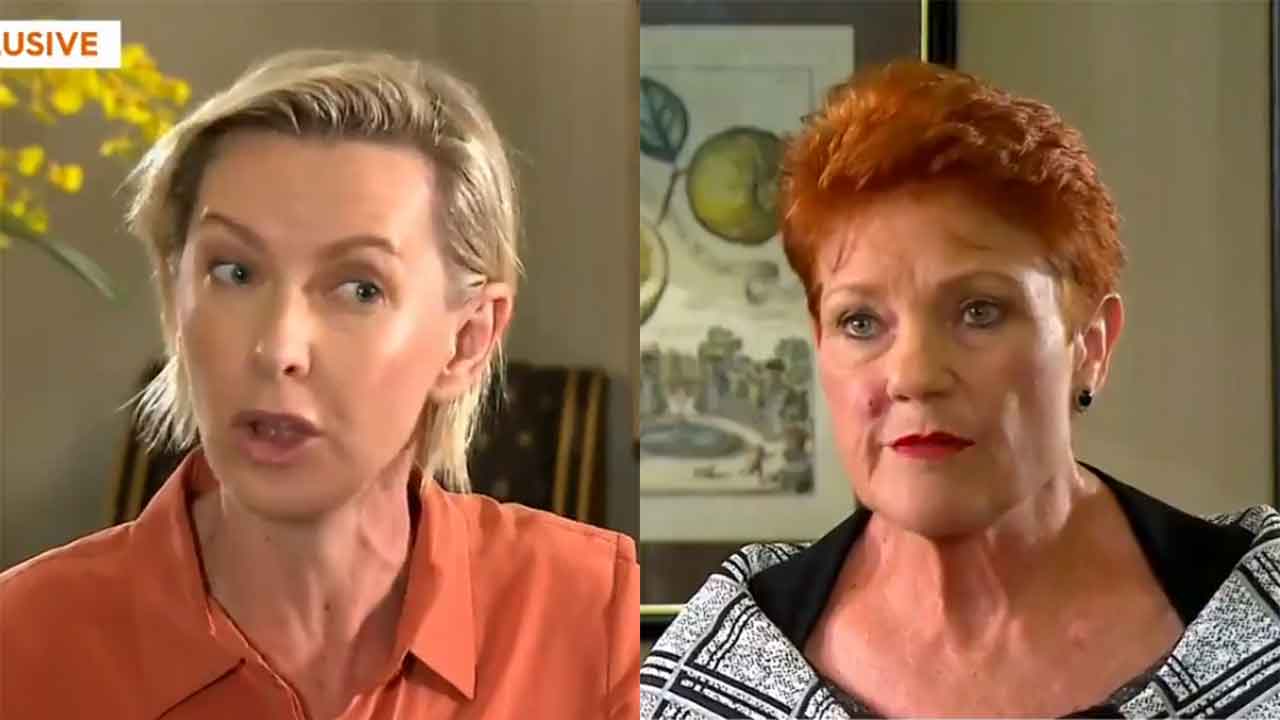 On a tense interview with the Today show, Pauline Hanson has fiercely refused to back down over her claims that the Al Jazeera documentary was a sting.
Senator Hanson admitted she has not watched the Al Jazeera documentary which showed her appearing to suggest on a hidden camera that the 1996 Port Arthur Massacre was an inside job.
Earlier on today, the leader accused the footage of being "heavily edited" and "dubbed."
The documentary, which aired on ABC last night, puts the politician and her party in a world of controversy.
The embattled One Nation leader said her "heart goes out" to the families who suffered from the Port Massacre tragedy but remained sure in her claim that Al Jazeera and "foreign interference" were the reason for her remarks.
View this post on Instagram
"My comments were made at a dinner table, they were not made publicly," Ms Hanson told
Today
show co-host Deb Knight.
"This was not my doing to have exposed these comments. It was Al Jazeera and an undercover agent. I'm sorry for these people — I really am. They shouldn't have to go through this again."
The complete documentary was uploaded to YouTube in the last week, and since then Ms Hanson has accused Al Jazeera of cutting the footage.
"What I know from that, I don't see his face or lips moving," she said.
"I feel this has been dubbed out. It has been cut and pasted so many times."
Knight asked: "We see your face. We see the words coming out of your mouth. It's on tape. You can't deny they were the words that you said."
"I know," Senator Hanson replied.
The One Nation party leader also stressed she does not want gun laws to be watered down in Australia, claiming her party's gun law policies are "even stronger" than the new laws passed by New Zealand Prime Minister Jacinda Ardern.
She has fiercely denied her party went to Washington to seek funding from the NRA (National Rifle Association), America's largest pro-gun organisation.
"The media has portrayed that we went to the NRA for funding. Never the case. They said we wanted to water down the gun laws. Never, ever the case. Even Muller, he was at me that women should carry guns … I said no way, I do not believe in that. It was a sting."
Senator Hanson also denied the allegations accusing her of believing the Port Arthur Massacre was a government conspiracy.
"When I got into Parliament, I was only in there a month and the massacre happened just after that. If I really thought it was a conspiracy theory I had two-and-a-half years on the floor of Parliament to have spoken up and said that," she said.
"I never said at all it was a conspiracy theory."
. @PaulineHansonOz admits she "hasn't had time" to watch the full documentary and has only seen "what's portrayed by the media". @Deborah_Knight #9Today pic.twitter.com/0KcvwnmvaL

— The Today Show (@TheTodayShow) March 28, 2019
Senator Hanson has also piqued Prime Minister Scott Morrison as a "fool."
"He has not really waited to see the full information that's come out … this is a political interference from a foreign government. That needs to be investigated," Ms Hanson said to Knight.
"He's the leader of this nation. If it's happened to us, how many other incidents like this may have happened?"
The interview with Deb Knight took place just hours after her press conference in light of the Al Jazeera documentary, which was dubbed "bizarre" by social media.
Fronting the cameras over the controversy that has left her part in the middle of a scandal, Senator Hanson unleashed on Australian media, the Prime Minister, Al Jazeera, Qatar and undercover journalist Rodger Mueller.
The extraordinary press conference in Queensland said the comments captured on camera for the documentary had been taken "completely out of context."
"Today is the day of shame on the Australian media, who have been sold a story that is too good to be true. And you took it hook, line and sinker," she said.
"Media across Australia have been blinded by hate and bias towards One Nation and myself, and rushed to report on heavily edited footage.
"You have come here baying for my blood, and I will not give it to you.
"I answer to the Australian people only and they will have their say at the ballot box."
Join Over60
Join our community of over 400,000-plus members today and get the latest Over60 news, offers and articles.
Get all the latest Over60 news, offers and articles.