"It hurts": Roger Federer's crushing admission after nail-biting Wimbledon finals loss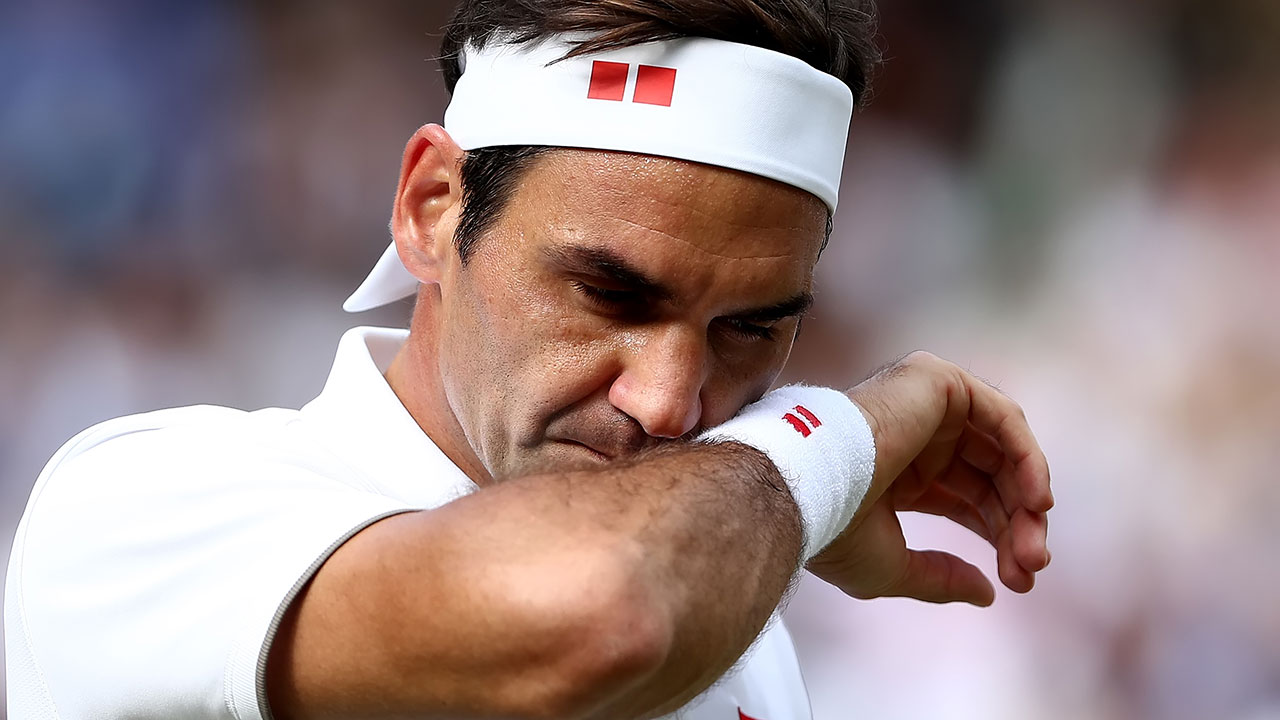 Roger Federer and Novak Djokovic were on the verge of causing a worldwide meltdown after an intense Wimbledon final that will forever be remembered.
After an epic four-hour-and 57-minute-long match, Djokovic emerged as the victor in the longest men's final the All England Club has ever witnessed. The final set on its own went for two hours with the champions hoping to one up each other with every move they made.
In the end, it was the Serbian who came out on top 7-6 1-6 7-6 4-6 13-12 (7-3) as the world watched the first ever fifth set tiebreak at the iconic major.
Devastated, Federer was unable to take advantage of two championship points in the fifth set and was the player who fell short on a day that will be considered iconic for tennis fans.
Former British star Tim Henman said on the BBC broadcast, it's a match "the tennis world will reflect on for a long time to come".
And he wasn't the only one who held those sentiments, as viewers at home took to Twitter to express their disbelief at the game they just witnessed.
Unbelievable scenes. Novak Djokovic saves two match points and breaks. 8-8 in the fifth. Four hours and 13 minutes gone. Utter madness.

— George Bellshaw (@BellshawGeorge) 14 July 2019
Amazing! Djokovic wins his 5th #Wimbledon. What a final! @rogerfederer played an unbelievably good match but somehow @DjokerNole wins after saving multiple match points. There is no limit to the amount of pressure this man can handle. Superhuman stuff! #Wimbledon

— Pat Cash (@TheRealPatCash) 14 July 2019
I have such huge respect for both @DjokerNole and @rogerfederer. What a match... wouldn't have minded to see it go on a little longer 😊 Congrats Novak on another @Wimbledon!

— Kevin Anderson (@KAndersonATP) 14 July 2019
Despite being crowned the winner, Djokovic was too exhausted to celebrate, but he made sure to pay tribute to his opponent during his on-court interview.
"I think this was, if not the most exciting and thrilling final I was ever part of, then definitely top two or three in my career against one of the greatest players of all time in Roger, who I respect a lot," he said.
"Unfortunately, in these kind of matches, one of the players has to lose.
"It's quite unreal to be two match points down and come back … and quite strange to play a tie-break at 12-all too.
"I know I've said this before but when I was a boy … this always has been the tournament for me. It's where I wanted to participate and where I wanted to win one day."
Federer cemented his nice guy status. Despite being crushed from his loss, he still found time to praise Djokovic for his performance.
"It was a great match. It was long, it had everything," he said. "I had my chances, so did he, we played some great tennis so in a way I'm happy with my performance as well.
"But Novak, congratulations man, that was great. That was crazy.
"I hope I give people the chance to believe, at 37, it's not over yet."
In his post-match conference, Federer was visibly down but still tried to remain optimistic for having the opportunity of making history.
"I mean, all of us working in this sport, we know what a great sport it is. I don't think we need matches, per se. Maybe we need them to sometimes cross over to other sports, maybe get to the fans in the streets and so forth. If that's the case, that this match did something like this, I think that's great," said the Swiss champ.
"I think it was a great match with wonderful points played. It had everything. Novak played also amazing today. So I hope it resonates in a big way.
"You try to take the good things out of this match. There's just tons of it.
"Like similar to 2008 maybe, I will look back and think, 'Well, it's not that bad after all'. For now, it hurts, and it should, like every loss does here at Wimbledon.
"I think it's a mindset. I'm very strong at being able to move on because I don't want to be depressed about actually an amazing tennis match."
His battle against Rafael Nadal in 2008 at the All England Club is widely considered to be one of the greatest games the sport has ever seen, and now, with Sunday's epic final, fans and experts can't help but draw comparisons.
But despite the intensity and power of the two matches, the only thing the 37-year-old can focus on is the end result.
"Sure, epic ending, so close, so many moments. Yeah, I mean, sure there's similarities. But you've got to go dig, see what they are," Federer said. "I'm the loser both times, so that's the only similarities I see."
And while members of the media snickered after hearing that last line, it's obvious that behind the smile, Federer is crushed that he couldn't leave London with the one thing he wanted most.
Join Over60
Join our community of over 400,000-plus members today and get the latest Over60 news, offers and articles.
Get all the latest Over60 news, offers and articles.