Where to find the help you need these holidays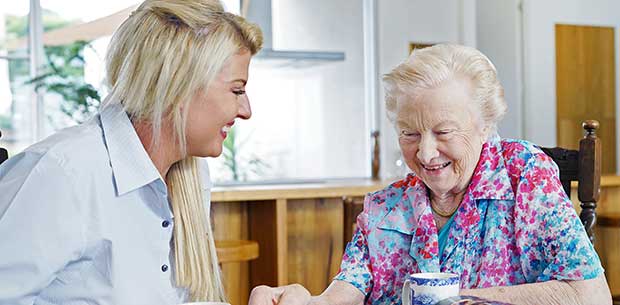 No matter how much you love summertime and enjoying the first days and weeks of the new year, there's no denying that the holiday season can be one of the busiest and most stressful times of year.
So, spare a thought for the thousands of people around the country dealing with all the usual sources of everyday stress, as well as chronic health conditions. There are currently around 60,000 Australians waiting to be assigned a Home Care Package – and many can expect to wait 12 months, even though they need support now.
If you are someone looking for support at home or out in the community, or you are caring for someone who is, it's important to remember there are ways to ease the pressure during the summer holiday season.
Here, we take a look at three of the biggest holiday stressors and how you can overcome them to stay stress-free and happy this summer.
1. Preparing meals
Let's face it, with the stress the holiday season can bring, looking after ourselves isn't always high on the list of priorities. If you overindulged during celebrations and get-togethers with family and friends over Christmas and New Year, now's the perfect time to get your healthy eating habits and diet back on track with Just Better Care.
Their support professionals can come to your home and look after all your meal preparation needs, from planning and writing shopping lists, doing your groceries for you (either in-store or online), unpacking your shopping and even assist with preparing meals for you.
2. Companionship
It may be the most wonderful time of the year for some, but for others, the New Year can be incredibly lonely. A 2016 survey of older Australians found that almost half (46 per cent) dreaded the holidays at least sometimes "out of fear of being lonely".
In the days of social media, it's never been easier to connect with others and prevent loneliness no matter the time of year – the problem is, so many older people simply don't know where exactly to turn for companionship.
Joining a volunteer group is a wonderful way to meet new people, keep busy and give back to the community, and the New Year is the perfect time to get involved. To see some of the opportunities available, take a look at Volunteer Australia's GoVolunteer search tool.
However, if you need support now, Just Better Care can provide experienced, professional companionship to keep you company day or night. Their team can tend to everything from medical and personal care to helping you get out and about into the community. Overnight or live-in care is an option should you or a loved one need it.
3. Help around the home
With so many responsibilities during this holiday period – having to vacuum, do the dishes, hang out the washing… it's just extra stress you don't need.
That's where Just Better Care can help. You'd be surprised at how simply getting some help around the house can have such a massive and positive impact to your quality of life, and that's exactly what they can do. Doing the laundry, making the beds, tidying up and cleaning – you name it, they've got you covered.
With their private package options, the team at Just Better Care can take care of all the summer holiday stressors on this list and more, from transport and mobility assistance and social support to assisting with personal care and in-home nursing. After all, there's no shame in asking for help when you need it the most.
THIS IS SPONSORED CONTENT BROUGHT TO YOU IN CONJUNCTION WITH JUST BETTER CARE.