After seeing the living conditions of my sponsor child in Uganda, I raised $20,000 for her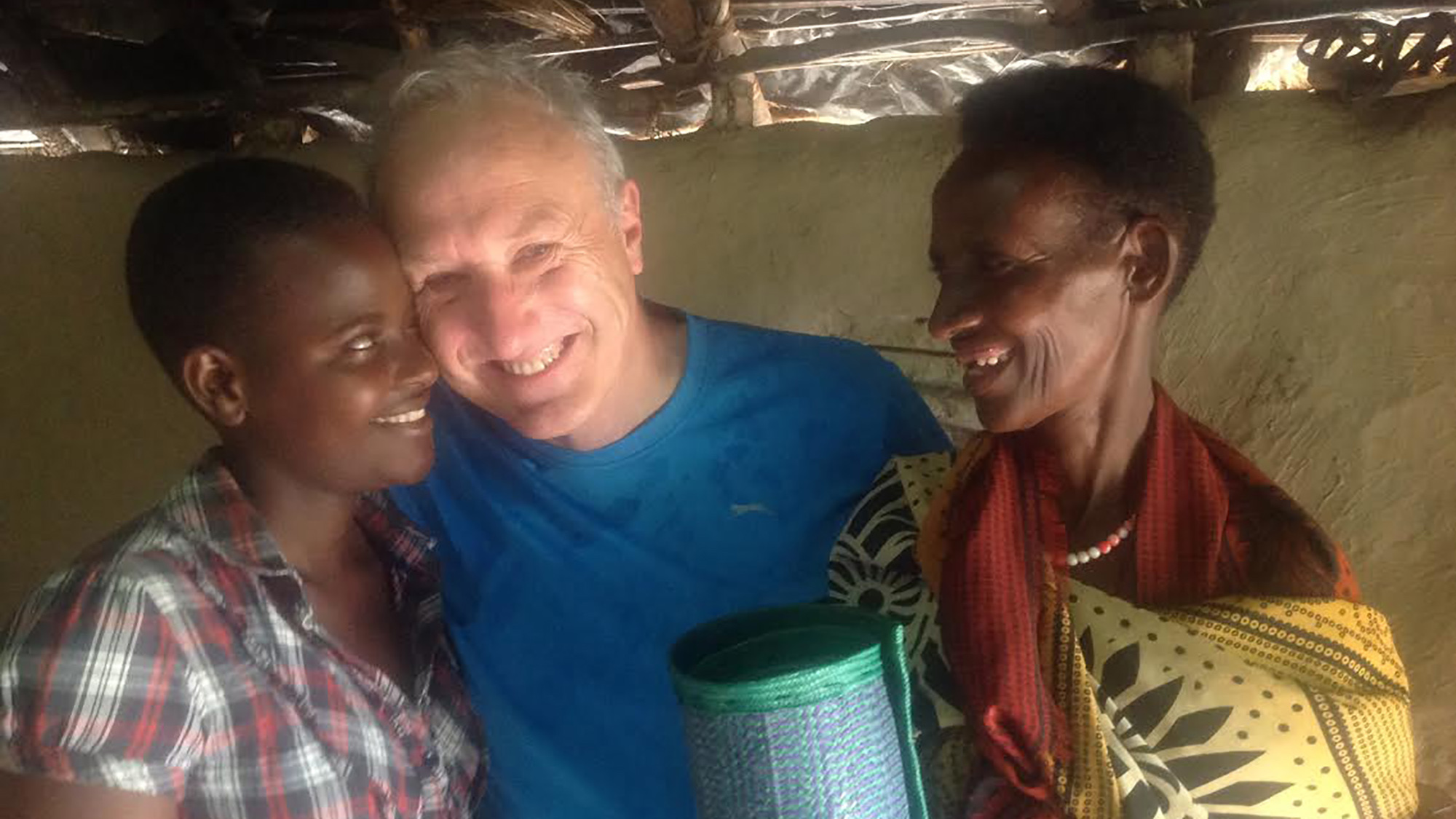 Lindsay Walker, 63, and his wife Dalaine, 65, have seven precious sponsor children from all over the world. After Lindsay visited one of their children, Harriet, in Uganda last year, he felt compelled to start a charity to help her and her family.
As a nation we are constantly being bombarded with images of war, famine and poverty to the point where we have become conditioned to such doom and gloom. Many people become resigned to the fact that if governments can't get things right and end the atrocities and injustices, how can individuals do the seemingly impossible?
We live by the motto "If we can't do great things, we will do small things in a great way!" We are Lindsay, 63, and Dalaine Walker, 65, an ordinary retired couple from Oamaru, New Zealand. Although some would not say so ordinary in that we have seven precious sponsor children all over the world, all of whom we have visited.
Above: Lindsay and Dalaine Walker, on a self-funded around the world trip to visit their 7 sponsor children. Top: Lindsay with his sponsor child Harriet and her mother in their often-flooded straw hut.
It all started 16 years ago with Tearfund, sponsoring an impoverished six year old boy in a remote area of Rwanda who had no future prospects, being "very average" in academic ability. Through hard work, encouragement and financial support, this little boy is now into his second year of an accountancy degree at Rwanda's National University.
Miracles do happen… but not just once. When Dalaine lost her father in 2003, we decided to use the small bequest left to her to sponsor another child. We were offered by Tearfund this child named Harriet. The profile described a pretty dismal and heartbreaking account of the conditions she lived in. Further children followed in Colombia, Ecuador, Brazil… totalling seven. Each unique, each very special. And we have seen each of them being lifted out of poverty and oppression.
Last year, we launched Make My Name Count, a charity determined not only to make our names count but to empower people throughout the world to make an incredible difference in some of the worlds most impoverished regions. A non-negotiable was to ensure every dollar raised would go to "Bricks and Mortar Projects" with no middle man, no administration costs, no wastage, and with total transparency.
The idea of Make My Name Count was birthed just prior to me visiting Harriet, in a very remote area of Uganda, in mid-2015. The day I visited Harriet and her family deep on the Kakuuto flood plain, was one that changed and affected me deeply. The people struggled for survival not just for a single day but every day. Having sponsored Harriet for 13 years, I know how incredibly hard her young life has been. She lives on the flood plains where her mud hut is flooded twice a year during the wet season. AIDS has decimated the community and her father died after contracting bovine tuberculosis from drinking swamp water.
That sparked in me a deep desire to make a difference. I knew we could make a difference with a relatively small amount of money, provided it was targeted and specific. As I spoke with people and leaders in the community, I found people not with their hand up, but people who were resourceful, in need of a hand up, not a hand out. They are honest, honourable and very grateful. It became clear that Harriet's plight was the most deserving of any in the 28 countries we visited. Towards the end of 2015 on our return home to New Zealand, we knew we had to do everything we could. We became strategic in our efforts to raise money for Harriet, developing a website and fundraising strategy.
We want to move Harriet and her extended family off the plain and into a brick house with tin roof and fertile soil. Relocating Harriet means she would not be living in a flooded swamp area, she would no longer by walking 12 kilometres each day to school, and their home would be safe for her family of 11. In addition, we want to make a difference for the community, and want to build a Community Bakehouse that would produce 1,000 loaves of bread a day and feed 30,000 people! Bread is an unaffordable luxury for rural people and for them to have an affordable fresh food source would be life changing.
The faces of school children eager to obtain an apprentice scholarship through the Bakehouse and other initiatives.
As a result of much fundraising on a local level $20,000 has been sent to an established organisation "Celebration Hope Ministries" in Uganda for the building of Harriet's home and the Community Bakehouse. But there is much more that needs to be done. Firstly there is a desperate need to equip the bake house with a commercial mixer and bread cutter. The community also has a need for a central building that will unify many of the outreach activities benefiting the children, mothers and people with health issues. In the 107-pupil classrooms, there needs to be future job creation, learning the skills of bread baking is just the start.
Every dollar raised brings much joy and excitement which is always reflected in huge smiles and total respect. Sacrificing the price of a coffee, or saving up loose change, makes an enormous difference especially when you know your name will be remembered for all the right reasons.
Make my Name Count would love to add your name and count on your support. To learn more about our mission, visit the Make My Name Count website here or follow us on Facebook here.
What charities do you support? Share with us in the comments below.
If you have a story to share please get in touch at melody@oversixty.com.au
Related links:
MREC-TAG-HERE
Seniors share benefits of volunteering abroad in heartwarming video
5 reasons to volunteer in retirement
Join Over60
Join our community of over 400,000-plus members today and get the latest Over60 news, offers and articles.
Get all the latest Over60 news, offers and articles.