The unspoken threat – how to be proactive about falls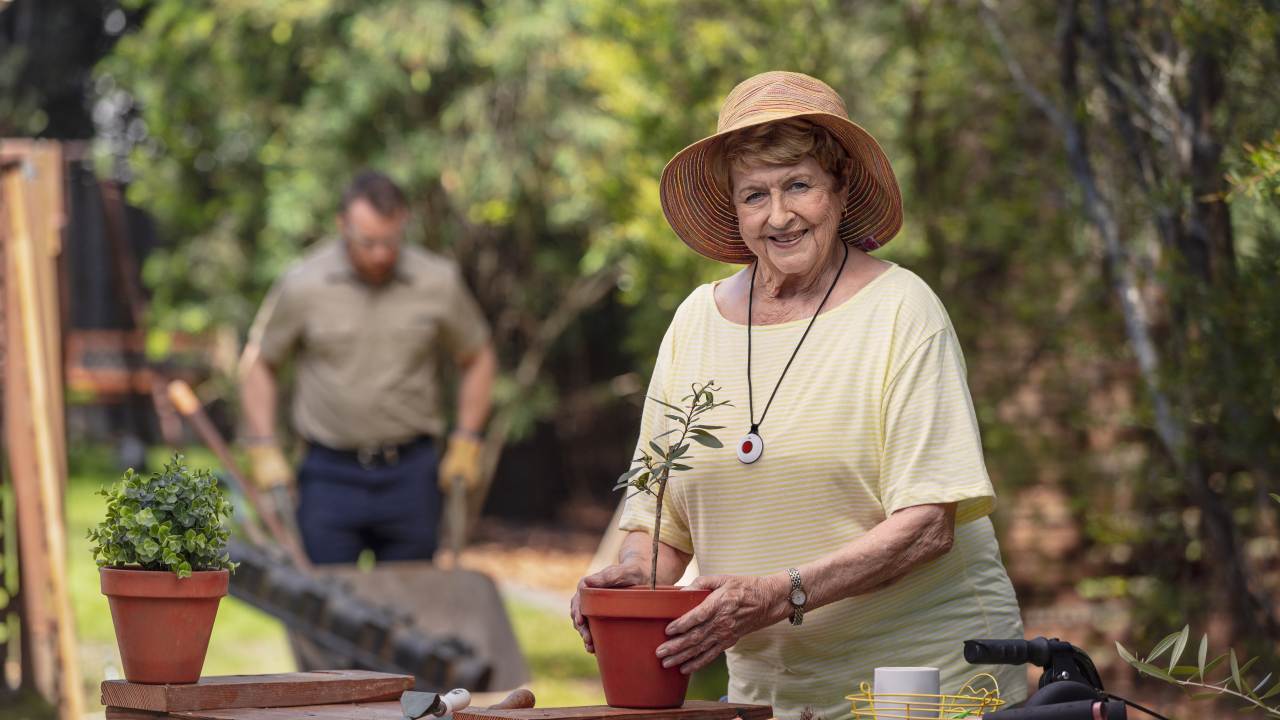 Fiercely independent, socially active and free to do as you wish – what's not to love about retirement?
Your time's your own, your home is your castle and life's pretty chilled. However, at any age, life can throw you a curveball in an instant.
What starts as an unremarkable morning pottering around the house, ends up with a fall – or near fall – that dents your confidence.
All it takes is a moment of distraction. You fail to register the step into the shower, which you've negotiated hundreds of times.
Or you're overcome with dizziness when you stand up. Whatever the cause, a fall is a reminder that we're all fallible.
The difference is that when we're a bit older, we don't always bounce back so quickly.
Increased risk factors go with the territory too, including balance issues and vision impairment.
So, no matter how fit you feel, the reality is that our bones are more prone to breaking, our skin is thinner, and a small bump can lead to significant bruising or bleeding.
What are the falls prevention numbers saying?
While active retirees are stubbornly defying most ageing statistics, some figures are harder to ignore.
According to the Australian and New Zealand Falls Prevention Society, falls are a major health issue with around 30% of adults over 65 experiencing at least one fall per year.
Falls are also the leading cause of injury-related hospitalisation in persons aged 65 years and over, and account for 4% of all hospital admissions in this age group.
It's natural that any fall or tumble can be a psychological blow and a potential red flag for you – and your loved ones.
However, some people become overly cautious, unnecessarily limiting the activities they enjoy.
But pulling back from activities like gardening, exercising or socialising can actually lead to a decline in mobility and wellbeing.
The best way to prevent falls
The best approach is to be proactive. Ask a relative, carer or professional falls risk consultant to look at how you live and what could be changed to reduce the likelihood of a fall. Rugs and bathmats are common tripping hazards.
Reaching for something that is too high can also throw you off balance. If cleaning makes you dizzy, maybe it's time to outsource some tasks.
Avoiding a fall in the first place is the best medicine. But with hindsight a few small changes can reduce the risk, while a personal alarm system can make a difference to your physical wellbeing and overall feeling of personal safety.
Armed for life with a personal alarm
Firstly, put aside any preconceptions you have about personal alarms being clunky necklaces that advertise you as being old or frail. A personal pendant alarm can be discrete and unseen, if that's what you want. While there's a variety of fancy alarms on the market, the most important benefit is reducing the amount of time it takes to get help if you fall.
Often, all a person will need is a lift to get upright again. Or you might need assistance to dress a minor cut, stabilisation if you do more serious damage, or in some cases a precautionary trip to hospital. The most important thing to remember is that extended periods of lying on the floor are associated with more serious injury and hospital admission. The simplest solution is installing a personal alarm to give you back control and peace of mind.
The good news is technology isn't just for the grandchildren; there is now also revolutionised smart assistive technology – such as monitored personal alarms for the elderly. Drawing on the benefits of remote monitoring, a Feros Care Smart Hub personal alarm includes a wearable and waterproof pendant that can detect a fall, and a hands-free speaker with microphone that connects with our 24/7 emergency response centre.
So, if you have a fall, Feros Care will know about it – and they can alert your loved ones too. There's also no-fuss installation, just plug it in and turn it on. Then you can get back to doing what you've always done. Because Feros understands that you have no plans to slow down any time soon!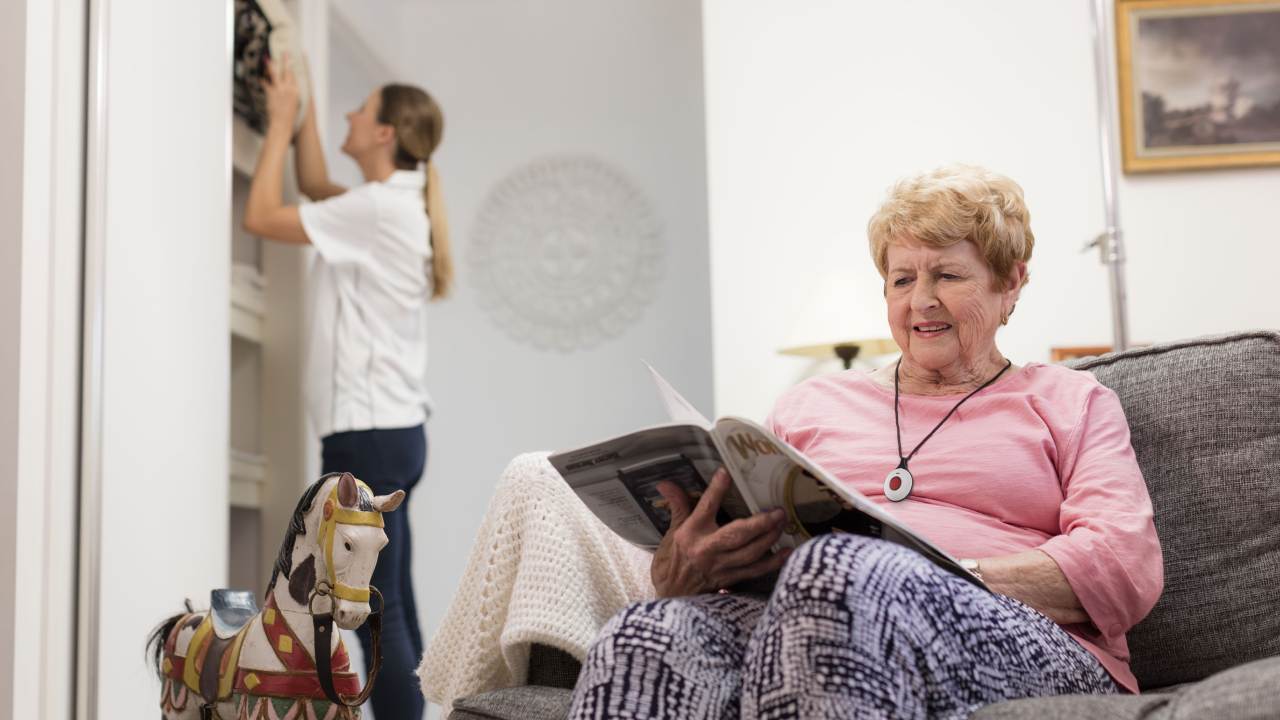 Independent and loving it: Colleen's story
For Colleen Maynard, keeping her independence means everything. Like so many Australian seniors, she loves where she lives – and wants to keep it that way for as long as she can.
But living alone does have its drawbacks, as the 79-year-old explains: "I had my hips and both my knees replaced about 12 years ago and the doctor said I needed some help."
Courtesy of a Government-funded Home Care Package, Colleen receives in-home support including help around the house and garden, personal care and physiotherapy. For extra peace-of-mind, she also had a Smart Hub personal alarm installed, so that help is only ever the touch of a button away. It means both she and her loved ones can relax, knowing that Feros Care's emergency response team are monitoring her safety round-the-clock.
"I've had the Smart Hub system for over six years now and wouldn't want to be without it. I've had two very bad falls and having that alarm around my neck was so important. I just let Feros know I was in trouble and they sent someone straight away."
Colleen knows the day will come when she will have to rethink her living arrangements. For now though, thanks to a handful of special people and the peace-of-mind that comes with having a personal alarm, she's fine with things just the way they are.
Click here for more information on Feros Care's Smart Hub personal alarm.
This is a sponsored article produced in partnership with Feros Care.
Join Over60
Join our community of over 400,000-plus members today and get the latest Over60 news, offers and articles.
Get all the latest Over60 news, offers and articles.