The exercises you need to do to stay fit over 60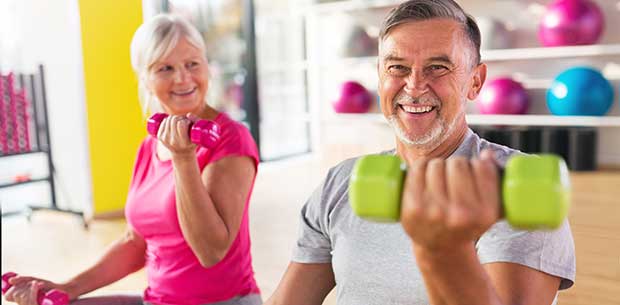 Although my father would contradict this, I like to think getting older has plenty of "ups", but it also definitely brings with it an increased risk of health problems. There are lots of types of exercise (other than walking) that you could try, and keeping as active as you possibly can is definitely going to optimise your health and wellbeing for the future.
There are the obvious medical issues such as arthritis (a common cause of joint pains and stiffness), diabetes, heart disease, osteoporosis, strokes, dementia, Parkinson's disease, lung problems and a multitude of others. But there are also the lesser-talked about problems associated with ageing including higher rates of depression, anxiety, memory loss, isolation and loneliness. Combine these with the "general slowing down" that comes with advancing years and it is easy to see why many people reduce the amount of exercise they do as they age.
However, research shows that you should be doing the opposite to optimise your health and mental wellbeing – 150 minutes of exercise per week, spread over several days, is proven to reduce your risk of not only the physical problems listed above, but also reduce stress and depression, improve mobility and balance, reduce your likelihood of falls, and improve your cognitive function. Older people who exercise at this level are likely to lead more independent, longer and better quality lives.
This advice needs to be tailored to every individual – you can only exercise as your body will allow. So, it is important to talk through any fitness ideas you have with either your doctor, a physiotherapist or a personal trainer – they will let you know what forms of activity will benefit you most, be achievable and not aggravate any underlying health issues you may have. They may also be able to recommend a programme so that you can increase the intensity or type of exercise as your fitness improves.
Without giving specific advice, here are some things to think about that you may find helpful.
It has been shown that even 10 minutes of moderate intensity exercise has benefits for heart and lungs; so, breaking down the 150 minutes per week into small achievable chunks might make it seem more manageable. Ten minutes before breakfast and dinner every day, and you've almost reached your target already!
It is important that you try to incorporate the four different types of exercise into your week – endurance or aerobic exercise (such as walking, jogging, dancing, playing tennis); strength training (such as lifting weights or using stretchy "resistance bands"); balance to help your stability and reduce your risk of falls; and stretching to improve flexibility.
If you have stiff or sore joints, water-based exercise can be a wonderful way to keep fit, improve mobility and reduce pain levels. Swimming, aqua jogging, water-aerobics or Zumba are all worth a go, and most pools will offer reduced rates for "seniors". If you are more courageous than me, get in the ocean – there is a group of older sea swimmers who regularly brave the weather at my local beach, and they all look a good two decades younger than they are… a fantastic advertisement for the benefits of the salt water exercise!
If you used to enjoy cycling but no longer feel able to tackle the roads, consider having a trial on a stationary bike. It will keep your joints moving, give you a cardio workout and you don't need to worry about the weather! You can put an old bike, minus its front wheel, on a stand, rather than investing in any fancy gym equipment.
Yoga and tai chi tend to be the forms of exercise I recommend most for older people. They are often slightly "gentler" so may not seem as daunting if you are starting out, but as they incorporate stretching, flexibility, strength and balance work, they are an incredibly powerful way to improve mobility and reduce your risk of falls. Patients who regularly do tai chi or yoga report benefits in lung function, as well as better sleep, more positive mood and reduced stress levels.
Whatever type of exercises you end up trying, I would encourage you to either join a local class or group, or enlist a friend who is keen to give it a go as well. It will offer you new social opportunities and you are more likely to succeed with company than on your own.
Written by Dr Cathy Stephenson. First appeared on Stuff.co.nz.
Related links:
This type of exercise can help you live 46 per cent longer
The daily habit that can add years to your life
Join Over60
Join our community of over 400,000-plus members today and get the latest Over60 news, offers and articles.
Get all the latest Over60 news, offers and articles.