How I rediscovered a love of learning in retirement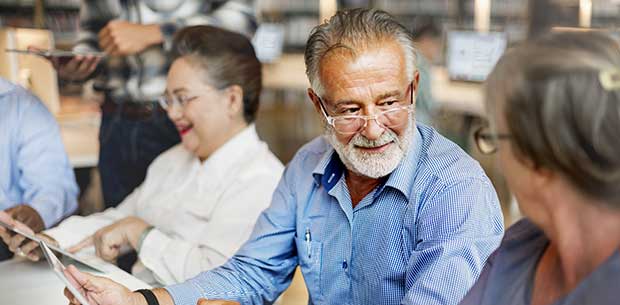 As the life expectancy of Australians continues to grow, many find themselves working longer than they expected – or even hoped. As such, a growing number of over-60s are choosing to give themselves a competitive edge by taking community classes, completing online courses and even going to university. Over60 community member, 72-year-old Geraldine Luker, is one of them.
"Many years ago, I was married to a man that wouldn't let me develop my interests," she tells Over60. "Having said that, he allowed me to undergo my EN training [enrolled nurse]. I was privileged to be one of the first groups of ENs trained at Flinders Medical Centre 1975 to 76.
"After many years of working as an EN in acute care, with a change of marriage status and with my daughter's encouragement, I commenced my degree (it means you are trained on the job (explained above) but don't have a degree) at Flinders University in 2006. The experience was so exciting, I felt I was where I always wanted to be. At the age of 62, yes indeed I was the oldest student in nursing at Flinders.
"Unfortunately, in 2007 I experienced being a patient [when I had] my left shoulder reconstruction. That put all working placements on hold, but [my] family rallied and drove me to lectures and tutorials.
"I finally completed my degree in 2009. It was an epic journey and I loved every minute of it. It just goes to show, when you fail at school it's not the end of the road. I have had many people in their 50s say, 'I would like to study but I'm too old.' I will always encourage people to further their learning."
Of course, the prospect of returning to education can be a daunting one, especially if it's been a while since you were last at school or completed a course. That's why we've put together this easy guide so no matter your situation, budget or schedule, you can dive back into the world of learning.
Online
There are countless courses available for completion online, both free and paid, covering every topic you could possibly imagine, from ancient history to computer programming. If you'd like to give it a go, take a look at Open2Study, edX or Future Learn – some of them even offer diplomas and certificates of completion.
If you'd rather learn on the go, smartphone and tablet apps like iTunes U (which offers free university courses from the top universities in the world) and Duolingo (a popular free language learning tool) are great options.
Community classes
Most councils around the country offer free (or very inexpensive) classes and workshops in local spaces. It's a fantastic way to connect with the community and meet likeminded people, as well as picking up a few new skills and interests. Simply visit your council's website for a calendar of upcoming events.
The University of the Third Age (U3A) is also hugely popular both as a source of education and socialisation, offering a number of courses specifically for people over the age of 50. There are branches all across Australia as well as an online branch for those who prefer to study in the comfort of their own home. To find your local U3A, click here.
University
Many leading Australian universities have programs to help mature-age students gain admission to the degree of their choice – many of which are available online through Open Universities – without needing to resit high school final exams. Some schools will admit applicants based on their employment history, and others offer study credits for those who have previously completed a university course. If you're starting completely from scratch, don't panic! The Special Tertiary Admissions Test (STAT) is specifically designed for people with no formal qualifications who still want to further their education. For more information, click here.
Remember, retirement isn't the end, it's only the beginning. Don't let fear or apprehension get in the way of pursuing your lifelong dreams of education – get out there and show the world what you're made of.
*Image is a stock photo and not of Geraldine Luker.
This article has been sponsored by AustralianSuper Pty Ltd ABN 94 006 457 987, AFSL 233788, Trustee of AustralianSuper ABN 65 714 394 898. The views expressed are those of Over60 and not AustralianSuper. For more information about AustralianSuper, please visit australiansuper.com.