Volunteering on a floating hospital in Africa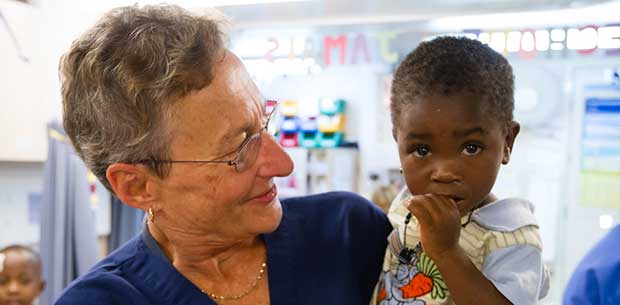 Ellen Parker is currently serving on board the Mercy Ships in Africa.
My imagination was captured by the idea of volunteering on a hospital ship when I heard about the first Mercy Ship in 1983.The challenge to use my training to help people in poverty simply stuck in my mind, and just never went away.
Half a lifetime later, at the age of 66, my dreams became reality as I stepped onto the deck of another Mercy Ship a hemisphere away. At last, I was in Benin, West Africa – to volunteer serve for three and a half months as a paediatric nurse aboard the world's largest civilian hospital ship – operated by the faith-based charity, Mercy Ships.
Having travelled extensively in Africa, the impoverished conditions in Benin were not really a culture shock, however, when I reached the port of Cotonou reality hit with a thud. I gazed way up at the Africa Mercy towering seven stories above me, took a deep breath, and boarded the vessel.
I felt nervous. I knew I would be caring for children receiving free surgeries to correct birth deformities and trauma; but how would I cope with a 45-hour week? I hadn't worked full-time since before I was married! I wondered how I would go nursing adults, even children, after working with babies. This was going to be full on. Then there was my age. Would being in my mid-60's count against me? Last but not least I was a little anxious about life in a small, shipboard cabin! Sharing sleeping and bathroom space with five women would prove to be my greatest challenge.
This floating hospital/community turned out to be both fascinating and compelling. In some ways life is simple. No traffic to fight on the way to work meant I could tumble out of bed at 6:45 and still be at work for 7am (if I really wanted to!). I didn't have to drive 35 minutes to get home after a 12-hour shift, or cook for myself. Three times a day I just popped upstairs and helped myself to a healthy meal in the dining room and I didn't even have to wash up.
I discovered early on that my ward's charge nurse chose me for her ward because she likes working with "older" nurses. Residual concerns about my age vanished. While most of the 450 international crew are younger people, currently about 20 of us over-60s serve in a variety of roles on board – as medical staff, dentists, maritime officers, housekeepers, galley crew, finance personnel, school teachers, even the executive director. It's amazing how well this community works together with a common purpose of serving God, and providing first class health care to Africa's forgotten poor. It turned out to be everything I'd hoped for and more.
Some very personal, poignant moments took me far beyond what had I expected in my role as a nurse on board.
I was on night duty one evening when I noticed a patient trying to build a puzzle in the dark, by the light of his phone. I took off my headlamp and gave it to him so that he could at least see what he was doing. He was completely overwhelmed and stayed awake until 3am to finish his puzzle. Next evening he got another patient to take a photo of him and I – with his puzzle! It was the first jigsaw puzzle he'd ever done, and he was so very proud of himself. It was deeply touching that something which seemed so small could mean so much.
Then there was Blandine. The seamstress' apprentice had only three months left to complete her training when she was admitted to the Mercy Ship with extensive contractures of her hands. This young woman had sustained deep burns when her face and hands became tangled in a flaming mosquito net. The local hospital gave Blandine basic treatment but she couldn't afford any rehabilitation. Scarring immobilised her fingers making her hands almost unusable. Her facial scarring marked a halo shape around her head.
As soon as she arrived in the ward after her reconstructive surgery, Blandine's independent nature caught my attention. Although Blandine had some tough days, she made good progress – despite having both her hands being heavily splinted. She looked forward to getting back to her sewing. We worked out a fun way to do her hand exercises – by playing Mancala and other card games. She proved to be quite a champion!
I visited her in the ward outside of my shifts and prayed with her on a few occasions. She made good friends with the patient in the next bed, and they supported each other. I wished I could speak French, as I'm sure a lot is lost in translation. However despite our language barrier we developed a strong bond and she called me "Mammie" whenever she saw me.
Some days I noticed Blandine just wasn't herself. One afternoon as I chatted with her via an interpreter, I discovered how much she was hurting within. Beninese people eat with their right hand, seldom using any utensils. Because of her splinting Blandine needed someone to feed her. She found this very upsetting; not just because of the "shame" of not being able to feed herself, but primarily because she didn't have a family member to do this for her.
Slowly she learned to hold a spoon in her splinted hand. Later she was able to remove the splint from her right hand in order to eat according to her custom – it became part of her therapy! Blandine was later moved to our outpatient facility, returning alternate days to the ship for rehabilitation and dressing changes.
It's amazing how smoothly the whole Mercy Ship operation runs; on the strength of hundreds of volunteers with the common goal of following God's footsteps by bringing hope and healing to Africa's poor. It's incredible, unique, and almost unbelievable. Top surgeons, highly qualified nurses, lab technicians, radiographers, physios, dietitians, along with skilled engineers, hospitality staff, housekeeping staff and more, all pay their own way to volunteer their services, which keeps this unique ship ticking. Seeing life transformed for people like Blandine makes it all very worthwhile.
Mercy Ships has developed some really workable systems and good workplace strategies to allow volunteers like me from all over the world to slide in and slide out, in a short term of service. The combination of supportive long-term senior staff, enjoyable co-workers, and grateful patients with a real will to get better often meant people suffering from extreme conditions like Blandine's had a good recovery in record time.
During my tour of duty I discovered the healthcare offered on board Mercy Ships is much more holistic than is usually found in the Western World. While the ship's surgeons and nurses heal the patients' bodies, with the help of the chaplaincy team they also endeavor to help the broken in spirit. Individual and group prayers at the bedside or in the ward, chaplaincy visits, Sunday services and plain old TLC all help heal minds and emotions – it's a complete picture.
What had been my dream for so long, what had seemed so intimidating when I first arrived, has now utterly captivated my heart. I've signed up for a second tour of duty - Cameroon 2018, here I come!
To find out more about how you can volunteer at Mercy Ships, visit their website.
Related links:
MREC-TAG-HERE
The ins and outs of volunteering holidays
How you can make a difference by volunteering
Join Over60
Join our community of over 400,000-plus members today and get the latest Over60 news, offers and articles.
Get all the latest Over60 news, offers and articles.