Everything you need to know about Scott Morrison's wife Jenny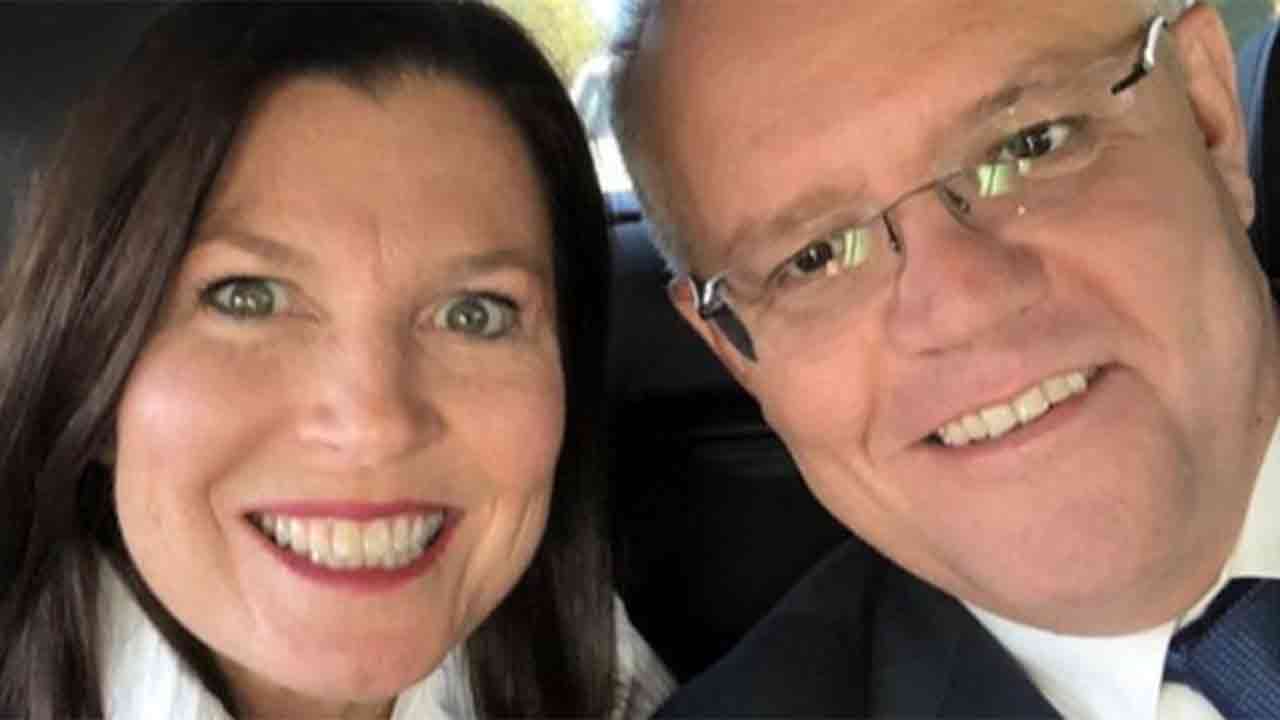 Scroll down to view the gallery below
Jenny Morrison, a former registered nurse and the wife of Scott Morrison, has continued to lead a quiet life with her two daughters while her husband leads the country as Prime Minister.
The 51-year-old even admitted to living as normal a life as possible, not just for her daughters but her mental health as well.
When Scott Morrison was nominated by his Liberal Party colleagues as the new party's leader last year, Jenny said she was blindsided.
"I was in shock," she told 9Honey about when she learned of her husband's new position back in August last year.
"I did not see it coming," she said.
Just a month later, the family packed their life into boxes and moved into Kirribilli House, the official PM residence located in Sydney's lower north shore.
In spite of being thrown into public life, Jenny maintains the family has been able to keep a normal routine.
Here is everything you need to know about the woman behind the man with the most powerful job in Australia.
The first lady still gets her kids to school everyday
Although she lives over an hour away from her daughters' school, that hasn't stopped Jenny from travelling the distance each morning and afternoon for drop-offs and pick-ups.
As well as driving her kids to school every morning, the 51-year-old chooses not to travel with any entourage and stops by the same café she used to.
"They all can't believe it," she said.
"They're like, 'Oh my gosh, you're here! Where are your people?' And I went, 'No, it's just me'."
Their new life doesn't stop Scott and Jenny's girls from attending the same school they have always attended, located in the Sutherland Shire in NSW.
"I might be the Prime Minister's wife, but I'm still a mum with two young girls and trying to keep things as normal as possible," she explained.
"I think maybe people picture that your life as the wife of the Prime Minister is glamorous and amazing and exciting. But no… I'm doing the same things everyone else does. It's hard work being a parent."
The Morrison daughters are banned from social media
"They're not allowed to have Instagram accounts. Anything, actually – Snapchat, nothing," Jenny said while explaining her strict parenting on technology use.
"They're constantly telling me, 'It's not the 1980s, Mum' and I'm saying, 'I know, it's worse, so you do what we say.'"
Jenny and Scott met at 12 years of age
The pair both grew up in the heart of Sydney's Sutherland Shire and met at the tender age of 12, at the Luna Park amusement park.
Jenny liked Scott straight away and felt the same when they met again a year later at a Christian youth camp. Although Scott got Jenny's number, she didn't receive a phone call.
The couple "finally" began dating at 16, after reconnecting with one another again.
The happy couple have been together (despite a two-week break) and married since they were both 21.
The couple had children later in life
The Morrisons were not always a big family and didn't have their first child until Jenny was 39 years old.
Although the couple wanted children, Jenny admitted they were unable to conceive for almost 20 years.
"Yes, I was very sad that I couldn't have children. That framed a lot of my life," she said, opening up to Australian Women's Weekly in 2015.
Jenny gave birth to the couple's first daughter Abigail in 2007, and later her younger sister Lily was welcomed.
"She is our miracle child, the answer to a lifetime of prayer and 14 years of painful, invasive, heartbreaking treatment," Scott wrote at the time of his eldest daughter's birth.
Jenny and Scott do not always see eye to eye when discussing politics
The Prime Minister has had controversial policies in the past, including his "Turn back the boats" strategy that occurred while he was Immigration Minister.
While the 'first lady' won't mention which policies she and her husband refuse to see eye to eye on, she has admitted that like every couple, they "disagree a lot."
"He doesn't make policies for me, I assure you … He'll ask me what I think because I come from a totally different mindset," she shared.
"So he gets a different viewpoint from me, which might be just a layperson's viewpoint. And sometimes we're not always on the same page."
Although her husband has flung himself into a political battlefield, which can admittedly be messy at times, Jenny has completely different aspirations in life.
"My purpose in life is very simple – it's basically to be kind to absolutely everyone you can," she said.
"Because life is really about a series of connections with people."
Scroll through the gallery above to see Prime Minister Scott Morrison and his wife Jenny throughout the years.