The rise of the 'She Shed'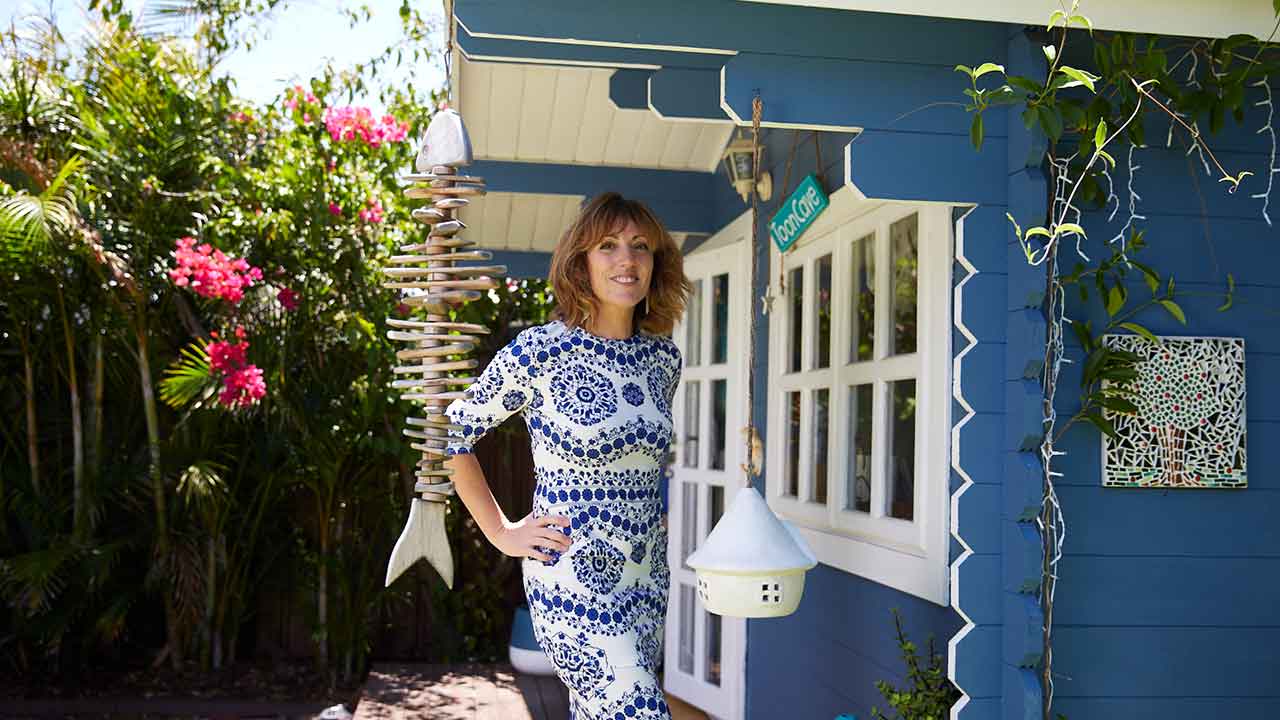 Scroll down to view the gallery below
While men have been able to escape to their garage or man cave – stocked with everything from basic tools and bikes, to poker tables and other boys' toys – women are now increasingly finding solace in their own space too.
"We are seeing a huge uptake of women buying sheds and turning them into home offices and studios, where they can work without distraction from what is happening in the house," says Daniel Rutland, Head of Purchasing at EasyShed, Australia's largest producers of backyard sheds.
"We have seen 450 percent growth in the last 12 months alone, especially in the cities and outer suburbs, where space is at a premium," says Rutland.
Central Coast-based Kate Toon, 46, says living in such close quarters with her other half 24/7 has been driving her nuts.
The trendsetting copywriter has created her very own business empire from her 3m x 5m backyard She Shed. The shed space is HQ to her StayTooned group of companies. These include three businesses, memberships with hundreds of people in them, and an SEO training business which has helped more than 10,000 other businesses grapple the Google beast.
"My husband works from home too, so with lockdown and everything else going on, it was getting to the point where I couldn't even stand to hear him breathing," she laughs.
"It's my sanctuary, and amazing to have my own creative space to write, where I can sing loudly to bad pop songs and generally be myself – safe in the knowledge that no one is watching."
"It was a cost-effective way of building an extra space," she adds. "It's got two desks, air conditioning and I put the whole floor in myself and painted it sky blue.
"It was a big step in my business and an investment in myself – but it makes me happy every day as I commute across my back yard."
According to the latest data from the Australian Bureau of Statistics, two in five people with a job (41 per cent) worked from home at least once a week in February 2021, compared with 24 per cent at least once a week before March 2020. Meanwhile, employed women (17 per cent) are more likely than employed men (11 per cent) to want to increase the amount of work done from home.
With real estate prices on the rise, Rutland doesn't see this trend changing either. "We are also seeing sheds being repurposed as separate living spaces, guest rooms, man caves, bars, aviaries, home offices, gyms and even home distilleries, home cinemas and pool rooms. "The sheds are cheap to purchase – so they are often customised and kitted out. We've seen windows installed, skylights and soundproofing. One guy turned his shed into an astronomy room, where the entire roof retracted back to provide viewing for his huge telescope."
Photo caption: Kate Toon in her She Shed, which she nicknamed 'Toon Cave'.
Top 5 shed do's
Maintenance: choose materials that are low maintenance
Size matters: Measure the site's dimensions before purchasing a shed online, this ensures your chosen site is the right size.
Location: The area should be level, secure, safe, be free from flooding and overhanging trees and accessible should there be maintenance or repairs.
Permits: Make sure to check if any council permits are required. A handy overview of council regulations, here.
Customise: Extra windows, a roof pitch and cladding doors can really transform a basic shed.
Top 5 shed don'ts
Don't forget to lay an even foundation: this will set the structure slightly off the ground to help with proper water drainage.
Don't underestimate storage space: Before deciding what size shed, list items you plan in it, then measure the space you have.
Don't forget to weatherproof: Weather-resistant floors and floor frames can prolong the life of the structure.
Don't rush the shed construction or installation process: Planning right ultimately saves time and money.
Don't forget to keep it well-maintained: Organising, maintaining and treating a shed well will prolong its longevity and keep it in top working order.